Biking & Hiking along the Dosewallips River Road - 14 miles with 2000 ft gain.
This Album Background:
The Dosewallips River Road is located 11 miles below the Quilcene area (25 miles after crossing the Hood Canal Bridge). From Bremerton, Quilcene is about 30 miles to the Northwest. This was my first Bike/Hike to this area as I was last week at the Elwah River area in the North Olympic area.

A football field-sized length of the Dosewallips Road to the Dosewallips Ranger Station was washed away in January 2002 during a flood of the river. I estimated that it was about 10 miles west (7 miles paved and 3 miles unpaved) of Highway 101. Along the road, there is a trailhead to the Lake Constance (2 miles one-way with 3400 ft elevation gain) about 3.5 miles from the washed away area. And the Dosewallips Camp Ground (CAR CAMPING AREA) and the Range Station are about 5 miles from the washed away area. The Dosewallip Camp Ground was indeed a nice area right next to the Dosewallip River but now needed to hike 5 miles to camp there. I was little apprehended with the meaning of the Dosewallips, that is, a place of thieves. However, nobody broke in my car or stole our bikes.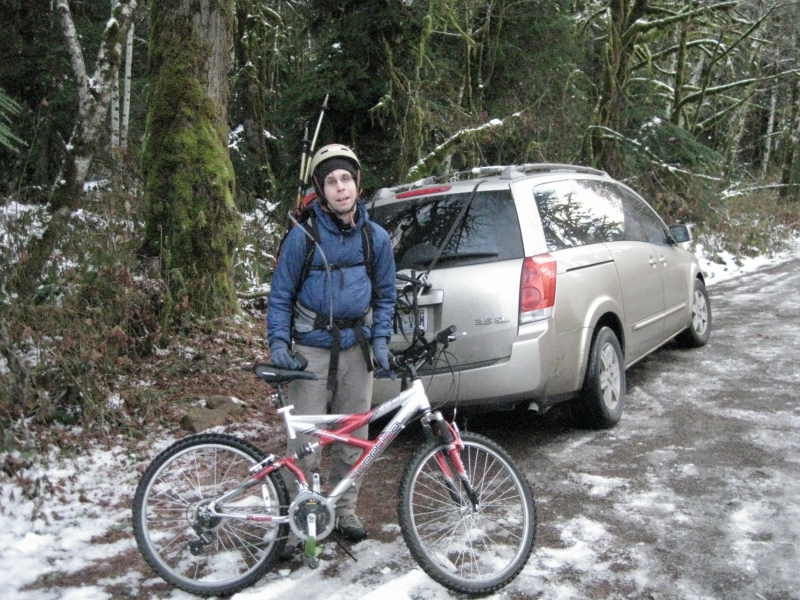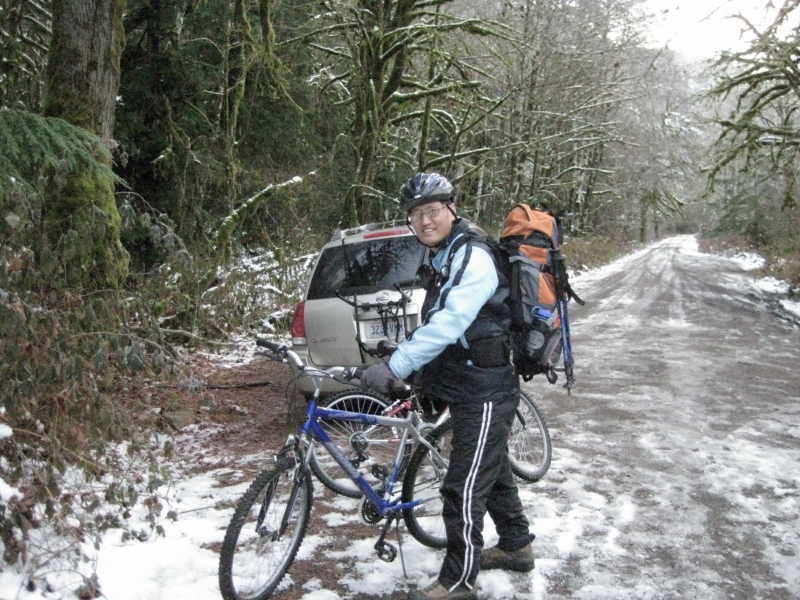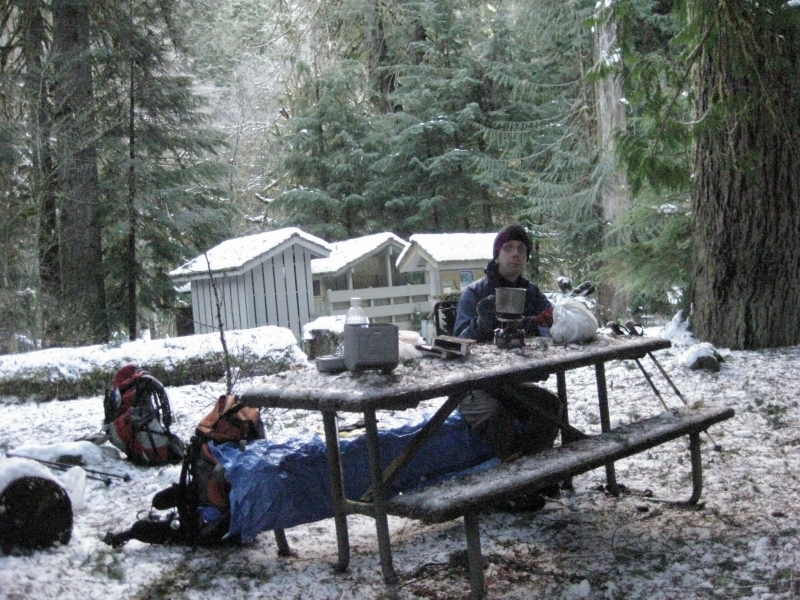 Biking/Hiking Summary
7 miles round trip biking to the Lake Constance trailhead and 7 miles round trip hiking just short of the junction to the Constance Pass. Elevation gain was about 2000 feet gain. It was a beautiful day. Temp was at 30F at the trailhead but was mid 20s along the trail with some wind. Left the washed away trailhead at 0820. Turned around just short of the Constance Pass at 1245. Had a lunch at the Ranger Station. Left there at 1400. Arrived back at the trailhead at 1515.

We pretty much carried the bike all the way pass the Lake Constance trailhead (3.5 miles). There were too much snow on the road, so we left the bikes on the road with a lock and started hiking. We did not see anybody on the trail but there were foot and bike prints on the snow indicating that somebody else hiked and biked the area after the heavy snow last Monday. Right pass the Lake Constance trailhead, we hiked on the service road to the Ranger Station. Some spots had close to 1 ft of snow but it was still walkable with some efforts. Also, the crunchy snow helped a bit walking on the snow. There were a couple of land slides along the road but those could be easily taken care of using a bulldozer. Surprisingly, the road to the Ranger Station was still in good shape.

After the Ranger Station, we had some difficulty finding the trail beyond. We were able to figure it out using a map. Not on the map but we needed to cross a stream without a bridge. Then, we saw the Terrace loop trail sign and the continuing trail. We hiked another 2 miles just short of the Constance Pass and turned around at 1245 (to be back at the car by 1500). The hiking trail was in excellent condition: no down trees due to heavy winds and snow last Monday.

Biking down from just above the Lake Constance trailhead was a BLAST. It was well worth to carry the BIKE. It was also a good exercise. When I came home, I felt like I just did a day-hike of a 20 miler with 5000 ft elevation gain. It was a good experience with the new areas and thanks to Aaron for going together.

Biking/Hiking highlights:
0 miles-0.1 miles: Carry the Bike up the improvised trail (due to huge washout)
3.5 miles Lake Constance Trailhead. Due to too much snow on the road, stored the Bikes around the corner next to a huge boulder.
4.9 miles. Hike. Dosewallips Ranger Station. Camp Ground. 1540 ft elevation.
5.0 miles Junction with Dosewallips Terrace Loop Trail (1.4 mile trail)
5.6 miles. Creek
6.3 miles Dose Fork. Anderson Pass trail.
7.0 miles 0.4 miles short to the junction with Constance Pass