Biking the Lower South Fork Skokomish area-Olympic National Forest
20.6 miles with 450 ft elev gain.
This Album Background:
The Lower South Fork Skokomish trail is located about 9 miles South-South East geographically from the Staircase area and 26 miles driving (along Hwy 101 and 119). I did not know much about this area but were told that the fall color is beautiful at this lowland in autumn. I got the trail infor from the www.fs.fed.us website (trail #873). After biking, I realized that the trail was on the bottom left of the Mt Skokomish custom correct map. This trail is for day hiking, camping, stock packing, mountain biking, wildlife viewing, and bird watching. Instead of hiking this long distance, I opted to ride a bike to make it a half day trip. Gladly and thankfully, my hiking buddy, Aaron joined me for this trip.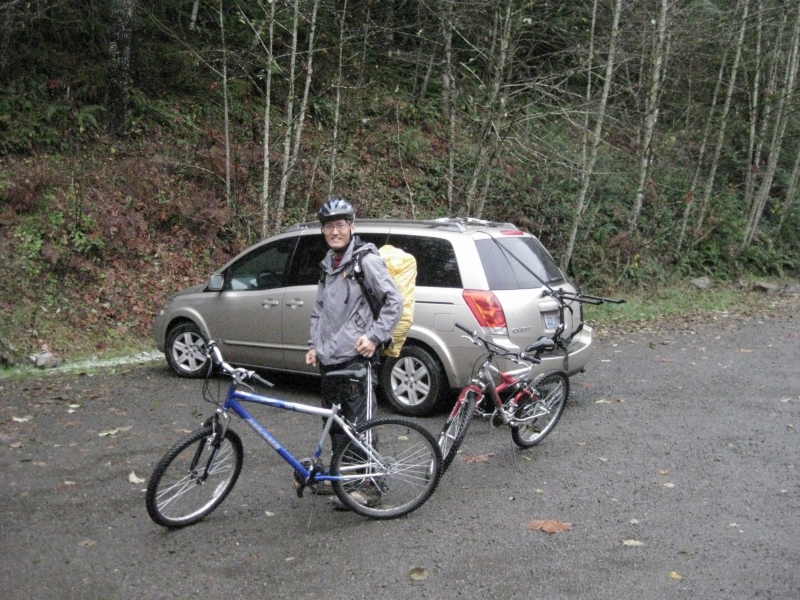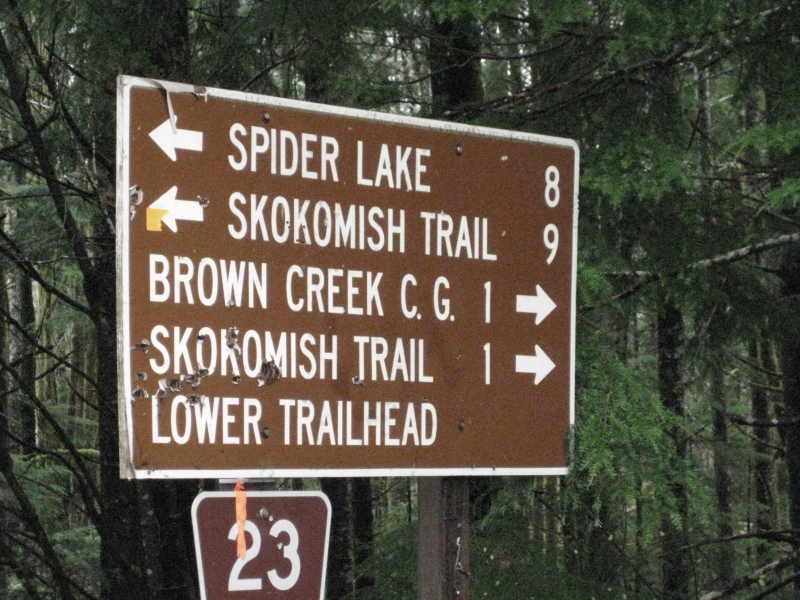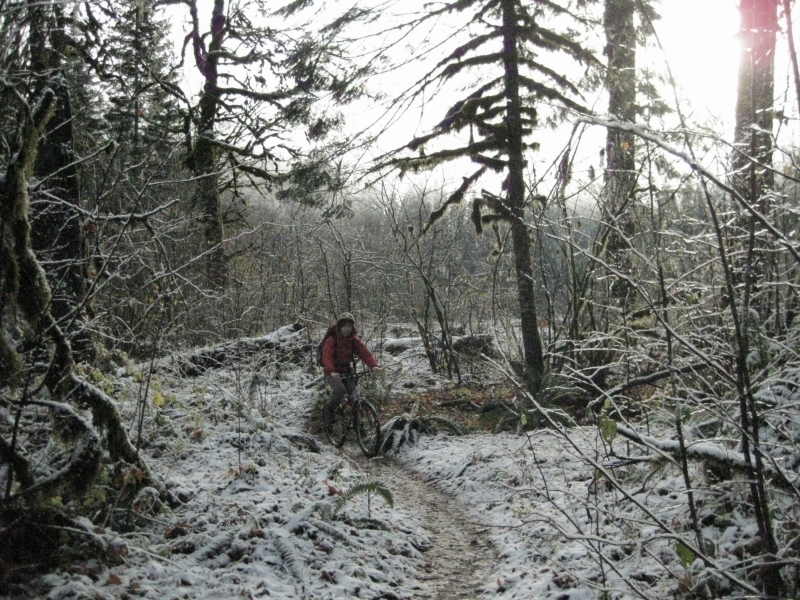 Biking Summary:
The trailhead was farther than we thought. From Hwy 101, it is about 17 miles of driving (paved and dirt roads) to the trailhead. Lots of pot holes on the dirt road. Coming from north (Hwy 106), turn left to HWY 101. About 2.1 miles turn right at W Bourgault Road. About 0.5 miles at the T, turn right to a NO SIGN street (W. Skokomish Valley Road). The whole road did not have a sign but, luckily, it was the Skokomish Valley Road.

One hunter said that there were tons of HUNTERS in the valley. We saw a few hunters and many cars parked on the side of the road along the Skokomish Valley Road.

Temp was 38F. Snow was accumulating near the 1000 ft elevation level. Left the trailhead 0840, turned around at 1000. Back at the trailhead 1100. Since it was a half-day event, we could only bike about 10 miles total. The first 0.5 mile was pretty steep with 500 ft elevation gain, then dropped back down to the Skokomish River. We pretty much dragged the bikes until the slope was gentle. After going down the hill, parallel to the Skokomish River, we could bike. We took a break at the Camp Comfort (4 miles mark). We biked another 20 minutes and turned around when the trail got little steeper.

Someday, we need to come back here finish the whole trail. In the Winter, we will need a 4x4 car driving along the Skokomish Valley Road to access the trailhead.

Biking info:
0 milew (800 ft elev) Trailhead.
0.5 miles (850 ft elev) Access Trail off road #120.
2.0 miles (850 ft elev) LeBar Homestead
4.0 miles (870 ft elev) Camp Comfort
8.3 miles (950 ft elev) Church Creek Shelter
8.5 miles (950 ft elev) Laney Camp - Stock Crossing
9.0 miles (1100 ft elev) Ford Across South Fork Skokomish
9.5 miles (1200 ft elev) Harps Shelter Trail - South
10.0 miles (1250 ft elev) Harps Shelter Trail -North
10.3 miles (1250 ft elev) F.S Road #2361 and Upper South Fork Trailhead