Hiking Mt Walker with my wife (2805 ft), Olympic National Forest – (10-2-2010)
5 miles round trip with 2000 ft elevation gain.
This Album Background:
Mt Walker trail is a strenuous family hiking for the beginners! It was the first time hiking to the Mt Walker for all of us. For a long strenuous day hiker/backpacker, this trail would be a good warm-up and keep oneself in shape. I carried about 30 lbs weight of daypack to get some exercise: water for everybody (6L), water purifier, 10 hiking essentials and more, food, extra rain gears, etc. The hiking info says it all, "2 miles hiking with 2000 ft elevation gain". When a hiker hears the trail information of 1 mile with 1000 ft elevation gain, the hiker knows that the trail will be a very steep trail or maybe contain almost vertical trail. Mt Walker (elevation 2840 ft) is located 5 miles south of the Quilcene town. Quilcene is located about 35 miles North of Silverdale/Bremerton area. The trail was not in the Custom Correct Map set. The trail info sheet downloaded from www.fs.fed.us/r6/olympic/recreation-nu/trails/MtWalker.pdf stated that "Mt Walker is the only peak facing Puget Sound that has both a road and trail to its summit." My wife and I along with our family dog (2.5 yrs old Golden Retriever) hiked the Mt Walker. We left the trail head at 0920 and arrived at the North Viewpoint at 1120. It took us 2 hours to the summit! We stopped by multiple times to catch some breath. Since we did not have any views due to thick fog, we took a short lunch break at the North Viewpoint and headed to the South Viewpoint. We had the mountain all by ourselves until we came back to the North Viewpoint. We met one group of families there and saw 2 more hikers on our descending. We left the North viewpoint at 1205 and arrived back at the trail head 1315. One young lady who belonged to the group of families could not make it to the top and waited for her children at the trailhead. She and the most of the kids did not have water. She probably could make it to the top if she had some water and took some time. It was unfortunate that nobody in the group was educated on hiking. 4 MILES round trip hiking with 2000 ft elevation gain is NOT EASY for the beginners.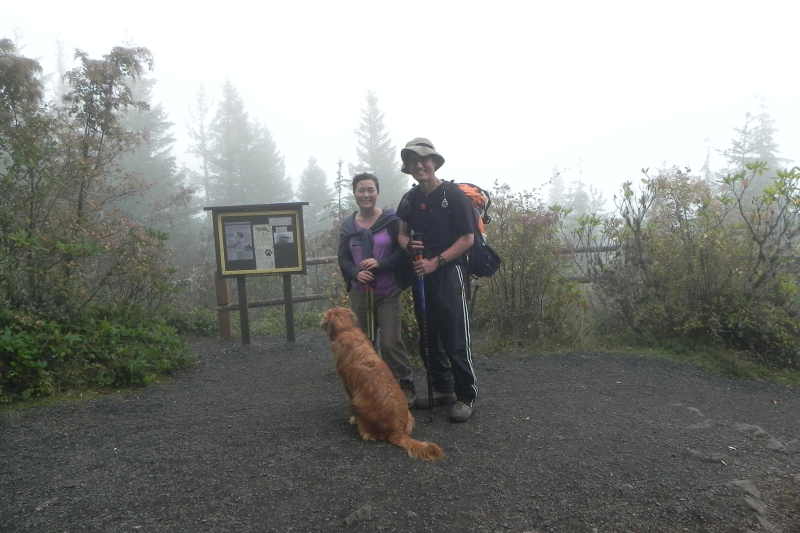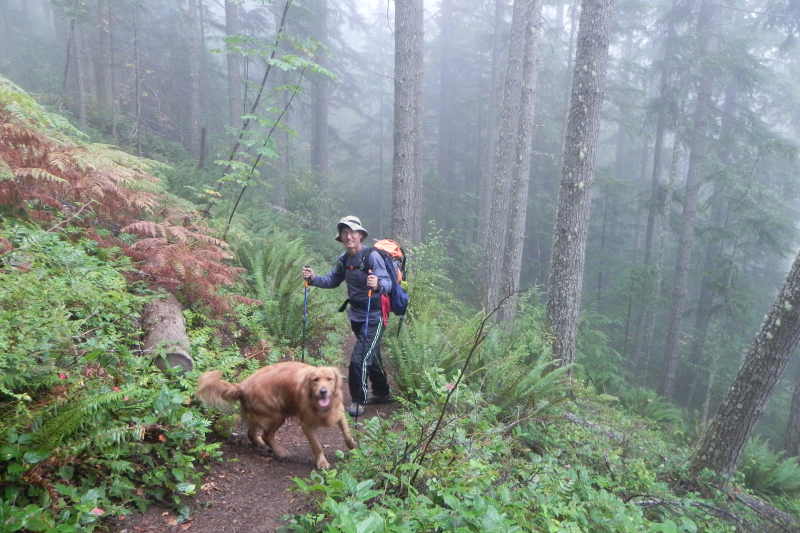 Hiking summary:
Weather was foggy. 55-60F warm with almost no breeze. It was little sprinkling for about one hour. We had ZERO views of the mountains (Jupiter, Constance, Buckhorn, & Baker) at the summits or during entire hiking due to thick fog. The trail was almost entirely on a forested trail through hundred years old Douglas fir, rhododendrons, Salal brush, and Oregon grape. I think that those alone were beautiful sceneries for the hiking beginners. The 2nd growth tall trees along the beginning of the trail (1/4 mile up) impressed me. Looking up those majestic trees felt good. One interesting event was that one guy with two kids was picking edible mushrooms. He said that he lives close by and has been picking mushrooms till November at Mt Walker.

In overall, Mt Walker hiking was excellent and convenient for family hiking considering the fact that its trail head is close from Silverdale/Bremerton and only 0.5 miles of dirt road driving. On a sunny day, the shaded wood trail makes it perfect for family hiking and offers the panoramic views at the both view points. We will definitely come back to the Mt Walker on a sunny day for the expensive views.