Day Hiking to the Marmot Pass - Big Quilcene Trail (10-23-2010) -10.6 miles with 3500 ft elev gain
This Album Background:
Marmot pass (6000 ft elev) is located in the Buckhorn Wilderness in the Northeastern Olympics next to the Mt Buckhorn(6988 ft) surrounded by Mt Deception (7788 ft, 2nd tallest in Olympics), Mt Mystery (7631 ft), Mt Constance (7743 ft, 3rd tallest in Olympics), and Mt Townsend (6280ft, hiked on July 2010) within the 5 miles radius. Only 4 miles to the East from the Royal Basin (hiked on Aug 2010) below the Mt Deception. The Marmot Pass is also on the edge of the rain shadow zone.

Marmot Pass, Marmot Pass! Similar to the Lower/Upper Lena Lakes, the Marmot Pass is another popular trail that I have heard so many times. I finally learned that it converges from 3 places: Tubal Cain Mine (hiked on Aug 2010) & Bolder Shelter (coming from Constance Pass and Dungeness River), and Big Quilcene. And another 1.8 miles to the Southwest (Boulder Shelter) lead to a 3-way junction to Camp Handy (2.6 miles to North) and Constance Pass (3.8 miles south).

It appears that the rainy season has started here (in WA State) and the daylight is getting shorter every day till the end of December. I wanted to do an overnighter at the Royal Basin with the PWC members but it got scrubbed due to weather. My new hobby (started from family hiking the Mt Townsend in July) of long distance day hiking with 10-12 hours during the daylight has already ended for this year. Last week's hike to the Lake of the Angles was somewhat tough (with lost trail) but my body recovered and wanted to hike some distance during daylight, a medium distance (less than 15 miles) with gentle grade. So, I selected the Buckhorn Mt. For the Marmot Pass (and to the Mt Buckhorn) day-hike, the weekend weather forecast was dismal with continuous raining. I have not hiked/backpacked in the "real" rain but heard a few stories that the hikers/backpackers needed to face hiking in the rain. While the temperature is still mild, I wanted to experience hiking in the rain but not endangering myself and my fellow hikers. Also the first half of the hiking was in the forest trail. When planning for hiking, I always consider SAFETY FIRST. I invited a few strong hikers (that I know of) to join me but nobody, except, my hiking buddy, Aaron. Definitely, not to hike the Lake of the Angels (hiked last week) or the Lake Constance (my next day-hike on a good day) in the rain. I wanted to hike the Mt Ellinor (hiked on Aug 2010, one of my favorite short hikes) with the Kitsap Outdoors/Peninsular Wilderness Club members but the weather would be worse on Sunday. So, I opted to hike the Marmot Pass with our family dog, Tippy (2.5 years old Golden Retriever) on Saturday.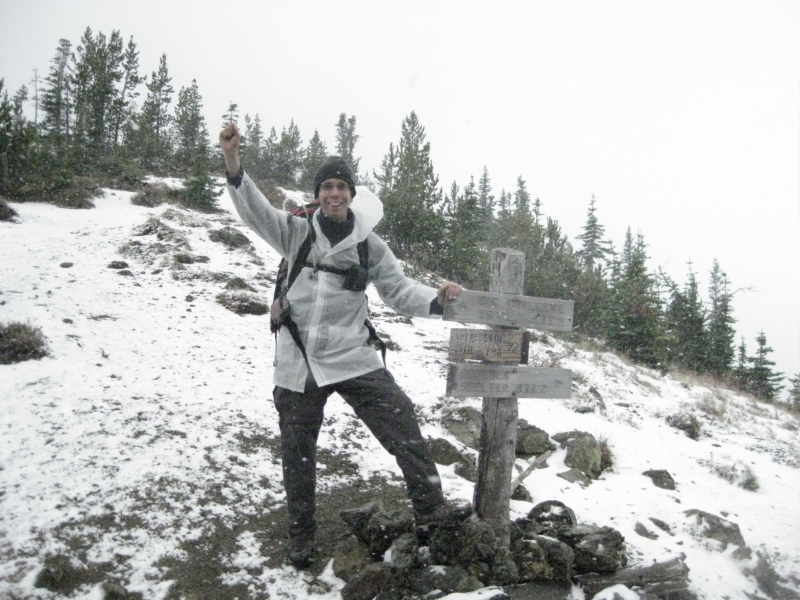 Hiking Summary:
Marmot Pass-Big Quilcene Trail: 10.6 miles with 3500 ft elevation gain. Temp 40-50s with no wind. Our original intent was to summit the Mt Buckhorn (6988 ft) which would give us 13 miles with 4500 ft elevation gain. However, we were SNOWED OUT at the Marmot pass. It was not worth to hike up to the summit without views as the weather was getting worse with strong wind, snow, and potential rain storm as we descend. It is probably best to get out of the area as soon as we can. On this trip, we cooked a hot meal for the first time during day hiking ! The weather was descent until we got to the 5000 ft just below the Marmot Pass (6000ft). We got snowed but made to the Marmot Pass and quickly descended. As we descended below 5000 ft, it was all rain from there. We got what we wanted: HIKING IN THE SNOW and RAIN.

We left the trailhead 0815. Arrived at the Marmot pass at 1130. We cooked the lunch just below the Marmot Pass under the trees and headed down at 1245. We met the "Ancient Ambler" and his two friends, chatted a brief moment, and took some pictures together. He has been a well known hiker for his hiking/backpacking trip reports from the NWhiker forum. As the rain got heavier for the last 2.6 miles, we sped up and hiked down close to 3 miles/hr phase. Arrived back at the trailhead 0255pm.

We were semi-soaked, but excellent experience hiking in the snow and rain. My military poncho did not work well in the rain. I realized that I needed some better rain gears. It was quite straight forward hiking compared to previous hikings. We made this trip a lot easier by taking a break every hour for 10 minutes, breathing hard intentionally (for oxygen) every 15 minutes, and drinking water often.

Excellent hiking given with weather condition. Definitely, ready for another weekend hiking or backpacking. Due to shorter daylight, it will be lucky if one gets 10 milers with min 2000ft elevation gain during the daylight. Even if the weather becomes decent, it is probably too cold for backpacking without proper backpacking gears.

Hiking highlights:
0 miles: Big Quilcene Trailhead (#833.1, 2500 ft). Easy hiking along gentle slope. Big Quilcene river on the left. Lots of rhododendron. Mosses.
2.6 miles: Shelter Rock Camp (3650 ft) - Nice Camp sites. A good place to take a break, refill the water, etc. Began steeper hills but not too bad. None of the expensive views to the Northeast for Cascades and Pudget Sound.
4.6 miles: Camp Mystery (5400 ft) - Another good place for a break in the alpine level. Surprised that snow was accumulating as it snowed.
5.3 miles: Marmot Pass (6000 ft) - Took some pictures and turned around. Snow started accumulating.
6.5 miles: Buckhorn Mt (6988 ft)- Did not make it due to snow and strong wind.