Day hiking to the Royal Basin, Olympic National Park (8-13-10) --16 miles round trip with 2500 ft elev gain

What a fun day hike! We achieved getting both good exercise and fantastic views. It was my 6th straight weekend day-hike: Mt Townsend, Flatjack Lake, Mt Ellinor, Tunnel Creek, & Royal Basin, yet, it was my first hike to interior of the Olympic National Park. Royal Basin is located at northeast side of the Olympic National Park. At the basin, you will be greeted by majestic 7788ft Mt Deception. It was little over 16 mile round trip with 2500 elevation gain. Most of the elevation gain comes from the last mile. Since our hike was on Friday, we only saw one party going up toward Heather Basin and met about 7 parties coming down. We did not see any day hikers like us. The first 3 hours were pretty much hiking through heavily wooded trail covered with old growth forest. I say some of the Doug firs are probably well over 1000-2000 years old. One small down tree had more than 800 rings! There were many streams along the trail. While the green matters are busy with photosythesing, it was an excellent chance to breath heavily for fresh and oxgen enriched air. We stopped by a number of creeks or streams next to the trail to feel the cold water and to filter the water. A combination of enriched air and drinking fresh cold water felt so good. At the Royal Lake and Basin, be aware of the hungry mosquitoes on their blood buffet out of you. Mosquito repellent worked but they were getting blood right through the shirts or pants. All of us became a casualty. I got about 10 bites on my both shoulder through the shirt. But bites were not bad as the mountain fly bites at Mt. Ellinor.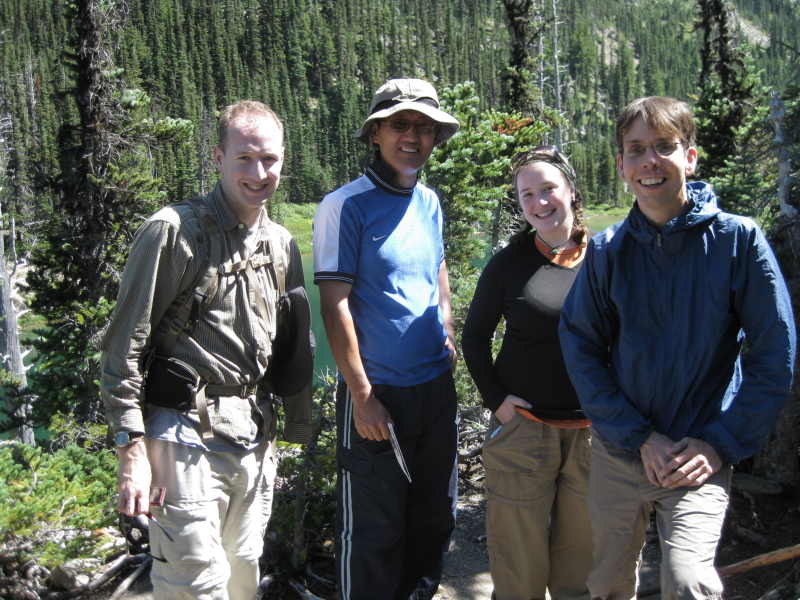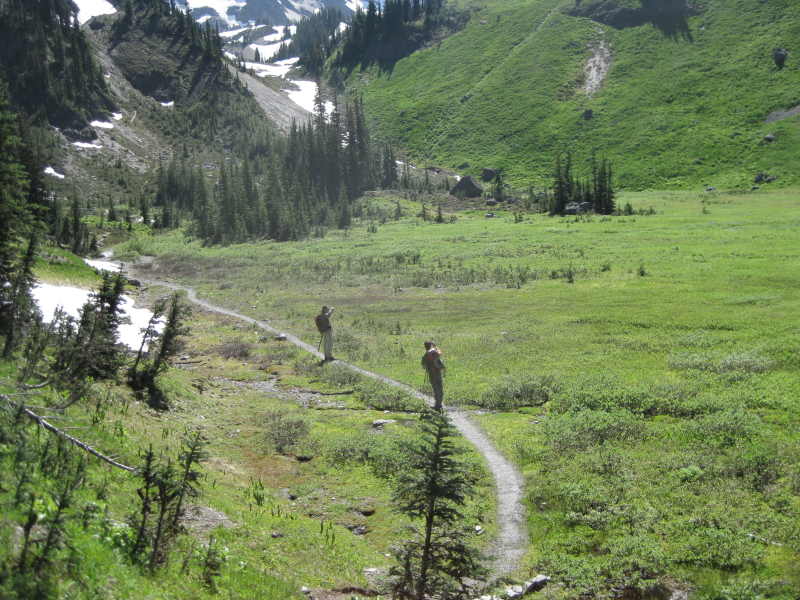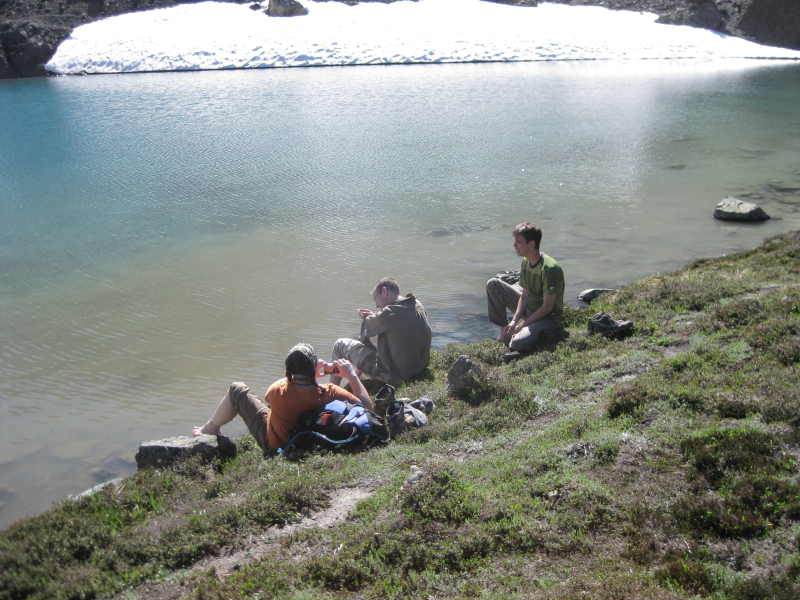 Four of us left the Dungeneess trail head at 0925. It was a beautiful blue sky day forecasted mid 80s. The total hike took about 11 hours. We did the hiking portion probably less than 7 hours and spent 4 hours taking slow lunch and chatting with the friendly Park Ranger at Royal Lake, taking a detour to a beautiful fall past the Ranger Station, and spent quite a bit of time swimming at the basin. Water was virtually Ice Cold. We dipped in 15-20 seconds at a time. The return trip was quite fast. We (2 of us) virtually ran down. Made two stops: First at Royal Lake to dip in again. Second to refill the water. I drank 6 litters of water on this hike!

After the hike, we were extremely hungry and car was low on gas. Filled the gas in Sequim and had dinner at a Mexican Restaurant. It was so good. Arrived home 1145pm. It was too late for hot tub soak in. Took a quick shower and quickly crashed hoping for dreaming a next good hike.

Photos from Kyle