Overnigher-Tubal Cain Mine, Tull City, Silver Lake (8/21-22 2010)

It was an exciting and fun overnigher to Buckhorn Wolderness: much different perspectives from day hiking. It was my first backpacking trip in my life and I was well indoctrinated on overnight backpacking. I learned many lessons in this trip. Thanks to a veteran hiker/mountaineer and a PWC (Peninsular Wilderness Club) sponsor, Doug Savage for organizing and leading the overnigher. It was possible because of his dedication and his spirit of willing to help the others: guided 12 of us (3 of them were 14-17 years sons and daugher of the backpackers). Also thanks to Gary and Craig (72 years old) who helped us as needed and inspired us. My son, Danny (17 yrs old) joined us on this trip. It was his first overnigher as well. I was very proud of him for experiencing the first backpacking trip with me. He carried a heavy load wearing just a pair of tennis shoes. His feet got completely soaked on the 2nd day descending snow field from the Hawk Peak to the Silver Lake. He deserved a nice pair of waterproof boots on his next hiking!
Backpacking summary: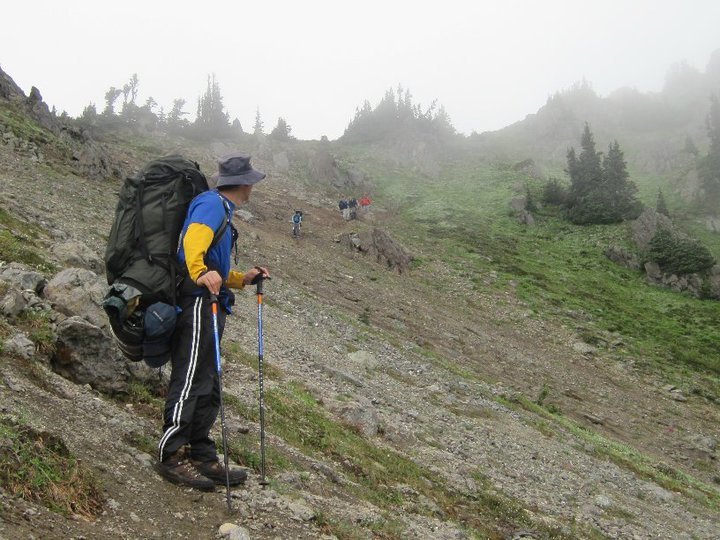 Day 1: Forecasted 55-72. It was probably 10 degrees cooler in the mountain. 6-7 miles with 2500 ft elevatin gain. We hiked from Tubal Cain Trailhead (4 miles past the Dungeness trailhead) to an upper valley (close to Mt. Worthington) between Hawk Peak and Mt. Worthington. Nice trails. Some steep switchbacks right at the turn to Tull City (No marking but straight was trail to Buckhorn Mt). At the camp site, it rained from 1700 till 2100, about 0.5 - 0.7 inch. We had some mosquitoes at the trailhead and at the B-17 crash site. There were no bugs along the trail and at the camp site. Another overnight camp site could be just above our camp site or just below the Hawk Peak which was relatively flat and dry. For me, the most difficult part was carrying up the 5 Gallons of water (41 LB) with awkward handles from the B-17 crash site to the Camp Site. Paul and Shawn carried the most, but Doug and I contributed some.


Day 2: Some ice droplets were formed on the rain fly in the morning. Morning was chilly (low 40s) and appeared to be a bright sunny day but quickly turned foggy as we reached the Silver Lake. The Lake was barely visible in 20 ft! Because of heavy fog condition, we changed our plan of hiking down to trailhead instead of hiking up to Mt Townsend. I estimated that 4-5 miles with less than 1000 ft elevation gain for the day. NO TRAIL FROM THE CAMP SITE TO THE SILVER LAKE: Steep ascending from camp site to the Hawk Peak. Steep descending (expect to go through steep side of the ridges with shale and rocks) to the Silver Lake - EXCELLENT CHOICE OF THE ROUTE. Almost straight down descending just below the Hawk Peak to the Silver Lake could be done, but it was not a short cut and not worth the risk. Upper portion of descending from the Silver Lake to Tubal Cain Trailhead turned slowly steep, and needed to be careful due to many tree roots and down trees on the trail. Initial trail from the Silver Lake could be confusing due to many trails to the camp sites around the Lake. Follow the down stream going around the Lake! The whole descending trail was pretty much along the stream (looks like started from the Silver Lake). We passed the trail to Mt. Towntownd trail (not marked) about a mile down from the Silver Lake. The last mile to the trailhead (where we parked our car) was walking on the dirt road.

Thanks to Doug again and all the hikers who hiked together, and hope to see them again soon on a hiking trip. I really enjoy hiking with such a group of people who provided a sense of positive energy, synergy, good companionship, motivation, inspiration, etc.

On the way home, 11 of us stopped by at a Buger Joint (Fat Smitty's, Port Townsend) on HWY 104. It was our first stop there as well. We devoured the whole Fat Smitty special with fries. Arriving at our sweet home, my wife and daugher greeted us. After laying out the camping gears on the covered deck, Danny and I quickly soaked in the hot tub. Later, all of us looked at the pictues we took for two days and chatted a little while. Then, quickly, I was somewhat exhausted and went to bed early, again wishing for dreaming a good hike coming weekend.