Dayhikng the Copper Creek, Buckhorn Pass, Buckhorn Wilderness - Olympics (6-18-2011)
(Estimated 14 miles roundtrip with 3500 ft elev gain)
What a day to spend the Father's day hiking in the high country with the fellow PWC (Peninsular Wilderness Club) hikers! There were still lots of snow above the treeline (4000 ft) but we managed to hike up to an unnamed peak (6470 ft) over the Buckhorn Pass without snowshoes. We did use an Ice Axe, and a couple of us used the Micro Spkes.. The access road to Upper Dungeness Trailhead had some landslides during winter but they were all cleared.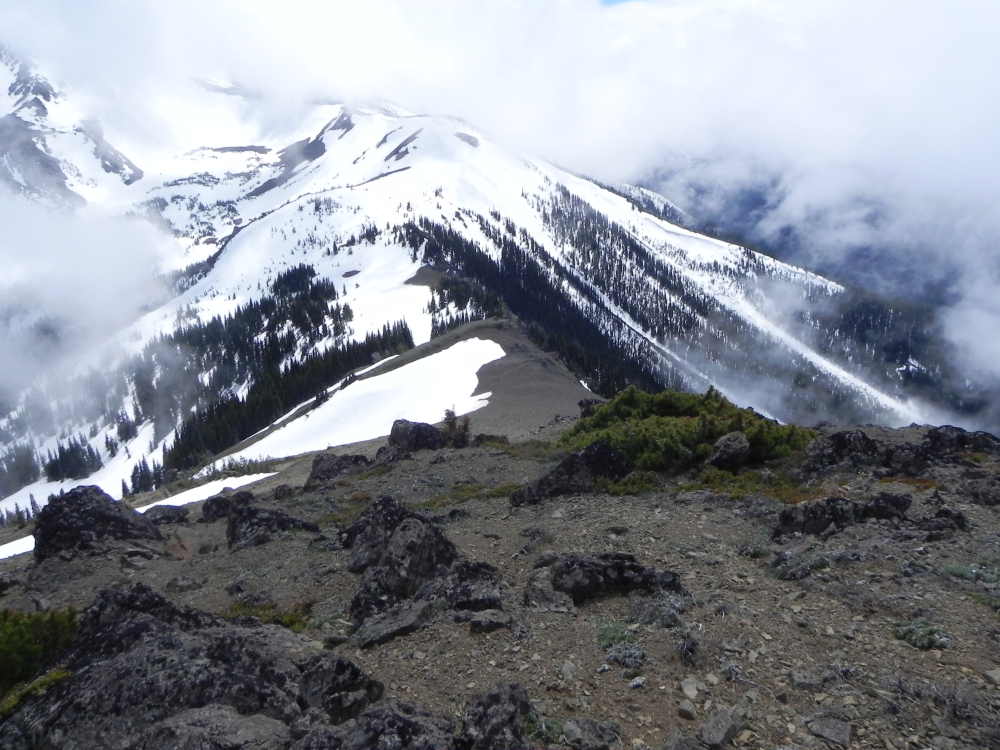 The event was sponsored by Jay Thompson. We were originally planning to hike up the Mt Jupiter but the access road was closed due to timber logging operation.
The Buckhorn pass is located in the Eastern Olympics, part of Buckhorn Wilderness, along the west side of the Iron Mt & Buckhorn Mt. I hiked a couple of hikes around the same area like the Royal Basin and Tubal Cain Mine (along with B-17 crash site). Its trailhead is the same as the Tubal Cain Mine trail and 4 mile further from the Dungeness Trailhead. Along the trail below 4000 ft, the place is loaded with Rhododendrons. They have not started blooming yet but, when they state to bloom, they are truly beautiful (it's also the flower for the State of Washington). In the upper area above the treeline, the hiker can see the rugged Olympics Mountains. Continuing on the South about 1.5 miles along the ridge after passing the Buckhorn Pass, the hiker can reach the Marmot Pass (that I hiked from South, the Upper Big Quilcene Trailhead). Some people think that the Marmot Pass (6000 ft elev) hike is the best hike in Olympics for the all around expensive views from there and relatively easy hike to a high country.
Hiking Highlights:
1. Rhododendrons.
2. Mushrooms. Olympic Onion. Wild Flowers.
3. 6-7 different Echo-Systems.
4. Two Copper Mine shafts abandoned in 1906
5. Alpine Meadows.
6. Close up views to the rugged Olympics Mountains.
In overall, it was an excellent hike. It was the first hike of the year hiking above 6000 ft in Olympics. It was great to check out the snow conditions in high country. Most of snow should melt in a few (3-4) weeks when the summer temperature hits constant at 70-80s. I am looking forward to those days for mult-days backpacking.