Dayhiking the Charlia Pass from Upper Dungeness (10-29-11)---15 miles round trip with 3800 ft elev gain
I was going to hike a couple of trails at the Staircase area on Saturday but changed my mind to hike a high country trail where I had not hiked before. Those staircase hikes were simply to get some exercise and cross out trails as I hiked. I always want to hike a high country if weather is reasonable and safe. I selected the Charlia Pass trail after reading an excellent hike report on the NWhiker's forum. It's only 1.5 miles from the Boulder Shelter where I hiked through when I hiked the Constance Pass 3 weeks ago. However, on this hike, I wanted to confirm the locations of the Mt Mystery, Hal Foss, & Mt Fricaba since I was so confused to name those peaks during the Constance Pass hike. Well, I got my wishes. I had some exercise and could distinguish them with confidence.
Temp at the trailhead was 35F with hardly any wind. Aleta joined me for the hike. I met her during the Mt Stone scrambing-climb. She has been a avid road bicyclist, a long distance biker like 200 miles !!! Going up the Mt Stone, she had lots of strength and showed her agility. No doubt that she did not have any issue hiking this trail. I felt very strong as well since I took a break one week. We staeted hiking about 0915, took a couple of good breaks, and came back to the car at 1600. Hiking out from the Boulder Shelter (6 miles away), it took us 2 hours which was a reasonable pace.
The trail was in good shape. It has a very gentle slop: trailhead to Boulder shelter is 6 miles with 2500 ft elev gain. Below the Boulder shelter trail, there were some horse poops that might indicated a gentle grade of the trail. Then, the last 1 mile or so to the Charlia Pass gained about 1200 ft elev. I find that most of the trail near the Passes are steep like a hill top. Also, the way trail to the Charlia Pass was frozen and icy due to its high elevation and low temperature. Then, just below the Pass, the trail was snow free and dried, which made easier hike up to the Pass.
In overall, I enjoyed this moderate hike and was glad to confirm those Olympic peaks.
At the Charlia Pass (to the East), it was chilly. Needed to get out of there quickly. A view of the Charlia Lake from the Charlia Pass (West)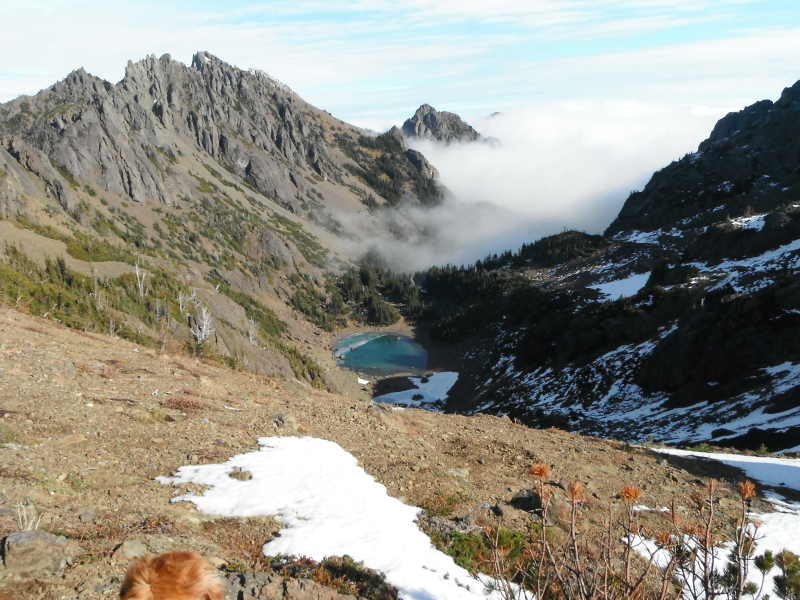 A view of the Constance Pass, Mt Mystery, Hal Foss, & Mt Fricaba from the Charlia Pass


Here were some hiking techncials that I copied and modified from the Constance Pass hike:

Charlia
Pass from Upper Dungeness (
15 miles round trip with 3800 ft elev gain).

a. Upper Dungeness Trailhead 0 mile (2500 ft elev).
b. Junction to Royal Basin 1 mile (2650 ft elev) (Total)
c. Camp Handy 2.4 miles (3300 ft elev) (3.4 miles)
d. Junction to Marmot Pass / Boulder Shelter 0.2 miles (3300 ft elev) (3.6 miles)
*** The Junction is somewhat mis-labled, and the "Boulder Shelter" was etched in below the "Marmot Pass." sign.
d. Boulder Shelter 2.6 miles (5000 ft elev) (6.0 miles)
*** This is a Junctioin to Marmot Pass, No sign was there. Pass the Shelter toward the Constance Pass in less than 0.2 miles, there is a way trail to Charlia Pass (no sign but to the right is the Home Lake).
e. Charlia Pass 1.5 miles (6300 ft elev) (7.5 miles). 1300 ft elev gain in 1.5 miles. Actually, last 0.5-1 miles gained most of the elevation gain of 1300 ft !!!

Trailhead direction:
Upper Dungeness Trailhead (TH), the same as the Royal Basin TH. 4 miles from here is the Tubal Cain Mine Trailhead.

a. Follow Highway 101 to Sequim Bay State Park, turn west across from the state park onto Louella Road.
b. Follow Louella Road one mile to Palo Alto Road and take a left on Palo Alto Road for 1.1 mile to the Forest Boundary.
c. The Palo Alto becomes FS Road #28. Turn right onto FS Road #2880, drive past Dungeness Forks Campground for 1 mile stay left onto FS Road #2870 for 8.7 miles to trailhead.