Dayhiking Constance Pass from Upper Dungeness (10-8-2011) --- 19.6 miles with 3700 ft gain
It has already started snowing in the high country last week. The Eastern Olympics was covered by snow on Thursday morning. Well, I had to bow out of high country backpacking trips until next year. I was very fortunate to solo-backpack the 4 passes (high country) in the Olympics two weeks ago. I had thourougly enjoyed the trip. So far, the rainy season has definitely arrived a little earlier. I will have to shift my outdoor activities to dayhiking and Kayaking. Then, later in the Winter, shift to snowshoeing and cross country skiing. For this weekend, I decided to do a long day-hiking on Saturday and kayaking on Sunday with the Peninsula Wilderness Club (PWC) members.
On Saturday, I day-hiked the Constance Pass which was on my day-hike lists in the Olympics. It was my longest dayhike !!! I hiked a portion of the trail, to the Camp Handy, but have not hiked beyond. It was a pleasant long day hike because it does not have steep ups and downs but steady ridge slope from 2500 ft elev to 5800 ft elev. I posted my trip in the PWC website to solicit some hikers. Aaron and Brian joined me for the hike. Aaron and I hiked together quite a bit, and I met Brian during the Mt Stone hike. It's always fun and energic hiking together with such strong hikers. We started hiking at 0730 and finished at 1530. At some portion, we hiked close to 4 mph in the wooded canopy trails.
The North Eastern Olympics area could be for 1-2 night backpacking trip where I would love to take my family. Its surroundings are the Marmot Pass, Buckhorn Mt, Buckhorn Pass, Charlia Lake, Home Lake, Warrior Peak (part of Mt Constance), Inner Constance, Del Monte Ridge, other expansive views of the Olympics, etc. Those areas are probably top 5 famous & busiest hiking/backpaking destinations in the Olympics. The Constance Pass is 5.6 miles one way away from the Marmot Pass, so not too many dayhikers wanted to day hike there since it's already over 5.5 miles one way to the Marmot from the closest trailhead.. Indeed, the Constance Pass area was beautiful despite the area was covered by snow. The East side was guarded by very rugged Mt Constance mountain ranges (Warrior Peak and Inner Constance). Just below on the North side, a beautiful and homly alpine lake, Home Lake (5450 ft elev), is nestled funneling waters from the South (Constance Pass, Del Monte Ridge, etc) .
Temp was 35F when we arrived at the Upper Dungeness Trailhead. For the day, mid 30 to low 50s. It was cloudy with some black clouds in the North but, as the day went on, it got cleared without any rain drop. All blue sky at the Constance Pass and during hiking out. What a wonderful and fun day we had !!! In overall, the trails were in good shape. Beyond the Boulder Shelter, there were a few fresh down trees but were easy to navigate. About 1/2 mile below the Constance Pass, it was full of snow that was close to 1 ft of fresh snow.
Constance Pass on 8 October 2011 (about 1 ft of snow)


Ready to hike the 20 miler. Camp Handy (Somebody was in there, snoring....)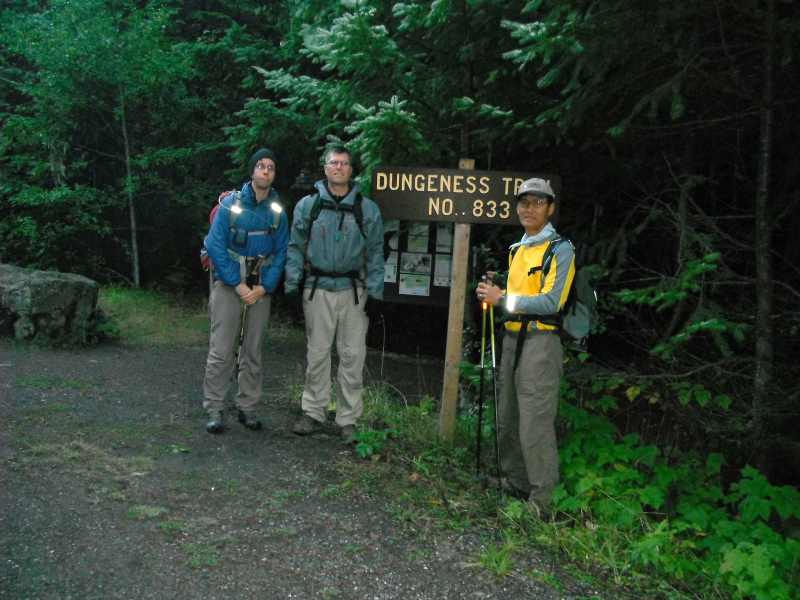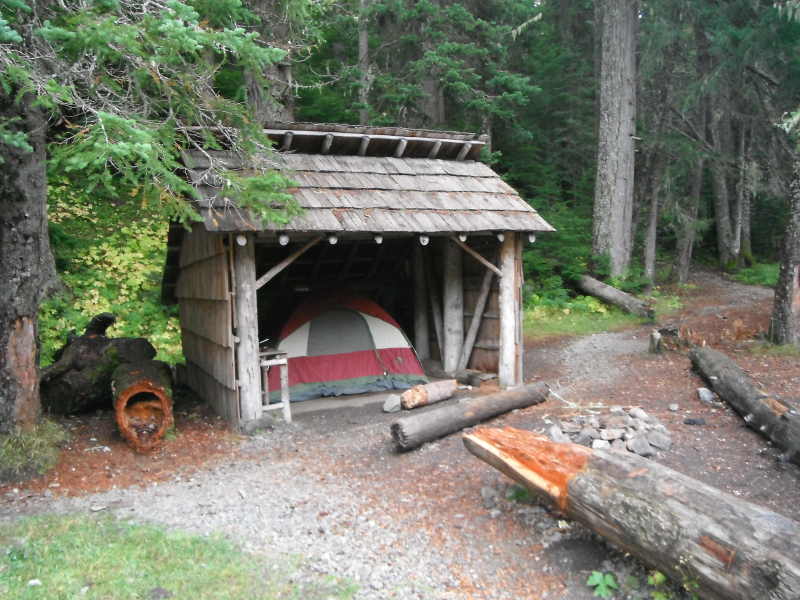 "Boulder" Shelter Area. Home Lake.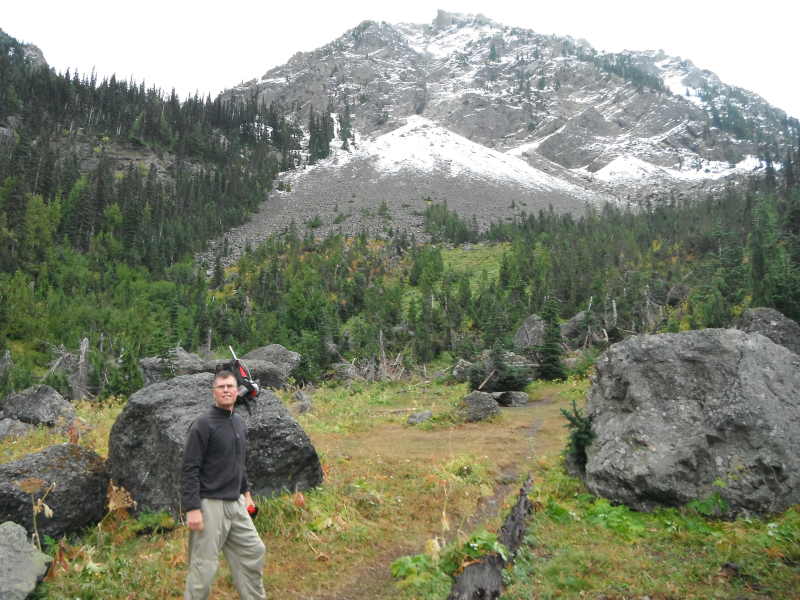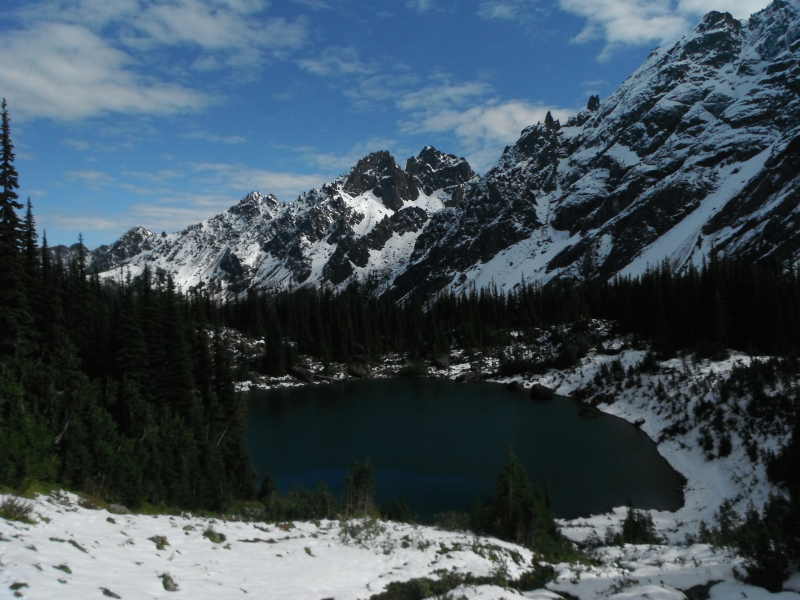 Here were some hiking techncials that I figured out from a custom correct map and used for the hike:
Constance Pass from Upper Dungeness (19.6 miles with 3700 ft gain):
a. Upper Dungeness Trailhead 0 mile (2500 ft elev).
b. Junction to Royal Basin 1 mile (2650 ft elev) (Total)
c. Camp Handy 2.4 miles (3300 ft elev) (3.4 miles)
d. Junction to Marmot Pass / Boulder Shelter 0.2 miles (3300 ft elev) (3.6 miles)
*** The Junction is somewhat mis-labled, and the "Boulder Shelter" was etched in below the "Marmot Pass." sign.
d. Boulder Shelter 2.6 miles (5000 ft elev) (6.0 miles)
*** This is a Junctioin to Marmot Pass, No sign was there. Pass the Shelter toward the Constance Pass in less than 0.2 miles, there is a way trail to Charlia Pass (no sign but to the right is the Home Lake).
e.Home Lake 0.5 miles (5450 ft elev) (9.3 miles)
f. Constance Pass/Home Lake 3.3 miles (5850 ft elev) (9.8 miles)

Trailhead direction:
Upper Dungeness Trailhead (TH), the same as the Royal Basin TH. 4 miles from here is the Tubal Cain Mine Trailhead.

a. Follow Highway 101 to Sequim Bay State Park, turn west across from the state park onto Louella Road.
b. Follow Louella Road one mile to Palo Alto Road and take a left on Palo Alto Road for 1.1 mile to the Forest Boundary.
c. The Palo Alto becomes FS Road #28. Turn right onto FS Road #2880, drive past Dungeness Forks Campground for 1 mile stay left onto FS Road #2870 for 8.7 miles to trailhead.