Backpacking Duckabush to Staircase, Olympic National Park (estimated 33 miles with 5500 ft elev gain in 2 days) - (8-9 July 2011)
What an incredible weekend backpacking about 33 miles one way traverse with 5500 ft elev gain in just two days ! It was a Pennsula Wildernsss Club (PWC) event hosted by Jay Thompson (PWC webmaster). I joined him for two cars shuttling. This trip was scheduled one week eariler but was postponed due to possible too much snow on the trail and family time on the 4th of July weekend. We decided this trip at the last minute for 3 days (Fri, Sat, & Sun), one additional day for backup, so unfortunately, some other PWC backpackers (who have planned earlier) did not have a chance to join us.
Ready for a 33 miler at the Duckabush trailhead ! Many creeks we had to cross. Only one required using watershoes ! Naturally fallen log bridge just before the Duckabush Camp site.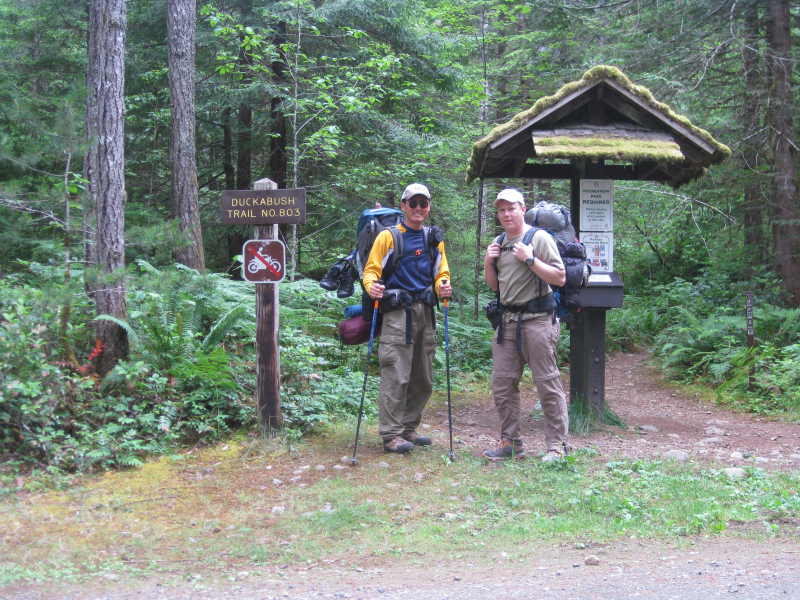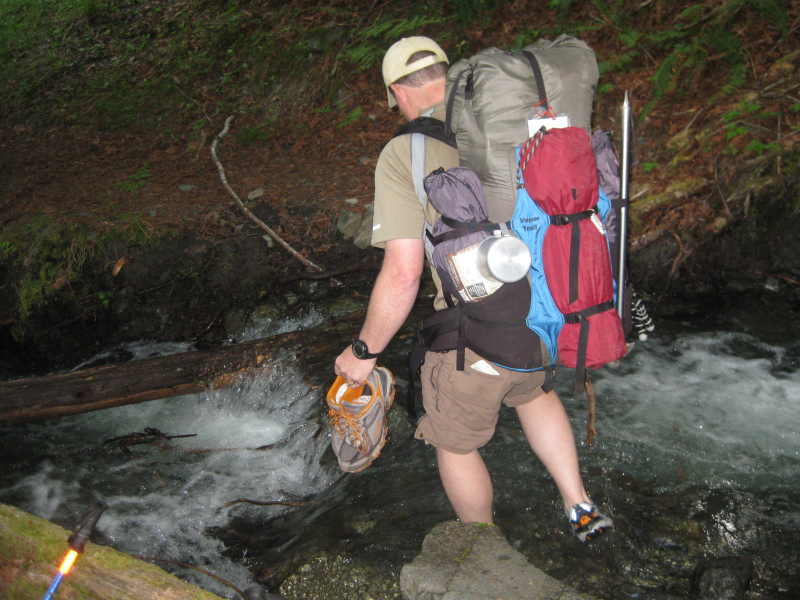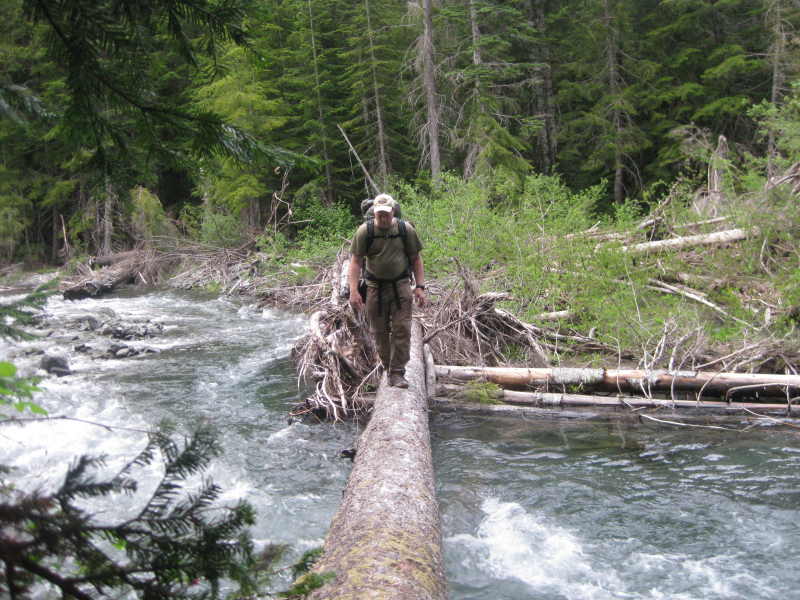 Jay posted his excellet trip report (awesome pictures and narratives) at his website. This trip gave me a good idea how I should plan for backpacking the lolly pop loop (one of my backpacking wish lists in Olympics): the loop of La Crosse Pass, Marmot Lake, O'Neil Pass, & Anderson Pass (18.8 miles with 5000 ft elev gain) + hike in (from Quinault (Graves Creek, 14 miles hike in) or Staircase (15 miles hike in)). I would plan for a minimum of 4 days for the trip.
Home-Sweet-Home Basin The First Divide on the right, the V shape looking from the Home-Sweet-Home Basin.


For this trip, we planned for 3 days (carried enough food and had a permit for 3 days) but successfully finished the hike in 2 days. No doubt that it required strength, endurance, determination, and ambition. I thought it was appropriate to finish the trip in 2 days given its monotonous trail (not much to see in the valley) along the Duckabush River (1st day) and North Fork Skokomish River (2nd day). On the 2nd day, when we reached the "Home Sweet Home" basin (4200 ft elev) just below the First Divide (4688 ft elev), it was the moment I have been yearning for: a spectular open view of a basin surrounded by the snowy and craggy mountains. The view would be more grandier with alpine meadows without snow. Then, I would definitely want to stay there as long as we have enough food and summit a couple of surrounding peaks.
In overall, as of 10 July, there were too much snow (over 5 ft) above 3500 ft elevation and will take for a while to melt away.

A huge bear below the Two Bears Camp. An elk below the Nine Stream Camp. A deer below the Nine Stream Camp A grouse on the tree. A grouse on the tree.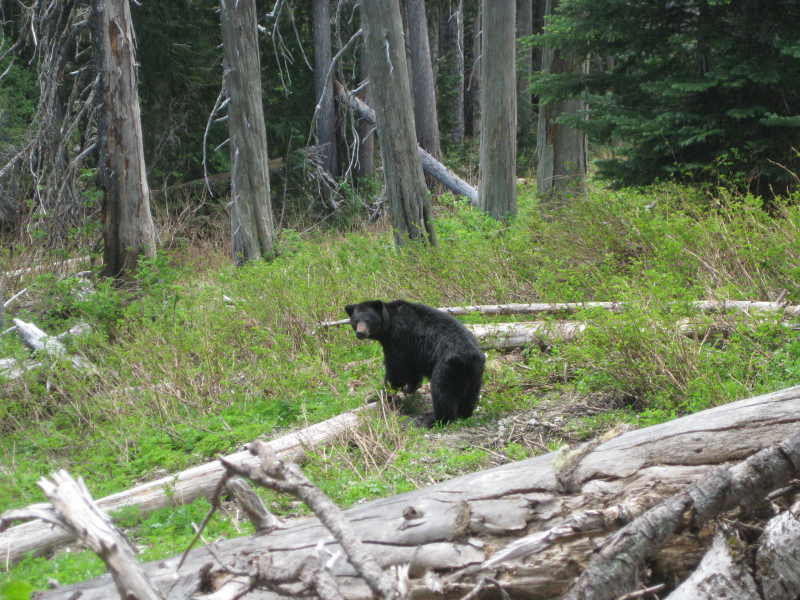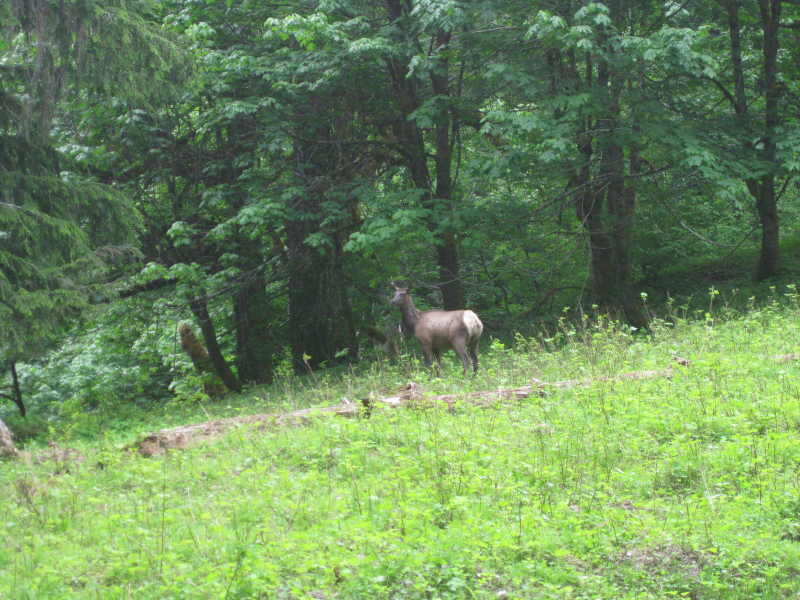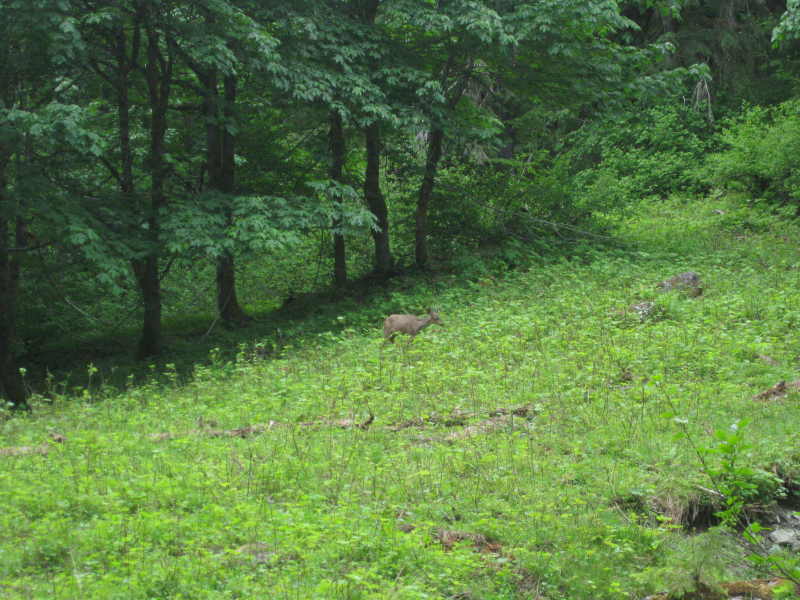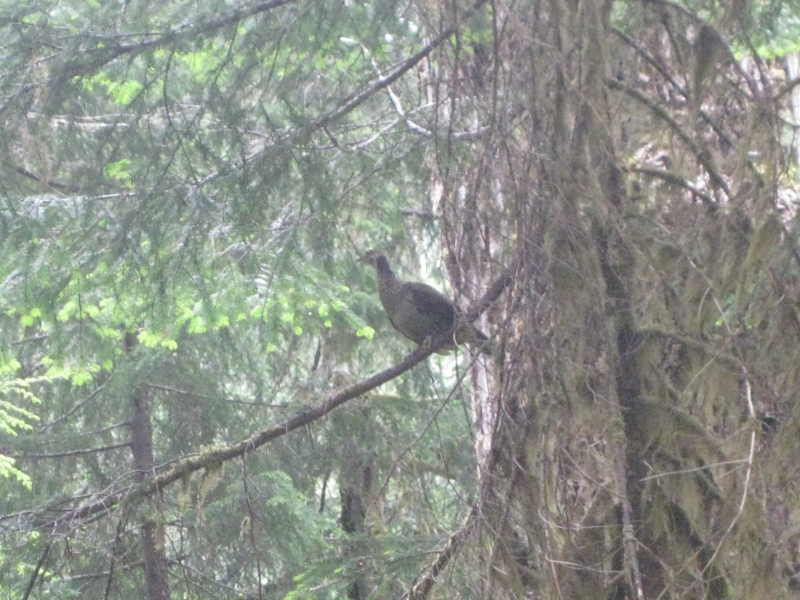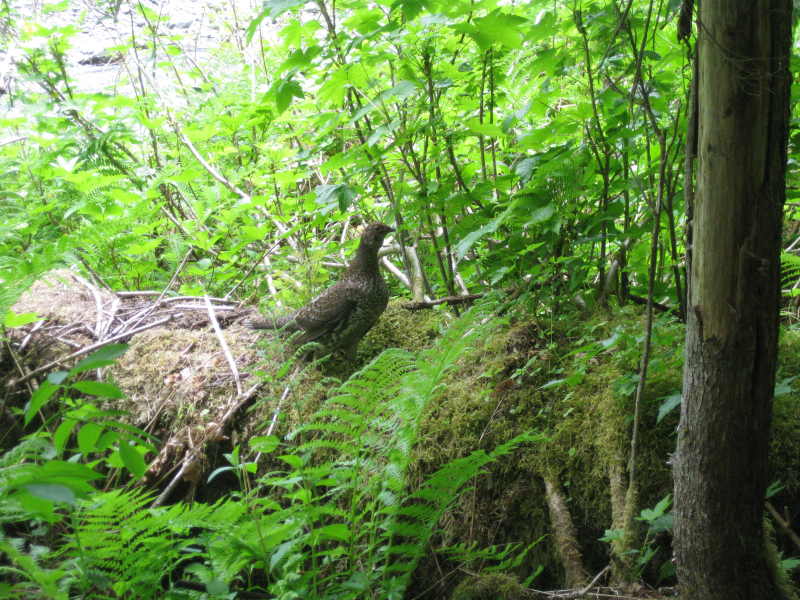 Day 1 hiking highlights (Crossing Upper Duckabush River, Camp fire at the Duckabush Camp site):
As per the friendly ranger at the Staircase, the trail crews were out at Dosiwallip trail not on Duckabush trail. Trail crews need to be out on the Duckabush trail soon. Many (30-40) blow down trees were on the trail. One place above the Tenmiles camp site had more than a dozen big trees were fell on the trail.
We had to cross numerous creeks that are with no log or bridge, which feed the Duckabush River. Careful footing with proper waterproof hiking shoes would prevent getting wet (my feet was dry for both days). We had to use watershoes only once because one particular creek was about 1 ft depth without footing.
0 mile: Trailhead (440 ft elev). Left 1100 am.
1.0 miles: Little Hump. The Brothers Wilderness (800 ft elev).
2.4 miles: Close up to the Duckabush River (700 ft elev)
4.0 miles: Big Hump (1750 ft elev). Arrived at 1230. A view of the St. Peters Dome was obsecured by clouds, but the little breeze felt great.
4.8 miles: Close up to the Duckabush River (1100 ft elev). Rumbling river rejuvenates the spirit.
5.0 miles: Five mile Camp junction (1100 ft elev, No sign). Around 1300, we had a lunch here. There were a few nice camp sites and saw a tent in the distance.
10.0 miles: Tenmiles Stock Camp. Arrived there aournd 0400 pm. Took 10 min break including pumping water sitting on a plank of log bridge. Just above the camp, we saw a bear which ran away fast.
15.3 miles: Junction to La Crosse Pass (2677 elev). I felt really good to see the juction sign, "La Crosse Pass." The place is considered one of most beautiful areas in Olympics.
17.7 miles: Duckabush River. Naturally fallen tree bridge across the River (2695 ft elev).
17.7 miles: Upper Duckabush River Camp ground (2700 ft elev). Arrived 0800pm. About 9 hours of hiking for the day. Made a camp fire and rested for the next day.
The highlight of the day was crossing the Upper Duckabush river. If we could not cross the River, we needed to turn back after 17.7 miles of hiking in. Luckily, one huge tree fell across the river. We managed to cross the log bridge. Carful footing with 100% concentraion was required.
What a relief safely arriving at the upper Duckabush camp site after 17.7 miles of hiking (arivved at 0800 pm after 9 hours of hiking) ! We had a nice camp fire for 2.5 hours and turned in for the next day.

Day 2 hiking highlights (Home-Sweet-Home Basin, First Divide, A vew of Mt Steel, sighting a Big Bear, Nine Stream Camp site):
From the Duckabush campsite (2700 ft elev) toward the Home-Sweet-Home (4200 ft elev) basin had steady switchbacks till 3500 ft elevation. Starting 3500 ft elev, we were greeted by constant 5-8 ft of snow and were on a routing finding mission. I relied on the map and compass. Jay used the map effectively recognizing the river, creek, peaks, contours, etc. Since we were not 100% confident of our route, Jay broke out his GPS unit (that he saved the GPS battery for the right moment). His GPS really ensured us going to the right direction. The highlight of the day for me was reaching the Home-Sweet-Home Basin. It was completely covered by snow and we do not even know where the camp site was but we knew that it was the place. We took lots of time in figuring out which one was the First Divide ridge (1 of 2 choices). Then, it was challenging coming down the First Divide toward the North Fork Skokomish River since we wanted to end up on the west side of the river (so that we don't need to cross the river). Once we were back on the trail near the Two bear camp site, we were on our way to a succesul traverse. On the last 10th hour of hiking on the 2nd day, I was starting to feel the near Wall. Our jaunt was over at 9 hours 50 minutes. End of Story .....
0 miles: Upper Duckabush River Camp ground (2700 ft elev). Left 0810am.
0.1 miles: Juction to Marmot Lake/O'Neil Pass (2700 ft elev)
2.0 miles: Home-Sweet-Home Basin (4198 ft elev). A grand view of the basin.
2.7 miles: First divide (4688 ft elev).
3.8 miles: Two Bears Camp (3800 ft elev). Arrived 1230 pm. Just below, we saw a huge bear.
6.0 miles: Nine Stream Stock Camp (2100 ft elev). At 1340, we had sandwitch lunch here.
8.3 miles: Camp Pleasant (1500 ft elev). The campsites were packed, possibly due to volunteer trail crews. Took 20 minutes break along the river.
9.7 miles: Big Log Camp (1450 ft elev). Did not stop by.
11.6 miles: Spike Camp (1400 ft elev). Did not stop by.
11.7 miles (1400 ft elev): 3.3 miles Junction to Black & white, Flapjack Lakes, Gladys Divide.
14 miles: Last log bridge (890 ft elev).
15 miles: Staircase Trailhead (800 ft elev). Arrived at 1750. Close to 10 hours of hiking for the day.
Sighting Bears and Mother Grouse Story: On the first day, along the Duckabush river above the Tenmiles camp site, we saw a small black bear in the distance (300 ft). Before we had a chance to take a picture, it ran away. On the 2nd day, we saw a huge bear less than 100 ft away just below the Two Bear Camp site. The bear was not scare of us but kept on munching while peaking at us. We were glad to take some pictures but I was getting little nervious due to its proximity. It looks like grouse' offspring season. On 3-4 occasions right near the trail, we saw a mother grouse pretending her wings damaged to lure the intruders (the hikers) to her, away from her chicks. One one occasion, we were able to take close up pictures of a frightened mother grouse.

In summary, it was an incredible traverse overnight backpacking: my first taste of long distance backpacking trip. The route was definitely for multi-days bagpacking that offers lots of places to explore: Home-Sweet-Home basin, Peaks around the basin, View of Mt Hopper, First Divide, View of Mt Steel, etc.
Duckabush Trailhead Direction:
On U.S. Route Hwy 101, about 15 miles South of Quilcene or 22 miles North of Hoodsport, turn onto Duckabush River Road, signed Duckabush Recreation Area. Continue 6 miles (the first 3.5 miles are paved). Pass Collins Campground at 5 miles, pass a horse unloading area and then turn immediate right on Road 2510-060 (no sign) to the trailhead. The key point is 6 miles from the Duckabush River Road (3.5 miles paved and 2.5 miles unpaved).