Dayhiking Heather Park, Klahhane Ridge, & Lake Angeles loop (Port Angeles, WA) (12.9 miles with 4100 ft elev gain) --- (9-17-2011)
The weather turned south this week. Since Monday, it has been all cloudy and drizzling on Mon and Wed. I was planning to backpack 3 days of the Loowit trail (circumnavigating the Mt St Helens) with the PWC members, but it was cancelled due to possible bad weather. So, on Saturday, I was planning to join a PWC member and his friends for the High Divide Loop hike. It was my best dayhike last year in Olympics. That was also cancelled. Since I hiked the High Divide Loop, I decided to hike some trails that I have not hiked before. The Heather Park loop near Port Angeles sounded pretty good. Also, I was curious to hike the Klahhane Ridge trail because one hiker was killed by a mountain goat there last year. And it turned out to be my first solo day-hike in the Olympics.
The weather forecasted 40% chance of precipitation but luckily it did not rain. Temp was low 40s and 60s which were very nice temperature for hiking. Above the Heather Park on the way to the Mt Angeles (6454 ft elev) saddle, it was chilly by the wind chill factor. If it rained, it would have been a miserable day (but I was prepared for the worse equipped with rain gears and extra clothes).
Near the Half Way (Junction to Klahhane Ridge/Hurricane Ridge) Heather Park (had several camp sites and a nice creek) Hurricane Ridge Road to the Visitor Center from Klahhane Ridge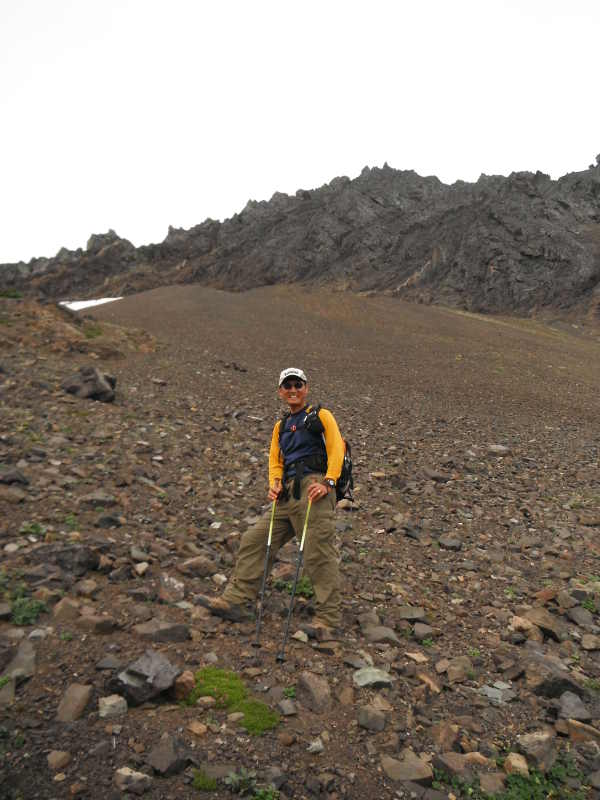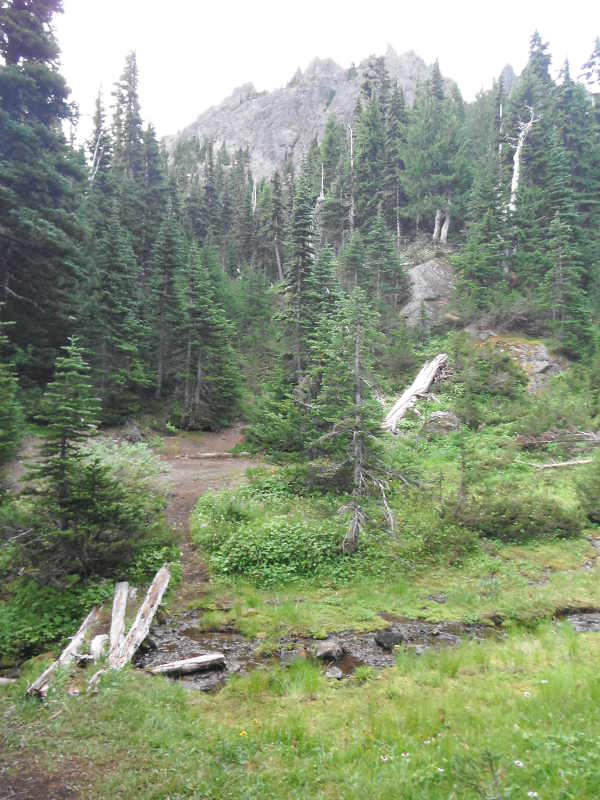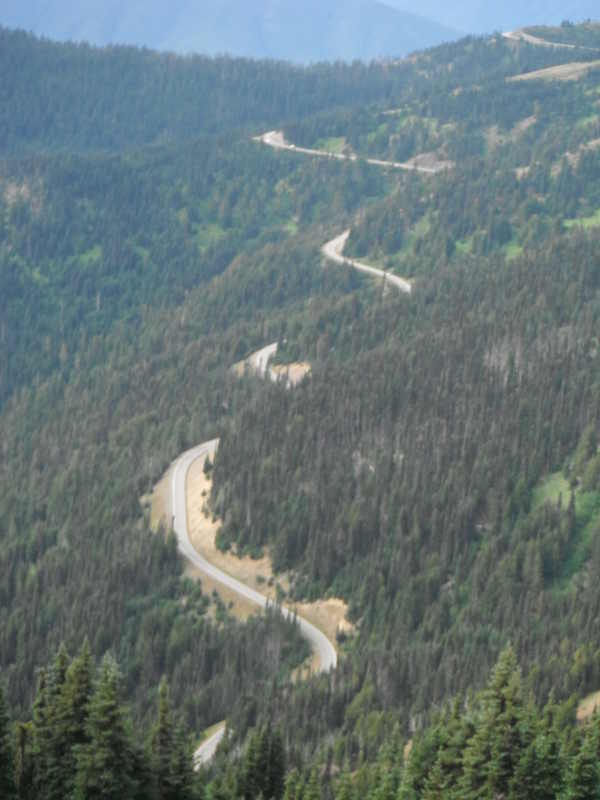 Klahhane Ridge Trail (Be aware of a goat !) City of Port Angeles, WA Lake Angeles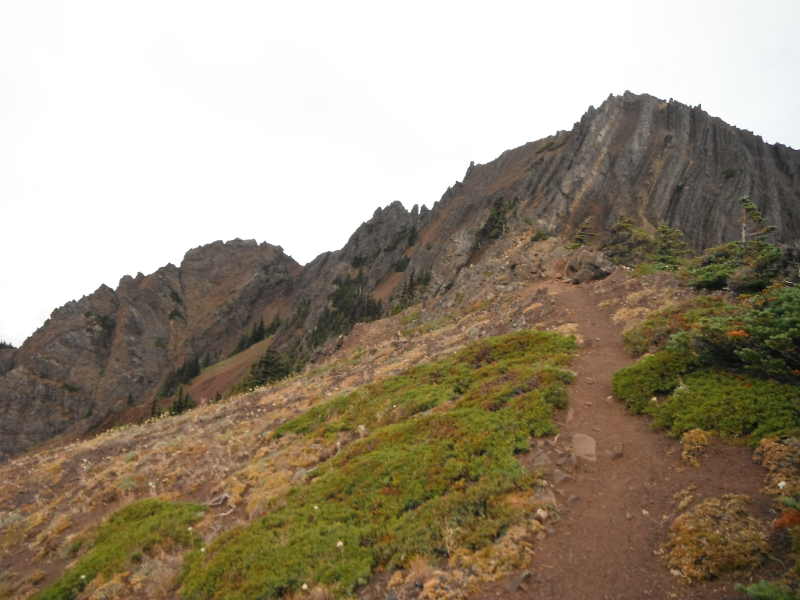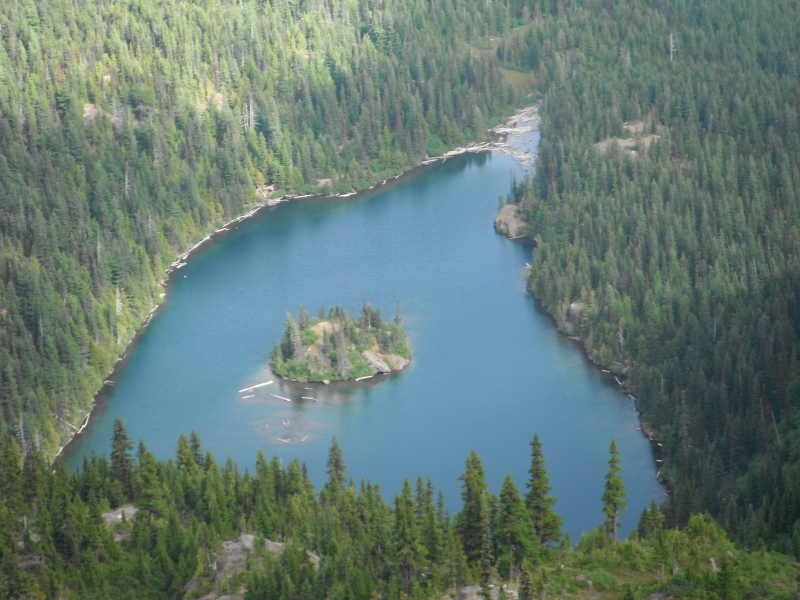 The hike was straight forward. The highlight of the loop was traveling the high country from Heather Park to the Klahhane ridge trail Junction above the Lake Angeles, about 3 miles. The open views to the West (Olympics) and to the North (Port Angeles) were breathtaking. When I got to the saddle of the Mt Angeles ridges. I scrambled up a peak about 50 ft next to the saddle (5850 ft elev) to check out the ridgelines to the Mt Angeles summit. They were craggy, full of cliffs, and beyond class 2 scrambles. Then, I traveled down the shale trail and up to the Junction (5900 ft elev) of the trail from the Hurricane Ridge Road. At the Junction, the Mt Angeles summit was right there but needed to go around west by dropping a few hundreds feet and back up the chute (that I could see). It would take another 2-3 hours. Well, I was already at 6100 ft elev and did not think it was significant to summit a 6454 footer. Also, I was thinking about coming home early at that time.
On the Klahane Ridge trail, I was not sure where the hiker was killed by a mountain goat last year. I was expecting to see a herd of mountain goats but did not see any. The trail was above 4200 ft elev with some green vegetation and meadows but no sight of a goat ! Once pass the Lake Angeles junction (4200 ft elev), trail is in the wooded area.
I also heard about hikers heading to the Heather Park for snowshoeing in the winter. I am not sure if that's a good snowshoeing destination since its trail is in the wooded area. I prefer the Hurricane Hill or the Obstruction Pt with the open views for snowshoeing in the winter.
Water refill sites: Two places, Heather Park (4 miles from TH) & a Creek (about 2 miles before finishing the loop). No water refill site other than melting the snow in the high country. I carried 2.5L and a water filter. It was enough and did not need to refill since the weather was not hot.
People sighting (Cheryl and her daughter): I was making the counter clockwise loop and saw a few parties. One party consisted of 6-7 70-80s years old who just came over from the Hurricane Ridge Road. They were cautious but simply amazing traveling the shale trail and up the saddle. Kindly, one of old men took me some pictures. Then, another 3 hikers who were in 60s (2 ladies and man) were making clockwise loop. They made to the Junction (Hurricane Ridge) in 3 hours which was a fast phase. When I arrived above the Lake Angeles, I was taking a short break on a rock before running down the hill. Somebody called "Isaac". It was a total surprise that Cheryl and her daughter were making the clockwise loop. They were well prepared and looked strong after gaining 3000 ft elev. We took a quick picture together and chatted a little before it was getting chilly. While I was coming down the hill below the Lake Angeles, I met a group of boy scouts from Gig Harbor and a couple. I chatted with them a little to give my knees some break. They were anxious to know where and how far the Lake was. When I returned back to the trailhead, there were 12 more cars. No doubt that it was a popular trail.
Here was my estimated mileage and elevation:
a. Trailhead 1960 ft (started hiking at 0703)
b. Halfway rock (2.2 miles): 3650 ft elev
c. Heather Park (4.0 miles): 5250 ft elev
d. Junction (to Hurricane Ridge Road) (6.2 miles) 5900 ft elev, Klahhane Ridge Trail.
e. Junction to Lake Angeles and Klahane Ridge (9.1 miles): 4200 ft elev
f. Back to Trailhead (12.9 miles, 1960 ft elev. Back to trailhead at 1258)
In overall, I enjoyed my first solo-hiking in Olympics. I simply hiked, rested a few minutes, hiked, enjoyed the views for a couple of minutes, hiked, and hiked. The trail was very well maintained like the High Divide Loop trail.
Trailhead Direction:
About 70 miles (1.5 hours of driving) from Silverdale, Wa. Take Highway 101 to Port Angeles and then take a left on Hurricane Ridge Road to the Park entrance. There are signs in Port Angeles that direct you there.
Just before the Hurricane Ridge (Olympic National Park) Entrance Gate, make right and around the corner is the parking are for trailhead.