Sea kayaking, Circumnavigating counter clockwise the Protection Island in Sequim, WA (10-9-11) --- about 10 miles
It looks like the rainy season has just started but it was another fantastic weekend in outdoor activities: hiking on Saturday and sea kayaking on Sunday. On Saturday, I hiked the Constance Pass which was one of most beautiful areas in the Olympics. On Sunday, I joined 6 other Peninsula Wilderness Club (PWC) members for sea kayaking. Proper gears and decent paddling skill are essential in potential foul weather. I am still a long way to go with paddling skill but was not afraid of capsizing or paddling through some rough water as I was equipped with a dry suite. Another key thing for safe kayaking has been padding with a few skillful paddlers. Now, my kayaking goal for the rest of this year is to learn how to roll and improve paddling skills. I really need those skill as soon as possible as the weather gets colder and worse, and I am starting to enjoy more sea kayaking. Albeit equipped with the dry suite but with limited paddling skill, capsizing in cold water could be life threatening. I think, at the least, high brace skill should be a must while sea kayaking in cold water environment. I will need to be careful participating/selecting a kayak trip until I can confidently and efficiently roll back my kayak. As a trip member, I will also need to think about the others as well.
The event was hosted by Les Moore, participated by Paul D, Charlie M, Linda, Tom H, Mike, & I. I have been feeling safe if any two of Les, Charlie, Tom H, & Paul are going on the trip. It is because they have good maneuvering skill and can quickly perform assisted rescue. As its name indicated, the Protection Island is a protected wild life refuge and an off-limit to the public located just North of the Discovery Bay in Sequim, WA (West of Port Townsend, WA). Eastern Sequim is located about 45 miles North of Silverdale/Bremerton, WA.
Weather forecast was rainy, but it was improved and was only cloudy with a very short period of sunshine. Temp was in mid 50-60s with less than 5 kt of wind. Water was calm (Class I all day), so it was a very easy and relax paddling. Thanks to Les (our trip leader) for another good paddling trip. Basically, we paddled around the Protection Island in counter clockwise and stopped by at the North side of the Miller Peninsula State Park for lunch. I have never seen so many wild life before (unfortunately, my waterproof camera could not catch the images well because it has a limited internal zoom.); seals, sea birds, blue heron, etc.
Here were some wild life around the Protection Island and along the north side of the Miller Peninsula State Park. Most pictures were not in good quality but still might bring a sense of excitement in the bay area which could only be experienced by sea-kayaking or similar outdoor activities.
Ready to lanch our kayaks. Protection Island in the background. Looking at the Island from North East. It has some interesting geological features.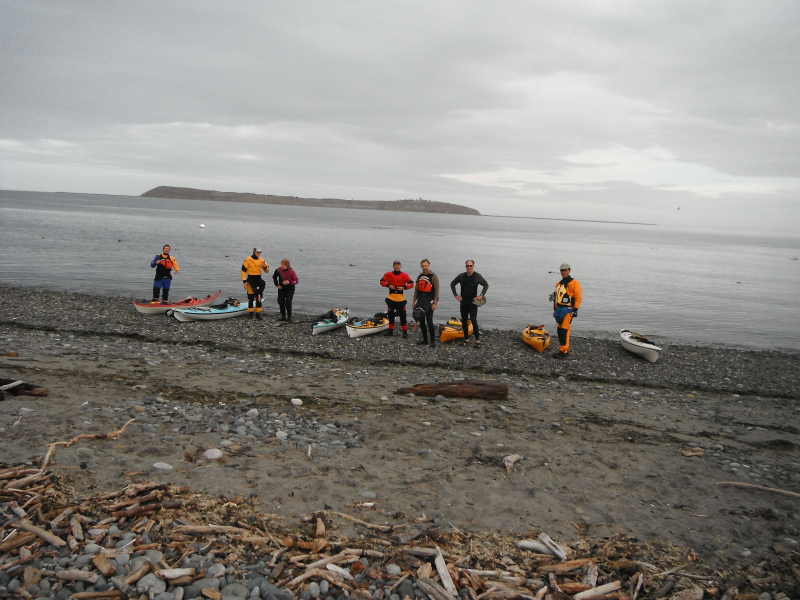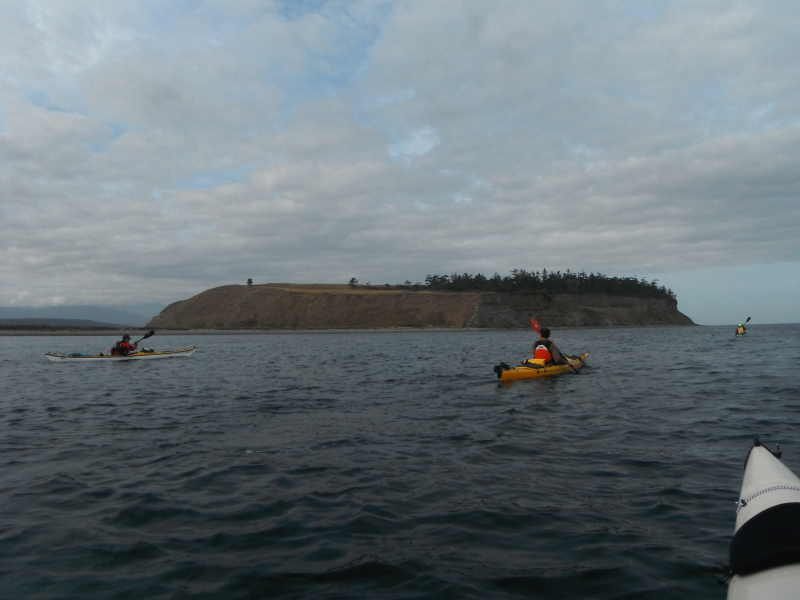 Again, most of the pictures were not in good quality but still might bring a sense of excitement in the bay area. Many pictures are duplicate but I just got hard time deleting any of them.
Here was our trip leader's trip description:
Description: Join Les for a paddle around Protection Island, a remote wildlife refuge known for its abundance of birds. This is Class III, 9-nautical-mile round trip paddle. Launch is at 9:30 am from the Diamond Point boat launch - be there by 9 am (see directions below). The proposed route will take 3 to 4 hours with 2 channel crossings over a mile in length. There is over 30 miles of fetch to the NW. A wet suit or dry suit is advised as we will be far from shore much of the time.

Route
- Put-in at Diamond Point 9:30 am. Paddle north to east side of Protection Island.
- Circumnavigate Protection Island counter clockwise. It is illegal to take out on Protection Island and we must remain 200 yards from shore.
- Paddle to Miller Peninsula State Park for lunch.
- Continue east back to Diamond Point and take out.

If wind nixes our plan to circle Protection Island, an alternate plan is to explore Discovery Bay.

Tides, Current and Map
Gardiner, Discovery Bay Tides:
08:35 am 2.62 feet Low Tide
02:57 pm 7.52 feet High Tide

Violet Point, 3.2 miles northwest of, Current:
07:18 am -0.93 knots Max Ebb
10:53 am 0.00 knots Slack, Flood Begins
01:08 pm 0.50 knots Max Flood
04:08 pm -0.00 knots Slack, Ebb Begins

Kamen Point, 1.3 miles SW of, Current:
09:48 am 0.00 knots Slack, Flood Begins
12:47 pm 0.33 knots Max Flood
03:10 pm -0.00 knots Slack, Ebb Begins