Hiking Up & Glissading Down Mt Adams (12281 ft) (23-24 July 2011)
This event was a Pennisula Wilderness Club (PWC) event sponsored by Doug Savage. I call him an Olympics trails legend since he knows so much about the Olympics trails and has hiked almost all the Olympics trails. He has also been a dedicated PWC member who spends many hours for the club and helps out the PWC members and other clubs by hosting trips and practice/training sessions like ice axe skill practice, snow traveling technique, etc. I would not be close to where I am (knowledge of how to backpack, climb, use of an ice axe, snow travel, etc) without a PWC member like Doug.

Topping Mt Adams (aka South Spur Route) is a straight-forward snow hike and a non-techncial climb which does not involve techncial climbing gears and non-glascier traveling other than using an ice axe and a traction device like micro-spikes or crampons. Since my first mountain climb, Mt Hood, I set a goal of climbing 10 peaks (Mt Hood, The Brothers Mt, Mt Constance, Mt Rainier, Mt Olympus, Glascier Peak, Mt Adams, Mt St Helens, Mt Baker, Mt Shukson) in pacific Northwest of the US. Well, this was my 4th so far as I have now climbed Mt Hood, The Brothers Mt, Mt St Helens, and Mt Adams.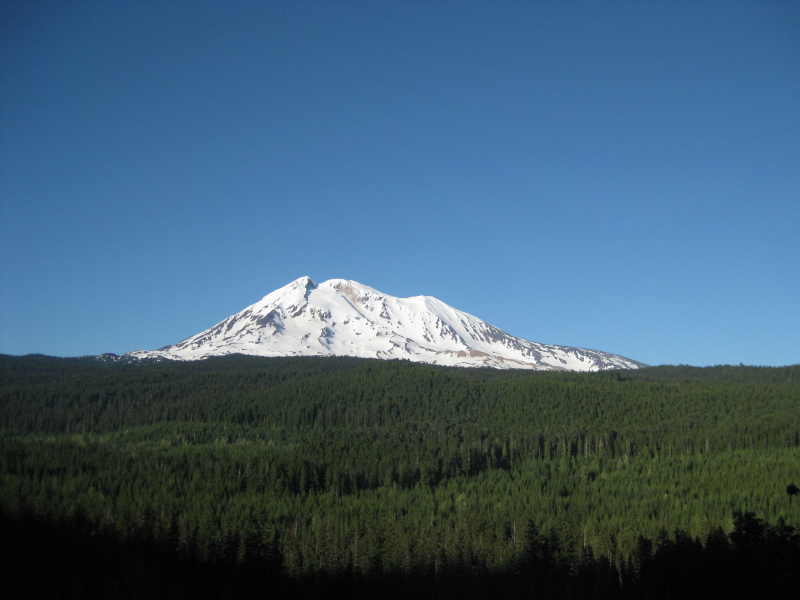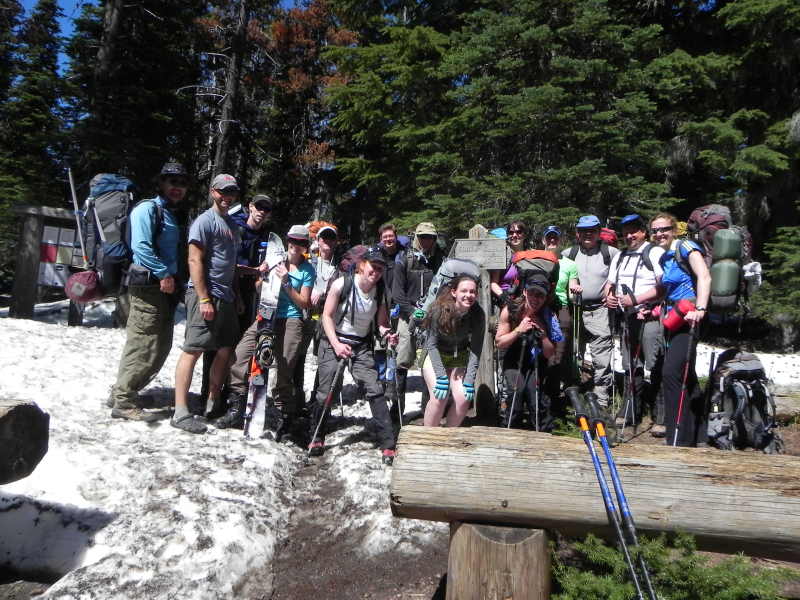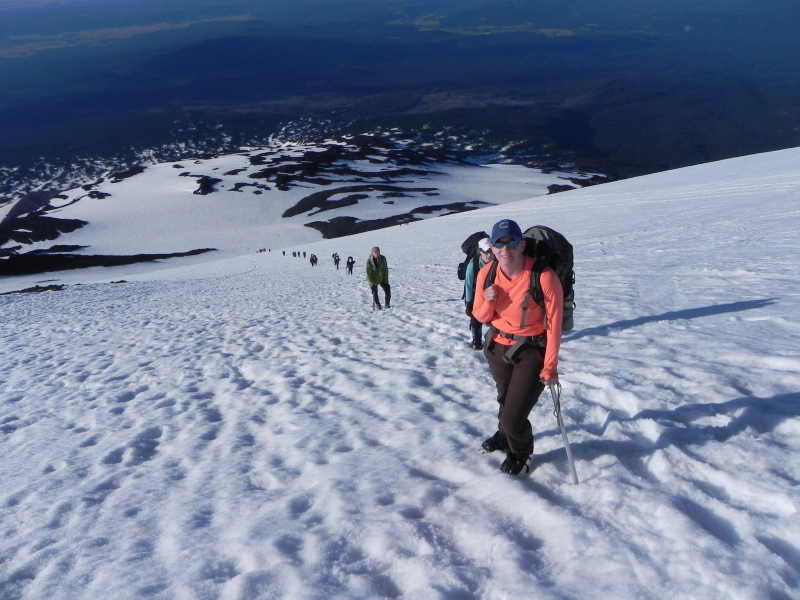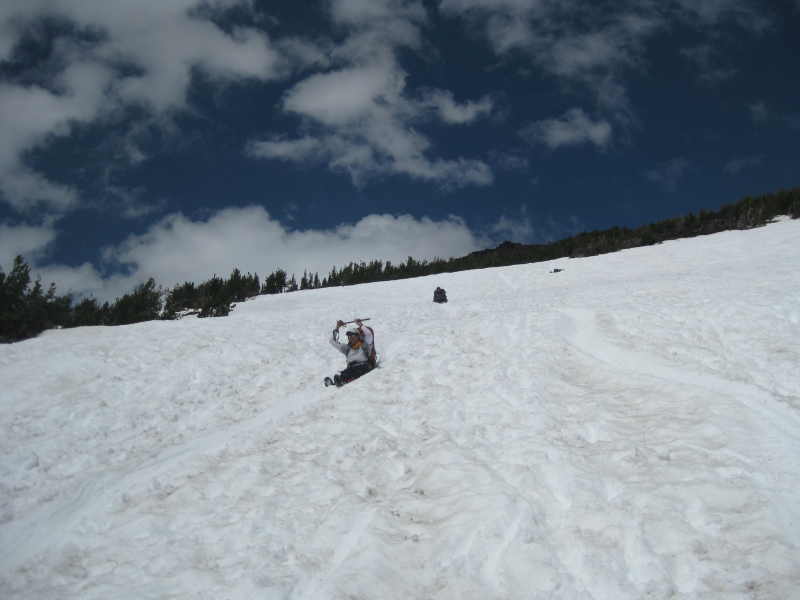 Climbing Descrption:
As usual, climbing a mountain requires good physical condition, proper gears (ice axe, traction device, & backpacking gears), knowledge of a climbing route, etc. Our climbing rout was via the South Spur Route (Aka south climb, south side, or south Rib). For the trip, about 12 miles of roudtrip with 6700 ft elev gain. It was unique to have a basecamp at 9000 ft elevation, and needed only 3200 ft elev gain to summit a 12281 ft tall mountain. Here were the highlights:
Overall highlights:
a. Day 1: Drove to the Mt Adams Guler Trout Lake County Park (Klickitat County), near the Trout Lake Ranger Station, WA
b. Day 2: Obtain climbing permits ($15 per person) at the Trout Lake Ranger Station, Wa. Hike in to the Lunch Counter (9000 ft elev) from Cold Springs (5600 ft elev). About 4.5 miles with 3400 ft elev gain
c. Day 3: Summitted the Mt Adams (12281 ft elev) after summiting the Pikers Peak (false summit) (11,700 ft elev) which has a huge rest area. It's the peak (false summit) can be seen at the Lunch Counter.

Day 1, Friday (Drove to the Guler Campground): We met at Doug's house at 1430. Doug also invited the Kitsap Outdoors which made a total of 15 people in the group. Arrived at 0800 pm at Mt Adams Guler Trout Lake County Park campground (Klickitat County), Trout Lake, WA. About 165 miles, 5 hours of driving. It was an excellent campground near the Mt Adams Ranger Station. On the way, we stopped by at ScaleBurger, a famous burger joint for the climbers (Mt Rainer and Mt Adams).

Day 2: Saturday (Hiked in to the basecamp): 0600-0800 breakfast at a local cafe (walking distance). Temp was mild, mid 40s-70s. Climbers' registration at the Mt Adams ranger station around 1000. We arrived at the Cold Springs Campground (5600 ft elev - trailhead for Mt Adams climb) around 1100. Its parking area was still inaccessible due to too much snow and needed about a couple more days to be melted away. We were able to park our cars almost right at the trailhead just short of the parking area. At 1120, started hiking in to the Lunch Counter (9000 ft elev, about 4 miles with 3400 ft elev gain). Climbers arrived at the Lunch Counter 1445-1600. A decent late afternoon at the Lunch Counter: the sunset was not particularly eventful but the view of the Mt Hood and Mt St Helens were spectacular. Climbers called the night at 0900pm. Night was not that cold. Had some wind (10-15 knots) but was not really bad (no dust). It was an unique experience spending one night at 9000 ft elevation.

Day 3: Sunday (Summited the top): Started climbing at 0620. Climbers reached the summit 0900-1100. A fire tower at the summit was completed covered by snow and could not be seen. The glissade down from Pikers Peak (false summit) was absolutely the highlight of the whole day. Temp was mid low 40s-80s. Due to wind chill factor, it was cold and freezing at the Lunch Counter (9000 ft elev). When everybody hit the trail with snow, we put Yak tracks or Crampons which made a lot easier stepping on the frozen snow over night. It's a straight forward hiking up the mountain. However, there were some caveats. The weather was a lot different in the mountain than the city. It was a hot day in the City but it was a lot different in the Mountain. It was cold and freezing due to wind chill factors and clouds near 11000 ft elevation that required me to put on double jackets (lightweights) with a hood. It was freezing at the summit and overcast (NO VIEWS). Proper hiking gears (enough clothes, gloves, traction devices, & Ice Axe) were a must for such straight forward climbing. On the way home, most of the climbers had a quick dinner at the Mt Adams Café.
Glissading down the Mountain: It was almost 80-90% glissade down from the summit to the Lunch Counter (basecamp). And about 20-25% glissade down from Lunch Counter to the trailhead.
How Mt Adams got its name:
Mt Adams is located about 30 miles east of Mt Saint Helens and 45 miles north of Mt Hood, is the second highest Mt in the WA State. The highest is the Mt Rainier (14411 ft). In 1830s, Hall Kelley (American Settler and writer) led a campaign to rename the Cascade Range as the President's Range and also to rename each major Cascade mountain after a former president of the United States. Mt Hood was designated by Kelley to be named after President John Adams but a mapmaker's mishap placed the Mt Adams north of Mt Hood and east of Mt St Helens. Since the Mt had no official name at the time, Kelley's name stuck even thought the rest of his plan failed !
Driving info from Bremerton to Mt Adams Guler Trout Lake County Park (165 miles, about 5 hours drive).
I-5 South. Exit 127 for WA-512E. First Exit Steel. WA-7 South. Go Through Eatenville. Forest Road 23 (11 miles of dirt/gravel road. Mt Adams Road. WA-141. Trout Lake park road. Guler Mt Adams Country Park.
To the trailhead (Cold Springs Campground): Driving North on WA-141, turn right and continue north on to Mount Adams Recreation Road (aka SR-17, see the Mount Adams on your horizon). Branch off on to FR-80, FR-8040 and then FR-8040-500 following signs for the "South Climb". These are all one lane roads.