Dayhiking the Mt Townsend (6280 ft) (6-25-2011), 8 miles with 2880 ft elevation gain
Mt Townsend is not ready for a family hike yet ! There are too much snow above 5100 ft.

Mt Townsend Trailhead (we were the first for the day. 27 switchbacks (summer route). The Chute at 5100 ft elev, Trail was burried under the snow from here.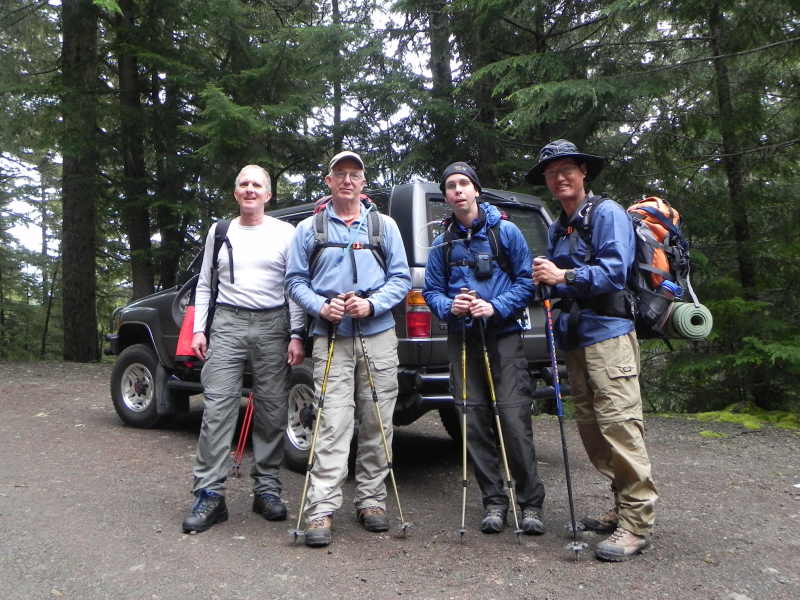 )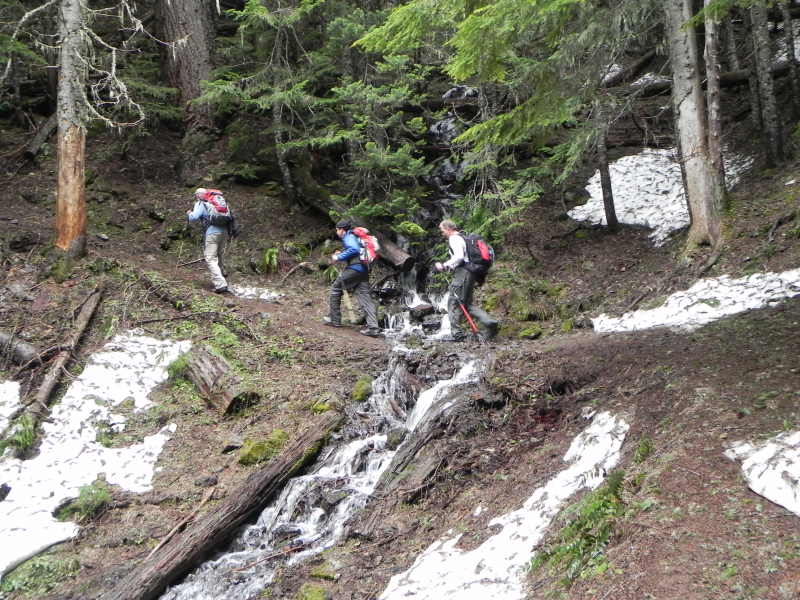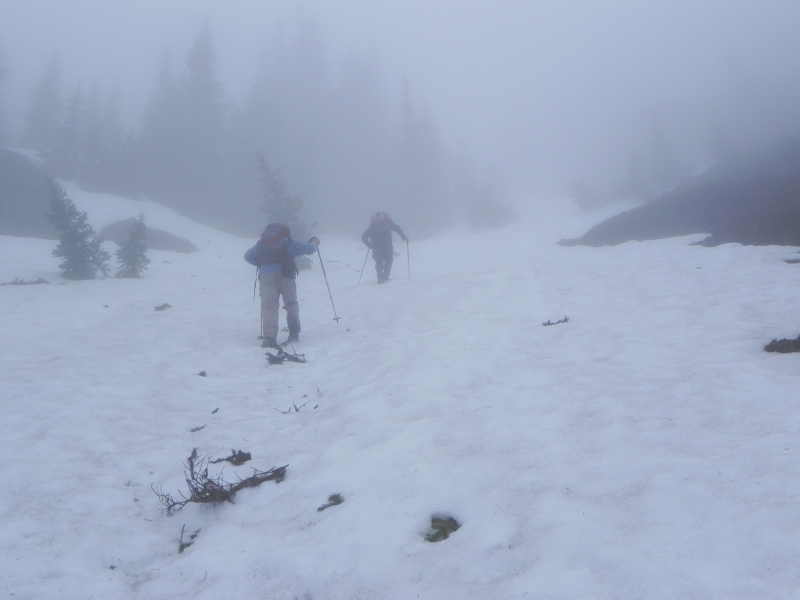 Twenty Seven (27) switchbacks in 4 miles with 2900 ft elevation gain ! It can be a tough family hike. This was my first hike with my family last year, and since then, I fell in love with hiking. Mt Townsend is a high rise (6280 ft) and gorgeous mountain that we can easily access from Bremerton, WA (Just over one hour of driving).
A couple of hikers from the Kitsap Climbers Group were hiking the Mt Townsend on Saturday. So, I decided to join the hike to scope out the area for a possible family hike soon. However, there was way too much snow above 5100 ft where it formed a nice snow chute. Also, at that point, the trail was completely hidden under the snow. It will be too dangerous for my family to hike up the chute !!!
Four of us (Geno, Greg, Aaron, and I) hiked up the chute, straight to the ridge of the summit skipping more than ½ of the 27 switchbacks. It was close to 1300 ft elevation straight up to the ridge next to the summit. None of us had an ice axe. I thought that the chute would be dangerous to come down due to its steepness without an ice axe but it was ok to step down since snow got soften up a bit.
No views all day. Fogs rolled in and precipitation was getting worse. On the way down, it started drizzling.
Took 1 hour 50 minutes to the summit. And 1 hr 20 minutes to descend. We probably could glissade down on the chute but we opted not to do so since we did not have an ice axe.
If we had a blue bird day, we could see across the Pudget Sound, the Seattle side (Cascades, Glacier Peak), Mt Baker, various mountains of Vancouver Island British Columbia with the Needles in front, the Brothers Mt on the west, & Mt Constance to the south.

Summer route highlights (Click here to see my 2010 Mt Townsend Hike):
0-0.4 miles: An excellent forest of rhododendrons. Rhododendrons have not started blooming.
0.6 miles: Buckhorn wilderness
1.1 miles: Steep subalpine meadow and open avalanche chutes
2.7 miles: Camp Windy.
3.0 miles: Junction with Silver Lakes Trail (that my son and I hiked down to from Hawk Peak last year on our first backpacking trip as part of a PWC trip)
4.0 miles: Summit
Directcion for Big Quilcene Lower and Upper Trailhead for Mt Townsend hike:
From Quilcene drive, US 101 south for 1.5 miles.
Turn right onto Penny Creek Road.
After 1.5 miles, turn left onto Big Quilcene River Road (paved Forest Road 27).
Proceed on FS #27 another 10.6 miles to FS Road #2760 (follow 760 for 0.7 miles to the lower trailhead).
To the upper trailhead, stay one more mile on #2760 and turn left onto FR 27-190.
Drive 0.75 mile more to the end of the road.