Hiking Mt Townsend via alternate routes (Little Quilcene and Dirty Face Ridge trails) - (8-13-2011) - 11 miles with 4300 ft elev gain
I wanted to day hike moderate miles this weekend as I wanted to do both hiking and kayaking. Originally, this weekend, I wanted to backpack the Olympics but could not find a right partner for the areas I wanted to backpack (The Grand Pass Loop for 3 days or an overnighter from Dosewallips to Big Quilcene). So, I decided to day hike on Saturday and kayak paddle with the Pennisula Wilderrness Club (PWC) members on Sunday.
Recently, I learned that there are 3 trails to summit the Mt Townsend and I hiked the Mt Townsend three times via the Big Quilcene Trailhead (TH) only.
1. Upper Big Quilcene TH (8.2 miles with 2880 ft elev gain)
2. Dirty Face Ridge TH (7 miles with 3000 ft elev gain)
3. Little Quilcene TH (6.5 miles with 2300 ft elev gain)

So, I thought that it would be nice to see the other two trails in one day. Initially, I misunderstood the trails that the two routes split at the Mt Townsend North summit. Instead, two trails folk at 1.0 miles below the North summit (learned by looking at the Map).
My friend Aaron, our family dog (Tippy), and I hiked both alternate routes to the Mt Townsend. Started from Little Quilcene TH near Mt Zion at 0820am, junction to Dirty Face Ridge trail, Dirty Face Ridge Trailhead, Mt Townsend (left 0130pm), back at the Little Quilcene TH (0245pm). Estimated 11 miles with 4300 ft elev gain. This hike was unique since its elevation was at 4020 ft (high country or alpine level). Not too many places in Olympics trail starts above 4000 ft elev (the others are Hurricane Ridge (5200 ft), Obstruction Point (6100 ft), and Deer Park (5400 ft)).

Shows 3 different routes to Mt Townsend At the Little Quilcene Trailhead (near Mt Zion) Just before the South Summit (Mt Constance in the distance)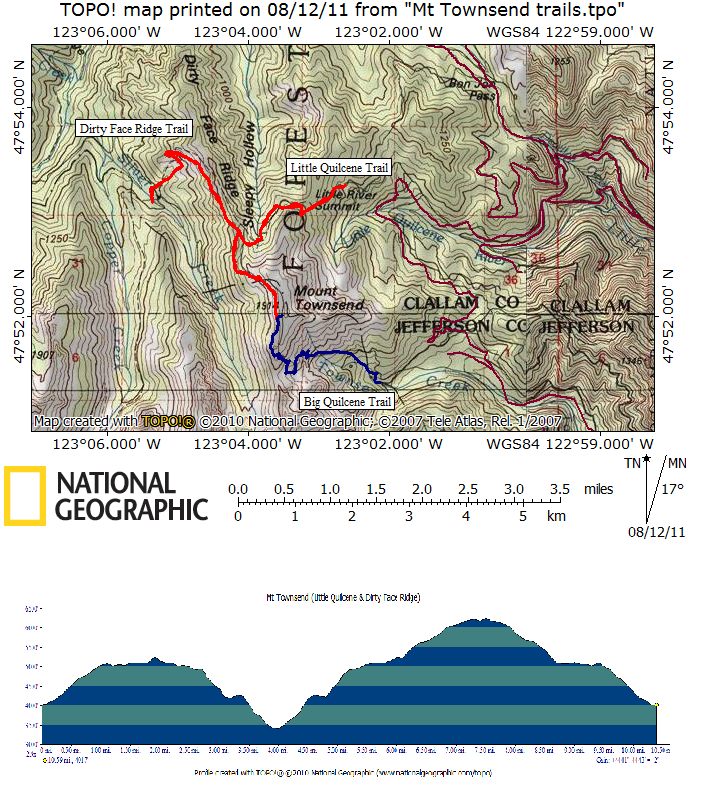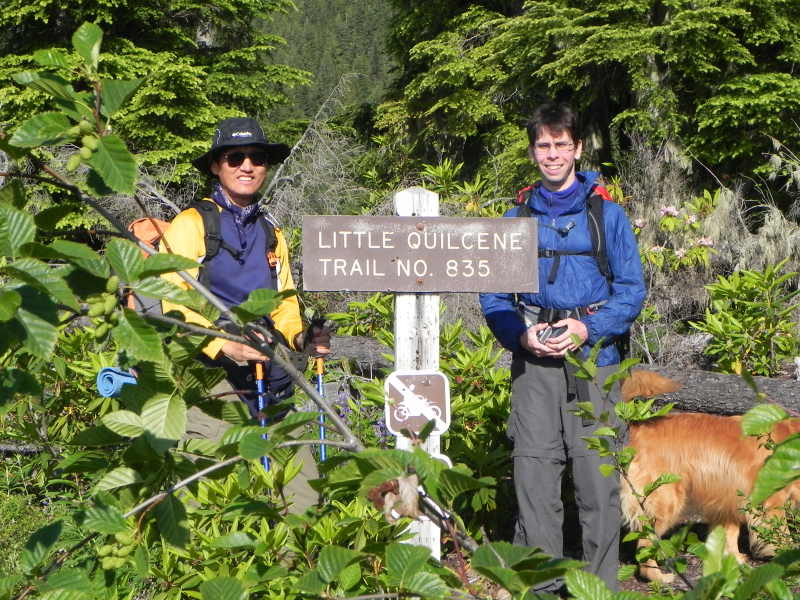 Hiking Summary (SNOW FREE trails):
0 - 2 miles: Little Quilcene Trailhead (near Mt Zion) (4020 ft elev) to Junction of Dirty Face Ridge (5275 ft elev). Excellent trails with ZERO down trees. Don't need to drop down to the valley, but hike around the "Sleepy Hollow." Shaded trails under the wood canopy and cool breeze from the "Sleepy Hollow" made the hike easy and simple. No place to refill the water except for a small creek near the trailhead.

2 miles - 4.1 miles - 6.2 miles: Junction (5275 ft elev) to Dirty Face Ridge Trailhead (3400 ft elev) - then backup to the Junction. This trail was steep as it dropped near 1900 ft elev to the Dirty Face Ridge Trailhead (it is labeled as Little Quilcen TH just above the Tubal Cain Mine trailhead) in 2.1 miles. A couple of blow down trees were on the trail but were easy to negotiate.
6.2 miles - 7.2 miles: Mt Townsend North Summit: The junction (5275 ft elev) to the North Summit (6280 ft elev),was relatively steep trail gaining 1000 ft elev in 1 mile but SPLENDID views of the OLYMPICS to the West and South (Mt Worthington, Hawk peak, Welch Peak, Mt Buckhorn, Mt Baldy, Tyler Peak, Maynard Peak, & Gray Wolf Ridges).
7.2 miles - 7.3 miles: To Mt Townsend South Summit (6280 ft elev) (adds the views of the Mt Jupiter, Mt Constance, & more (interior of the Olympics)). Mt Baker, Glacier Peak, & Mt Rainer were visible in the distance.
7.3 miles - 11 miles: Mt Townsend South Summit to Little Quilcene Trailhead (4020 ft elev). Met 1 party on the way up and met 3 parties on the way down. When we left, there was no other car but parking lot was almost full when we returned.
In summary, the Little Quilcene trail provides an excellent alternate route to the Mt Townsend summit. Little shorter, shaded, and splendid views to the interior of the Olympics make this trailhead an EXCELLENT choice for a moderate day hike.
Some pictures of me from Aaron:

Trailhead direction:
In Quilcene, head North on Hwy 101. It is just over 8 miles from the Lords Lake turn off.
Turn left on Lords Lake Road 2 miles north of Quilcene, stay to the left at the lake and follow Forest Service Road 28 over Bon Jon Pass to the junction with FS Road 2820. Follow 2820 3 miles to the trailhead (a sign post to Little Quilcene (3 miles) and Mt Zion (2 miles)).