Hiking Mt Townsend with my son and family dog (7-2-11)
My first backpacking trip this year (Duckabush to Staircase,30 miles in Southeastern Olympics) was cancelled, rather postponed due to possible treacherous trail conditions (blow down trees) and too much snow. So, I decided to spend the 4th of July weekend with my family. I ended up hiking the Mt Townsend with my son, Danny, and family dog, Tippy. I wanted to hike/backpack together with him a few trips this summer but it will be difficult since he is heading to the Washington State University (WSU) in August. I will miss him dearly but itís the matter of life.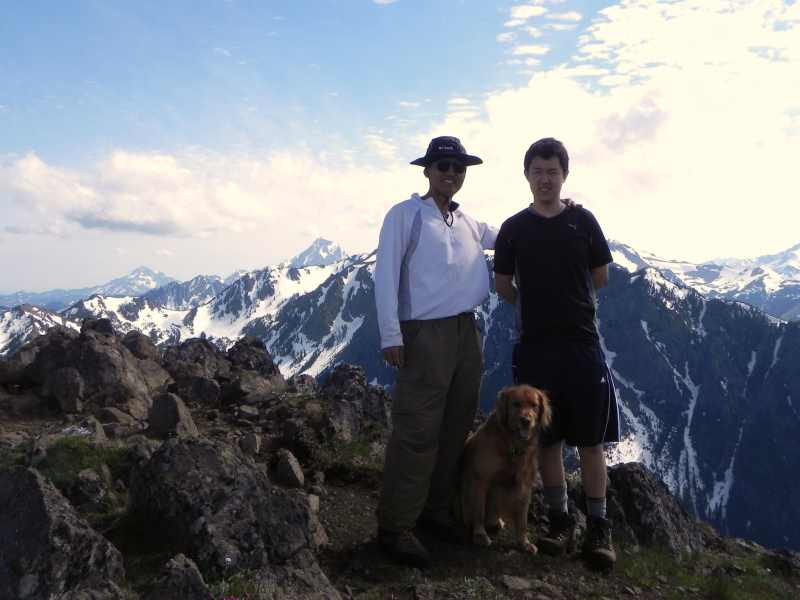 I was amazed how much the snow were melt away since the last week. Last week, we hiked up straight up on the chute at 5100 ft elevation. The snow at the chute was almost gone ! Today, we hiked up on most of the summer trail. There were still lots of snow here and there on the trail, so itís not quite ready for a leisurely family hike. We arrived at the trailhead close to 1140. The parking lot was full and we parked on the side of the road.



Last week, we saw a stalled car along the forest road to the Mt Townsend trailhead. We offered a help but the driver said that a tow truck was on its way. This week, we met a couple with a flat tire. They drove the car all the way to the trailhead with the flat tire, which appeared to ruin the rim. They did not have a jack but did have a spare tire. They faced a couple of issues to get back on the road: a low clearance jack and a right lug nut ranch. Our carís jack did fit under the car but the lug nut was too big. Another couple who already finished the hike tried to help them. The guy was able to loosen up 3 lug nuts out of 4. His lug nut ranch was for his truck not for a passenger car. At that point, I let him use my jack and left for a hike hoping that they could find a right car with the same size lug nut ranch. The car was gone when we came back and my jack was under my car where I told them to leave.