Climbing the Mt Washington (6255 ft), Hoodsport, Washinton (8-4-2011) (estimated 5 miles with 3200 ft elev gain)
This trip was a last minute trip posted on the Pennisula Wilderrness Club (PWC) website sponsored by Paul Dutky. I heard of the Mt Washington (6255 ft) standing right next to the Mt Ellinor (5944 ft). It is also the tallest peak in southeastern Olympics. I hiked the Mt Ellinor twice, once in the summer 2010 with the Kitsap Outdoors, the other in the spring 2011 with the Peninsula Wilderness Club (PWC) to participate ice axe skill practice. I liked its short trail with some steep elevation gain (7.2 miles with 2500 ft elev gain from lower trailhead) and rewarding expansive views (Lake Cushman, Puget Sound, Seattle, Mt Baker, Mt Adams, Mt St Helens, etc) along the trail. Mt Ellinor trail is very popular and well maintained all the way to the top. However, Mt Washington trail is not exactly on the custom correct map but it is sort of a way trail that has varieties: rugged, lots of tree roots, scree, and frequent talus slops (rock climbing (moderate risk), a few height exposure, etc. The trail should be hiked with the experienced hikers who know the trail very well. Good scrambling and some rock climbing skill sets are needed. The route (among many routes) we took has a few height exposed areas (I imagine that the other route is worse). Also, proper use of traction device and an ice axe self-arrest skill are a must.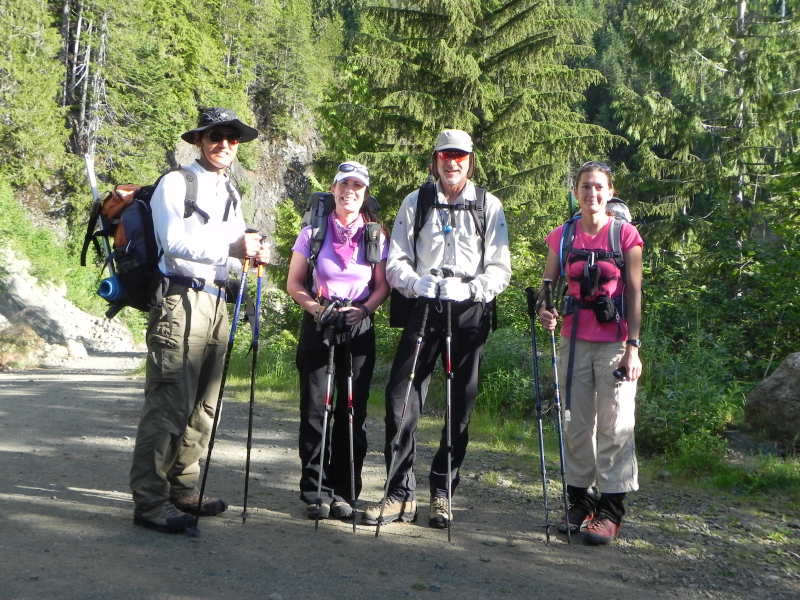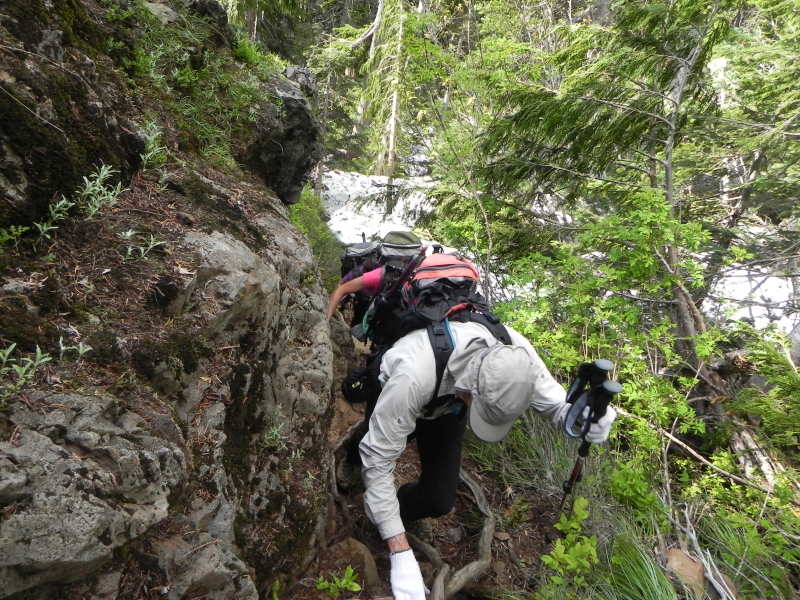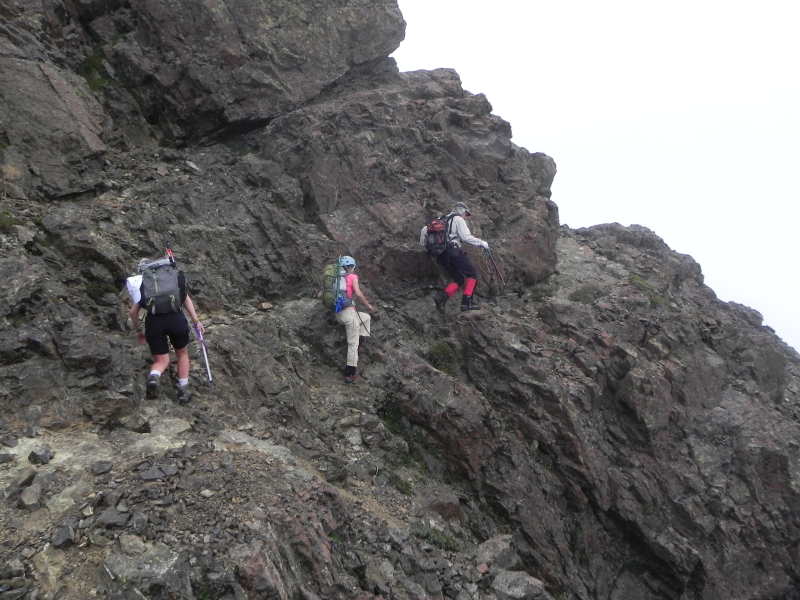 I happened to check out the PWC website and Paul Dutky was sponsoring the hike on Thursday. I really wanted to hike this trail, so I took a day off to join the hike. It was about 5 miles round trip with 3200 ft elev gain. So, no doubt that it has some good elevation gain in short distance. Right off the trailhead, it was steep, rugged, full of roots, and pretty soon needed to scramble. We scrambled quite a bit by pulling on the trees, tree roots, rock climbing, ice axe self rescuing on snow slop (I slipped once), etc. It was quite a hike, maybe I should call it alpine scrambling. Mt Ellinor hike is classic (most people would hike this trail) but I would rather hike the Mt Washington if I had a choice. In short, the trail is not monotonous but needed constant attention, and has some height exposure.
Hiking summary:
It was little overcast over the mountains in south eastern Olympics as we observed driving past Allyn along HWY 3. Temp was 50s-70s. Left the trailhead at 0850. Summited at 1200. Left the top at 1230. Arrived back at trailhead 1445.
Recommend to check out a nice fall just pass the Mt Washington trailhead (or even hiking the Mt Ellinor). At the Mt WA trailhead, walk about 500 yards on the narrow dirt road (can still drive. Paul backed up his car.) A huge fall is on the left right at the sharp turn.
I was not sure what I needed to call this hike. It was more than a hike, maybe, alpine climbing. Well, I will just call it climbing.
Trailhead direction:
At the turn off road for the upper trailhead to Mt Ellinor, less than 200 yards (?), the dirt road narrows but lead to a bigger space for car parking on the right. No trailhead marking. No forest pass is required (?).

Mt Ellinor trailhead direction:
At the Hoodsport, make a left onto SR 119 toward Lake Cushman (staircase). 11 miles to T-Junction. To the left is Staircase. Turn right and drive about 1.5 miles (all dirt road from the T and lots of pot holes), and make left turn. Drive 8 miles pass the Lower trailhead to Mt Ellinor (has a good sign). Continue on for the upper trailhead.