Mt Stone (6255 ft) attempt, SE Olympics, (12-3-2011) --- estimated 9 miles with 5000 ft elev gain
I climbed the Mt Washington for the 2nd time this year about one month ago,. Because Mt Washington was one of my two favorite day climbs, I could not resist going back again with the PWCers on a week day. My other favorite day climb is the Mt Stone. This time, on the Kitsap Hikers Facebook, Dane Burke who had spent legendary 50 days of continuous backpacking in the Olympics wanted to climb either the Brothers Mt, Mt Skokomish, or Mt Stone. We decided to climb the Mt Stone taking advantage of the nice weather after a few weeks of rainy weekend.
Although I was marginal for my qualification in winter traveling, I felt like I was qualified since I easily climbed the Mt Stone 2 months ago and climbed a few mountains like Mt Hood, The Brothers, Mt St Helens, Mt Adams, etc. on the snow condition.
This trip was ended up as one of my toughest dayhikes without meeting my objective. I think it was my first that I did not meet my hiking objective. We needed little more time or should have advanced little quicker. We were postholing to knee deep starting at elev 3800 ft. We also went through some massive scrambling and bush wacking. We got to the South Saddle (6400 ft elev) at 1300 which was our turn around time since the sunset was at 1620. From the 6400 ft elev saddle, there are two places needed to scramble on the rock to the summit. We could see a sheet of blue ice on the way trail. A fall would be deadly. Maybe, it was a good point to turnaround.
In overall, I thoughly enjoyed this winter travel, excellent winter traveling experience, and excellent workout. Each of us conducted an ice axe self-rescue at least once (I did 2 times) but the trip was well within my comfort level. I wished I was in better physical shape. Of course, the best part was that everybody returned back unscathed.

Way trail on Winter Conditions (12-3-2011) Way trail on Summer Condition (9-10-2011)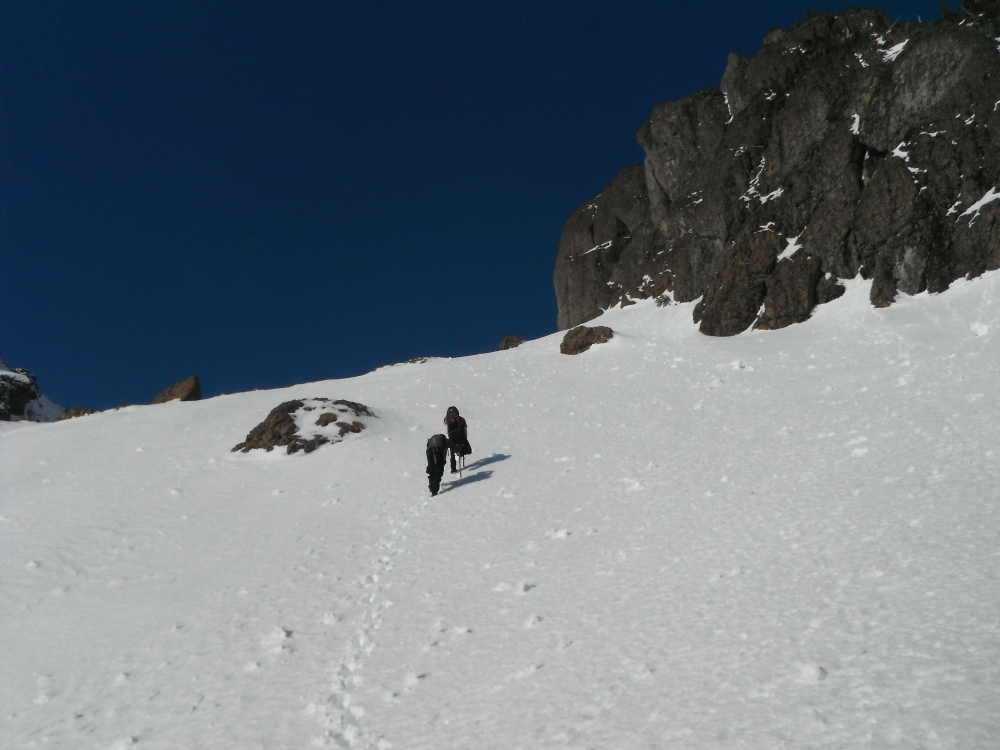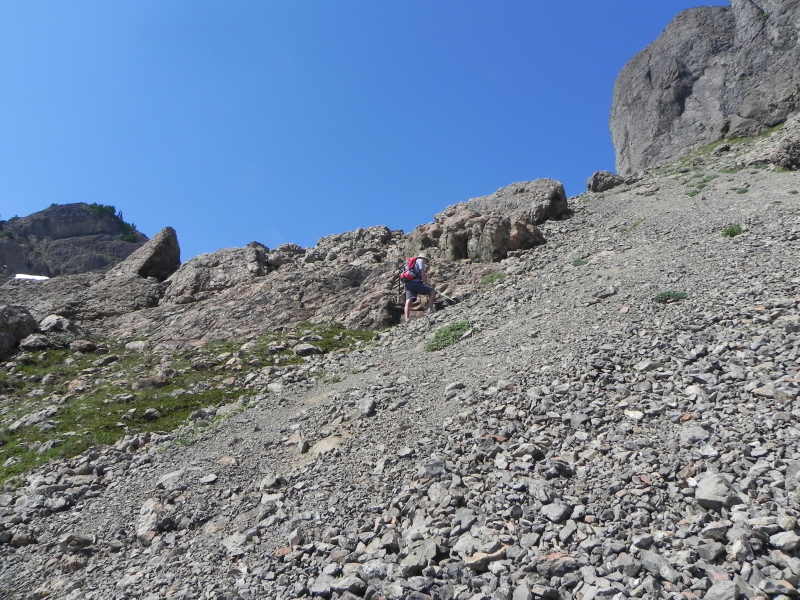 Here was our itinerary:
a. On Friday night, I picked up Dane and his friend, James, at the Bremerton Ferry.
b. They Spent the night at our house.
c. On Saturday, we woke up at 0415. Left the house at 0500.
d. Parked the car 1/2 mile before the Lake of the Angles trailhead due to snowy road.
e. Started hiking at 0720. There were 1/2 - 1 ft of snow on the road.
e. Arrived at the South Saddle (6400 ft elev) at 1300. Enjoyed the views of the interior of the Olympics. Left the saddle at 1330.
f. Arrived back at the car at 1650.
g. Dropped them off at the Bremerton Ferry 1820.
This was my first trip that I used my new Garmin Dakota 10 GPS unit. It worked quite well but very difficult to pin point the exact location. It's excellent for an estimated route and the way points. I will definitely use it for off trail or way trail hiking/backpacking. However, one needs to know how to use the map effectively because the GPS battery can run out in the middle of the journey.
Since I started hiking July last year, I had leg cramps two times. The first was when I took a wrong turn to the Mt Stone way trail instead of the Lake of the Angels last year. Ironically, the second was on this trip, almost on the same trail. In the beginning, I felt really good for a couple of miles but, after post holing a few times, I was getting cramps on my right leg thigh. Then, later, on my left leg thigh. They were exactly the same spot I had cramps last year. I had a bottle of Vitamin drink that helped a bit but not completely fix the problem. My conclusion was that postholing required different set of muscles or I did not stretch my leg before climbing. I have been diligently eating 2 bananas a day, but, I guess, it's not 100% cramp prevention. Well, from now on, I will need to stretch 5 mins or so prior to hiking/climbing.
Trailhead info:
A couple of washouts have been repaired along the Hamma Hamma Road (FS 25). Coming from Hoodsport, just past the town of Hamma Hamma turn left at Hamma Hamma Recreational Area sign. Follow road for several miles past the trailhead for the Lena Lake (Lower and Upper Lena Lakes, The Brohters MT, etc). Road will become gravel and in some places were very bumpy, so take it slow. The Putvin Trail sign is about 4 miles pass the Lena Lake trailhead (8 miles in), on the right. Hard to see, so drive fairly slow