Climbing Glacier Peak (10551 ft, 34,4 miles with 9600 ft elev gain) --- 4-7 August 2012)
Another Volcanic Mountain over 10000 ft elev was conquered in WA State. There are 4 peaks over 10000 ft elev in WA State: Mt Rainier (14411 ft), Mt Baker (10781 ft), Glacier Peak (10541 ft), Mt Adams (12281 ft). I have climbed all except for the Mt Rainier. I am hoping to climb Mt Rainier next year June or July. And on a side note, I want to climb the Mt Olympus, the tallest peak in the Olympics. Some of the PWC climbers want to climb all 11 peaks over 10000 ft elev in Western United States: Mt Rainier, Mt Baker, Glacier Peak, Mt Adams, Mt Hood (11249 ft), Mt Jefferson (10497 ft), Three Sisters (South 10,358 ft, Middle 10,047 ft, North 10,085 ft), Mt Shasta (14179 ft), Lassen Peak (10462 ft), and Mammoth Mountain (11053 ft), Glass Mountain (11128 ft). Of those 11 mountains, I have climbed 4: Mt Adams, Mt Hood, Mt Baker, & Glacier Peak. The trip was organized by a PWC climber, Tom Henning. The trip was joined by Les Moore and I. This was Tom's first trip in organizing and leading the trip. He is one of the PWC climbers who want to climb all 11 peaks over 10000 ft elev in Western United States. He wanted to scratch off the Volcanic peak list since he missed the PWC trip a couple of years ago. I read a couple of its trips report and wanted to climb it as well. The trip was well within my comfort zone. If I miss the chance, it might be a long wait to climb the peak. The trip was on and off due to some recent cold bugs around. If the Glacier trip was not on, I was also interested in a "Extreme day-hike (Lake Quinault to Lake Mill (about 50 miles one way)." Then, this climb was back on only a couple of days in advance !!! I was very fortuante to particapte.
For the climb, the weather was nice. In fact, the weekend was the hottest (hit mid 90s in Seattle) for the season up to the date. On the summit day, although it was nice during the ascent, thunderstorm moved in and got us some sprinkles when we arrived back at the camp site ! Other than that, it was a tremendous climb in a beautiful area. The "White Pass" area and the upper basin below the Glacier Gap camp site were beautiful: also a lot different settings along the trail than the Mt Baker climbing about one month ago.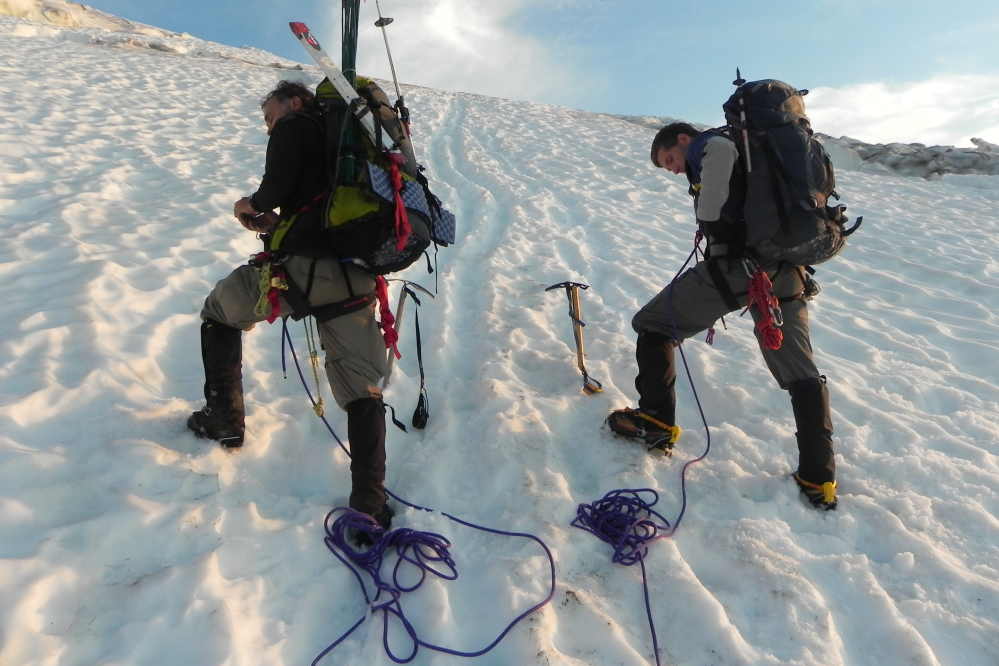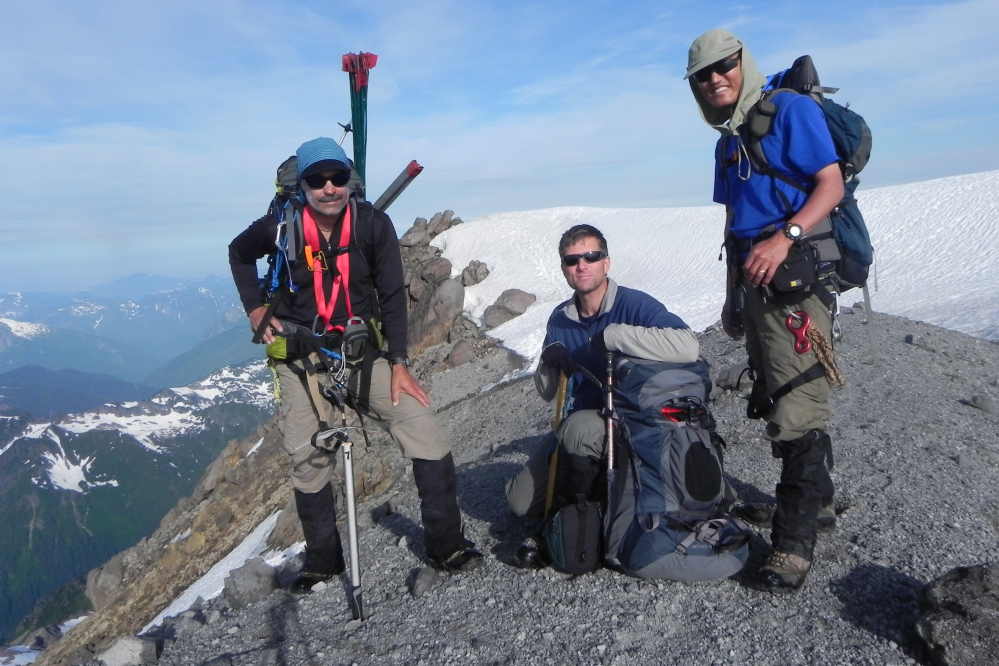 Day 1: North Fork Sauk Trailhead (2100 ft elev) to White Pass (about 9.5 miles with 4000 ft elev gain)
a: North Sauk Trailhead to Mackinaw Shelter (2950 ft elev) (5.5 miles with 1000 ft elev gain)
b. Mackinaw Shelter to White Pass (5900 ft elev) (4 miles with 3000 ft elev gain):

It was probably the toughest day of the 4 days trip. Tom picked me up at 0715 and we picked up Les at the Kingston Park & Ride for 0820 ferry to Edmonds. We stopped by at the Ranger Station to hear the latest trail information. Luckily, the access road to the North Sauk Trailhead just opened up 2 weeks ago, and there have been lots of traffic since. We started hiking at xxxx. We cruised quite well to the xxxx camp site. Then, there was some steep switchbacks exposed to the Sun. I probably drank close to 8L all day. The trail was in excellent shape and did not remember any down trees.
Day 2: White Pass (5900 ft elev) to Glacier Gap (7250 ft elev) (Aboiut 4.4 miles with 2000 ft elev gain)
It was a short and easy day. Most of the backpacking were traveling on the snow but did not require any foot traction. About 1/3 way up, there was a view of the Glacier Peak. From then on, I had lots of energy feeling like the Mountain was calling me. Upon arriving at the Glacier Gap camp site, we quickly setup the tent in an attempt to get some shelter to get out of the Sun. The area was exposed to the Sun. It was a pretty hot Sunday. I forgot to apply the sun protection and ended up having some sun buns on my both arms. We had a company of 3 camped next us. They also camped next us at the White Pass. They were nice people and were well prepared for the climb looking at their gears.
Day 3: Glacier Gap (7200 ft elev) to Glacier Peak Skummit (10551 ft). Hiked down to the Mackinaw Shelter camp sites (2950 ft elev). (14.9 miles total with 3600 ft elev gain and 7000 ft elev loss)
a. Glacier Gap campsite to Glacier Peak Summit and back to campsite (6.2 miles with 3400 ft elev gain)
b. Glacier Gap Camp site to Mackinaw Camp site (8.7 miles with 3800 ft elev loss)
The climb was one of the easiest climbs (the easiest was the Mt Adam climb from the Lunch Counter Camp site). We moved steadily and roped up once when we saw the snow bridge. When we reached the ridge which was snow free, we removed the ropes and hiked up to the summit. There were a couple of steep sections but was not horrible. Both Tom and Les were excellent travelling on the snow but I was slipping quite a bit due to worn out sole on my boots. My boots have been in use for hiking, backpacking and climbing. I have walked close to 1000 miles in 2 years ! If I had an option to go up loose scree instead of snow, I took that route.
On the way back down toward the White Pass, we took the regular route. On the 2nd day, we took a way route which seemed to be a short cut. We went over a hill instead of going around. On the way to the White Pass, after the last ascent, Tom was blazing fast and got ahead of us too far. Later on, we got re-united hiked to the White Pass, then to the xxxxx camp site. I was a bit tired and slow, but I felt like I had lots of energy left. Upon reaching the xxxx Shelter, I took a bath in the COLD water. Then, we had a nice camp fire....It felt so good. We turned in early at 2030.
Day 4: Mackinaw Shelter Camp sites (2950 ft elev) to North Fork Sauk Trailhead (1600 ft elev) . 5.6 miles with 1300 ft elev loss.
We had a camp fire in the early morning, and enjoyed ourselves taking our time. At 0835, we started hiking out. We got to the trailhead at 1120 for a possible 1330 ferry from Edmonds to Kingston. Then, we met a couple with a flat spare tire. There was no cell phone signal. They were going to do car camping in the area. One forest service crew mentioned that it would cost about $800 to tow the car to the Granite Falls area from there. Luckily, their friends were about 10 miles away car camping, and wife's mom lived in Lake Stevens area. We took their flat tire to their friends who were car camping for repair. So, we ended up taking 1645 ferry. We just missed the 1555 ferry and had some Chinese food take-out near the Edmonds ferry. The food was so good.In overall, it was a good trip. Thanks to both Tom and Les for allowing me to join the trip. During this trip, on Day 2, Tom made me the a pair of prussic, chest harness, Texas prussic, etc as part of climbing essential.
Pictures from Tom Henning: