3 days of Sea-Kayaking trip to San Juan Island, WA (20-22 April 2012)
It was a PWC event sponsored by Paul Dutky. He has been suffering from tennis elbow since November 2011. So, the planned trip was in jeopardy. He came up with an idea of taking his tandem boat if somebody was willing to paddle the boat. Initially, Tom Henning and I offered to paddle his tandem boat, but it ended up 4 of us (Tom, Les, Barney, & I) paddled the boat by taking turns.
The San Juan Islands are located at the very NW corner of the Washington State or the contiguous United States between the US mainland and Vancouver Island, British Columbia, Canada. The area have lots of islands. The prominent islands are Guemess, Sinclair, Cypress, Blakely, Orcas, Shaw, Decatur, Lopes, and San Juan (Fridays Harbor). Back in 2007, my family took a family trip to Victoria, BC and too the ferry from Sidney BC to Anacortes. The ferry sailed through those islands and I was thinking about I might be visiting some of those islands. Well, it came true. It was a wonderful kayaking trip with just right weather, good people, and most importantly skilled kayakers who have ample knowledge for safety and look after the others. Thanks to all the participants. I had a wonderful time.
.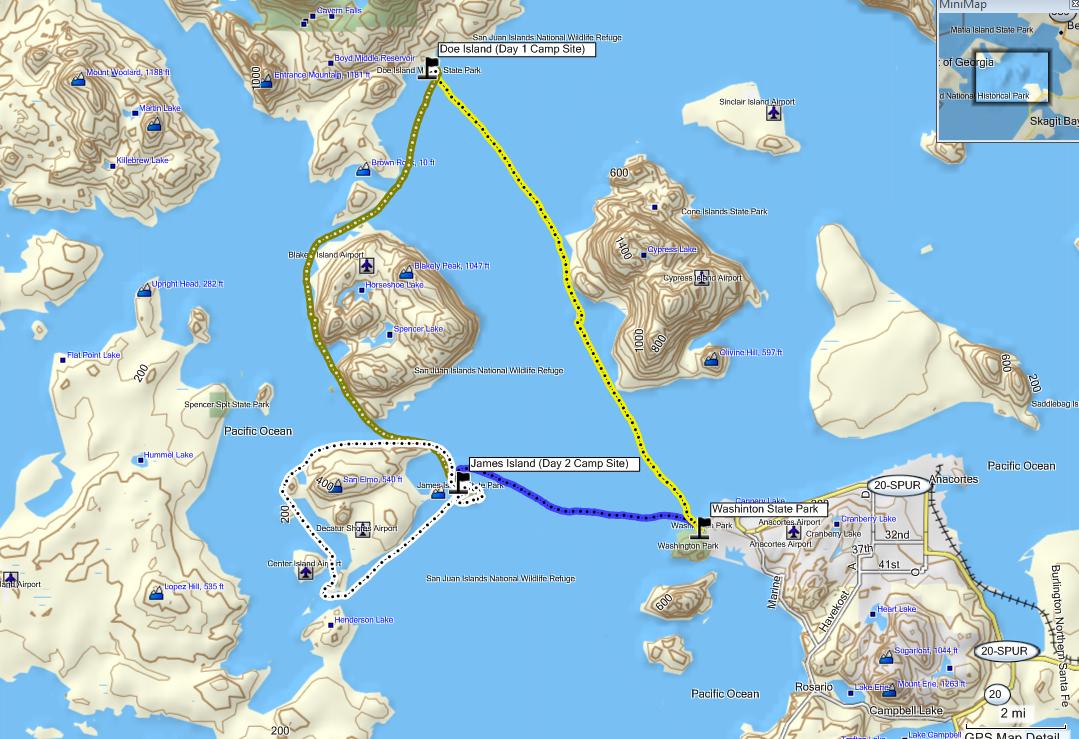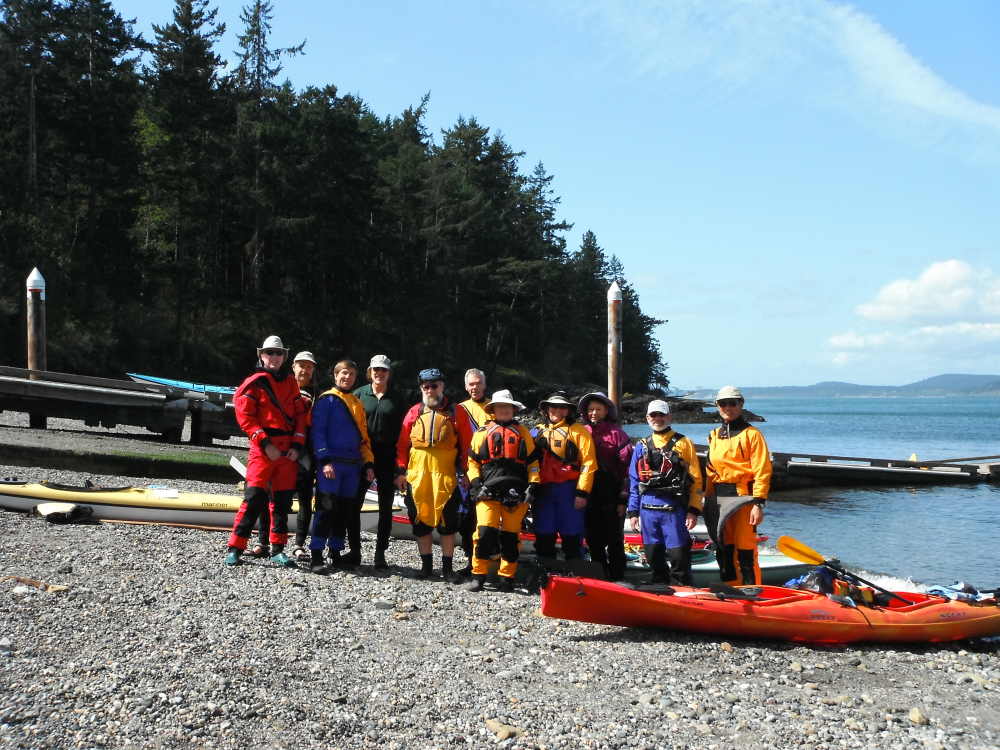 GPS track routes:

Here was our trip itinerary:
Day 1: Wonderful day at high 50s. Ferry to Edmonds, paddled from Anacortes to West of Cypress for a break, then to Doe Island for overnight. A total of 8 miles for the day. 12 of us with 4 cars took 0840 Kingston ferry to Edmonds.
a. Tom H, Tom R, Carnie, and I are gathered at 0720 at Paul's house, Bremerton. On Paul's car, loaded his tandem and my boat. On Tom H's car, loaded Tom R's and Carnie's. Paul, Carnie, and I carpooled. Both Toms' carpooled.
b. Barney & Andy carpooled from Bainbridge.

c. Bruce, Jackie, and Megan carpooled from Kingston. Jackie and Megan had a tandem.

d. Les & Paul G carpooled from Kingston.

On the way to Edmonds onboard the ferry, we discussed our paddle route change. We paddled to the West of Cypress Island that will shorten our paddle about 5 miles for the day. We launched our kayaks at 1210pm at the Washington State Park boat ramp near the Anacortes Ferry landing.
Water was little choppy, probably class 3. We took a break at the Southwest side of Cypress Island. Blooming abundant native plants, green trees, relatively calm sea, good fellowship, and what else was needed for a vacation ! We then paddled to the Doe Island which was an inhabited State Park. We had the island by ourselves. I hiked all the trails on the island. It was about 1.5 miles. We set up our tents along the high bluff on the South of the Island with the fantastic views to the South. Camp fire felt so good.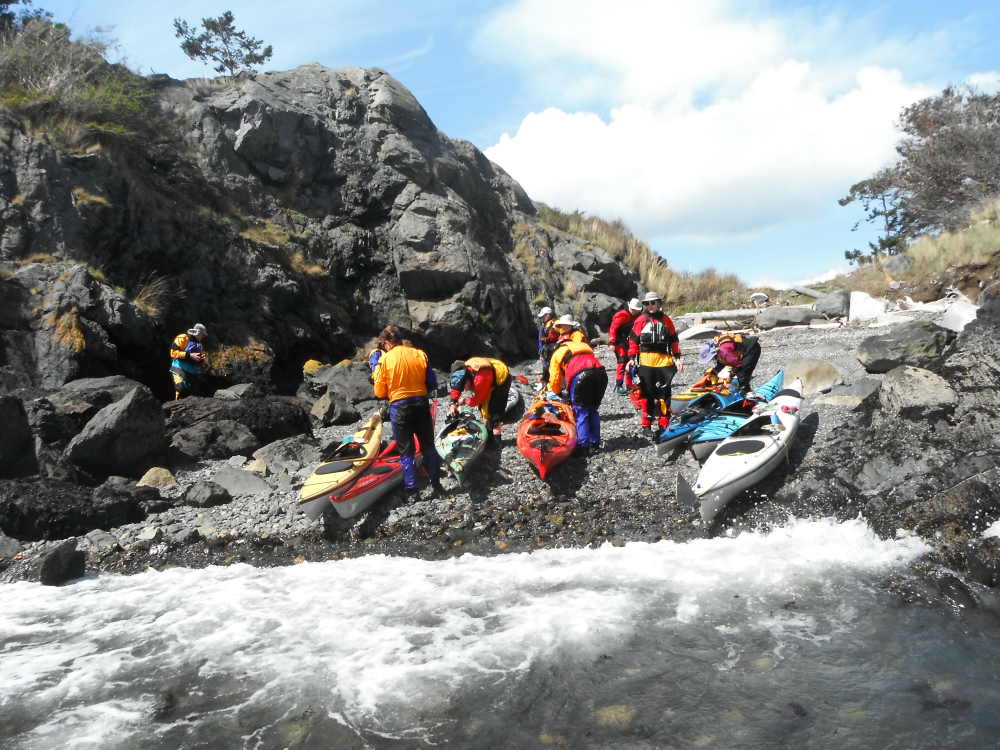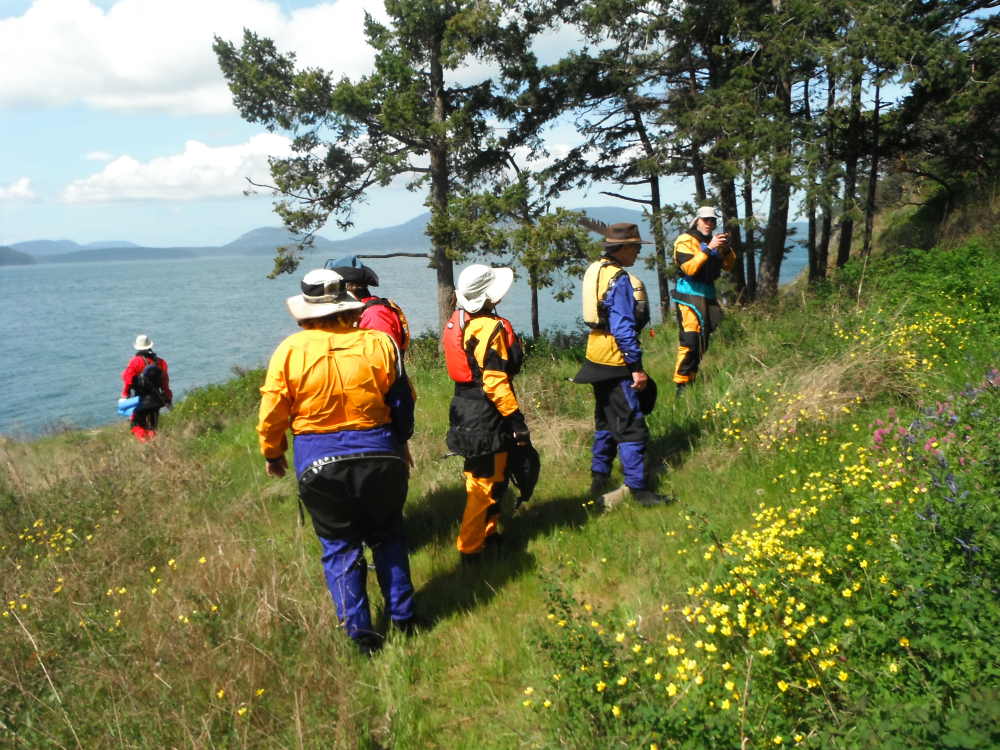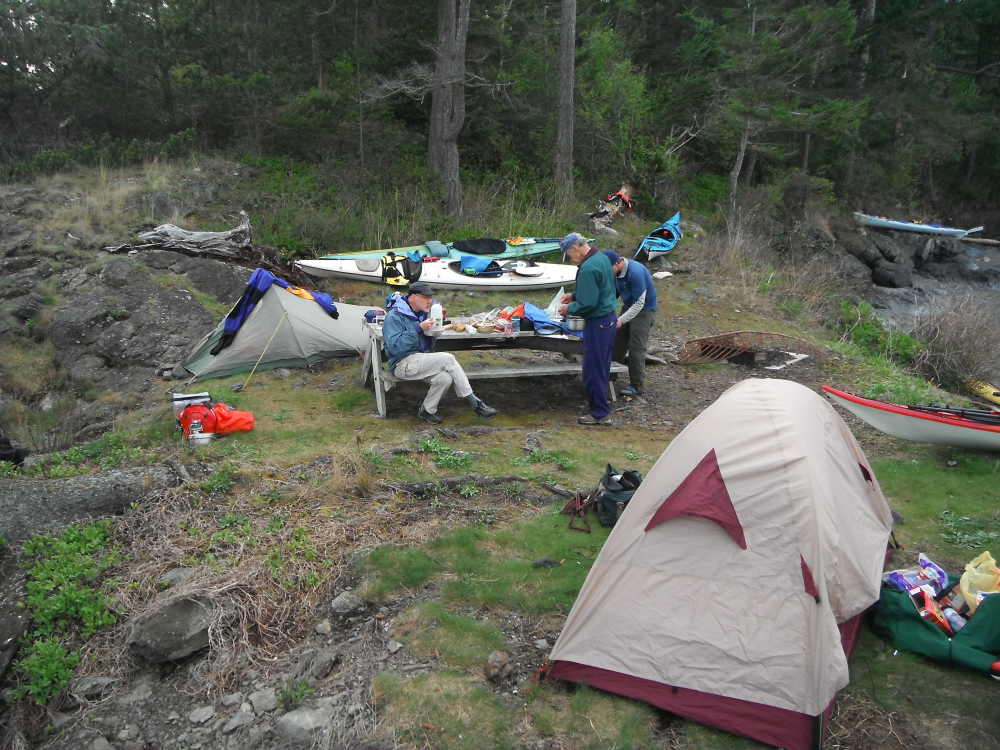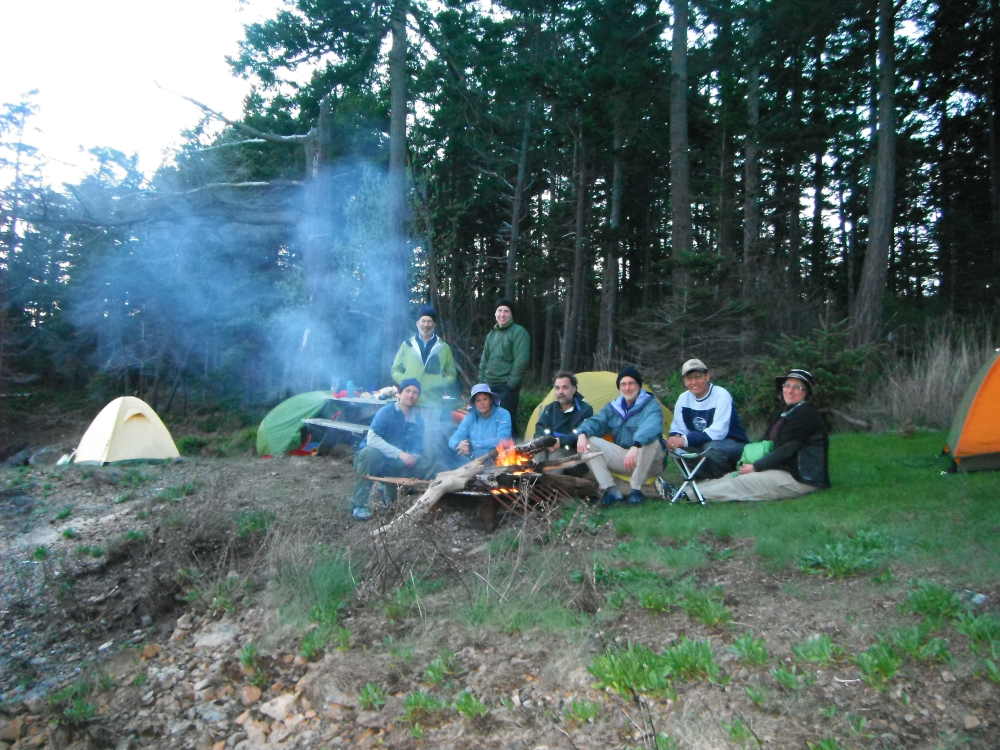 Day 2: Another wonderful day at high 50s, maybe close to low 60s.
Paddled from Doe Island to James Island. It was about 8 miles with current assistance. We launched kayaks at 0820, and arrived at the James Island 1145. It was another inhabited State Park. After we settled down by setting up our tents, most of us took a hike. The sign says a 1 mile loop but we did about 1.5 miles as indicated by my GPS. I thought that we actually hiked up to the highest point of the James
Island. There were a set of 2-3 skeletons on the trail. Paul said
that they were raccoons. They were decimated by some kind of virus.
There were already 3 boats on the pier. We had our tents setup just above the beach and had another nice campfire. I slept very well on the first night but slept only 3-4 hours on Day 2.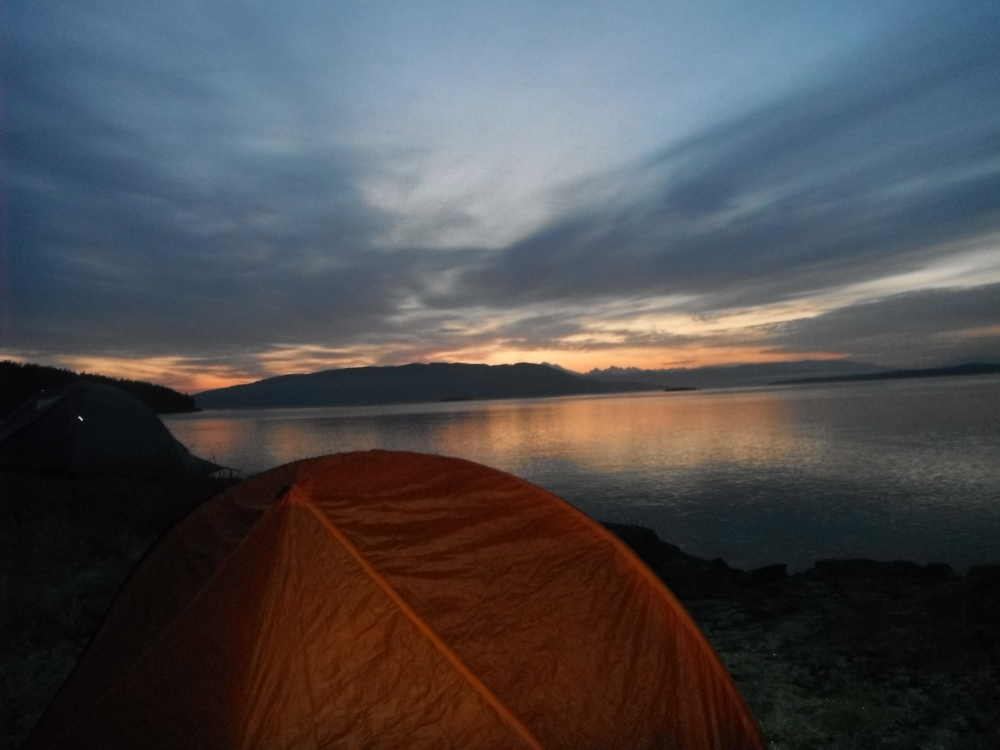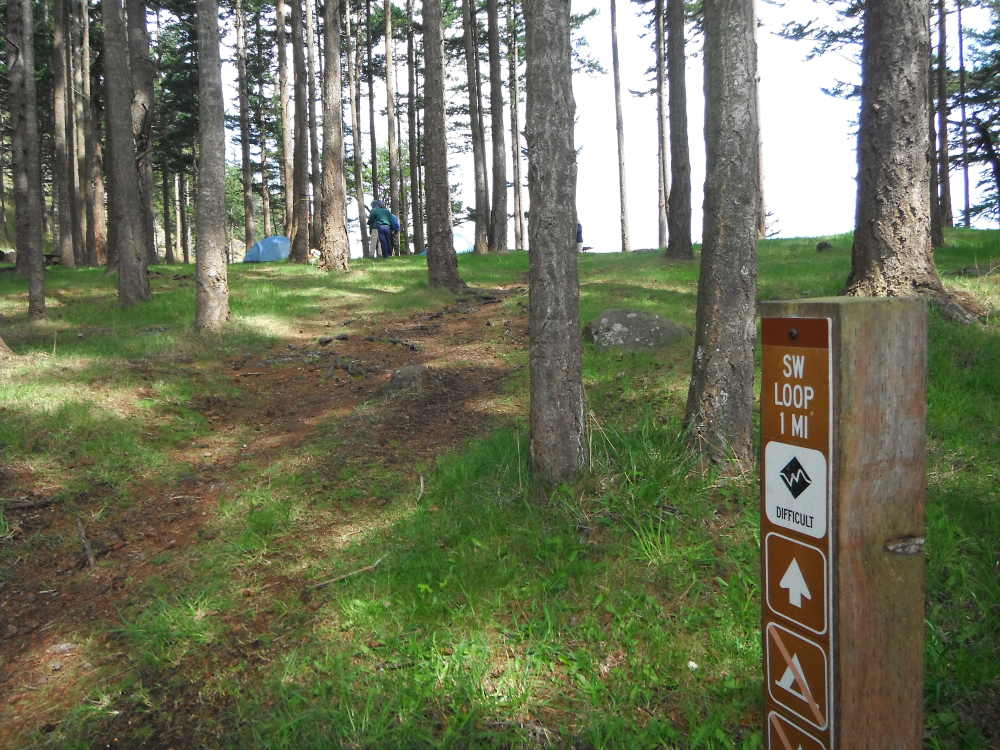 Day 3: Another beautiful day at high 50s, maybe close to low 60s. On a side trip in the early morning at 0600, Les, Andy, another fellow (who was a solo paddler), and I paddled around the Decatur Island staring.
It was about 8 miles that took us about 2 hour 20 minutes. All of us left the James Island 1230 that we discussed the plan on the night before (30 minutes earlier than originally planned). We arrived back at the Washington State Park boat ramp at 1345. It was about 5 miles crossing the Rosario Straight. The Straight was busy with the commercial boats. One time, Tom H contacted a barge boat on Ch 13 to inform our presence. The Captain was so kind that he let us lea surely paddle cross the bow at the distance. On the way home, we decided to take a brewery tour to celebrate our trip in La Conner, but the traffic was horrendous due to the Tulip Festival. We turned around and headed to the Edmonds ferry. I arrived home around 1900. It was a very nice trip. I thought about how much I would enjoy the PWC Gulf Island kayak trip for 7 days. However, my wife would not let me since she worry about something might happen at home while I was gone.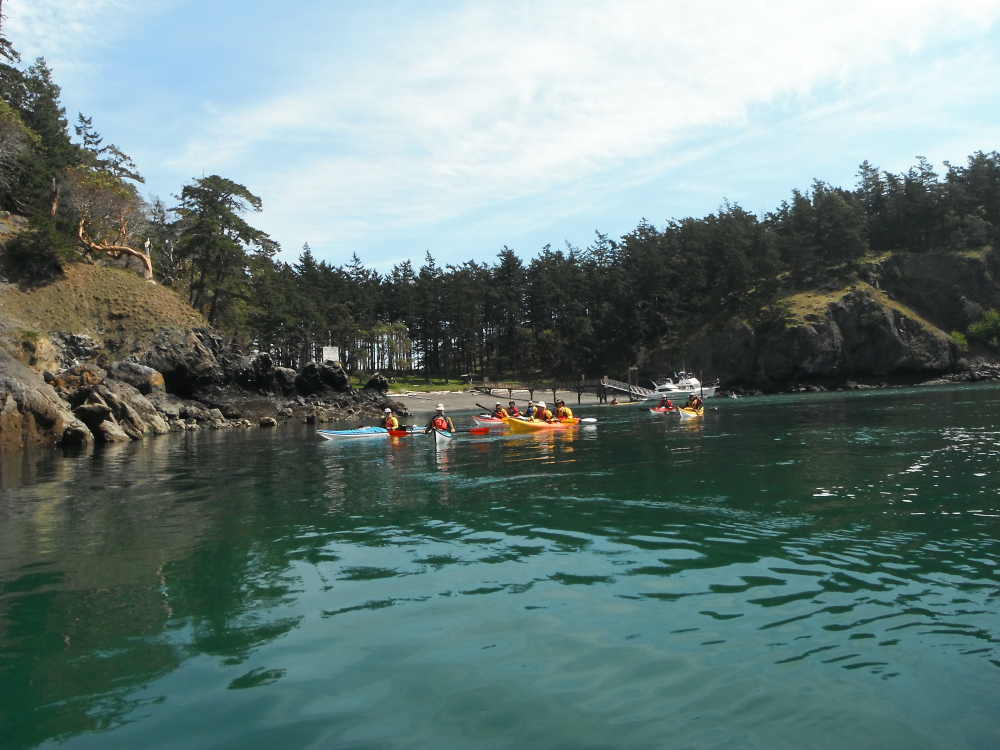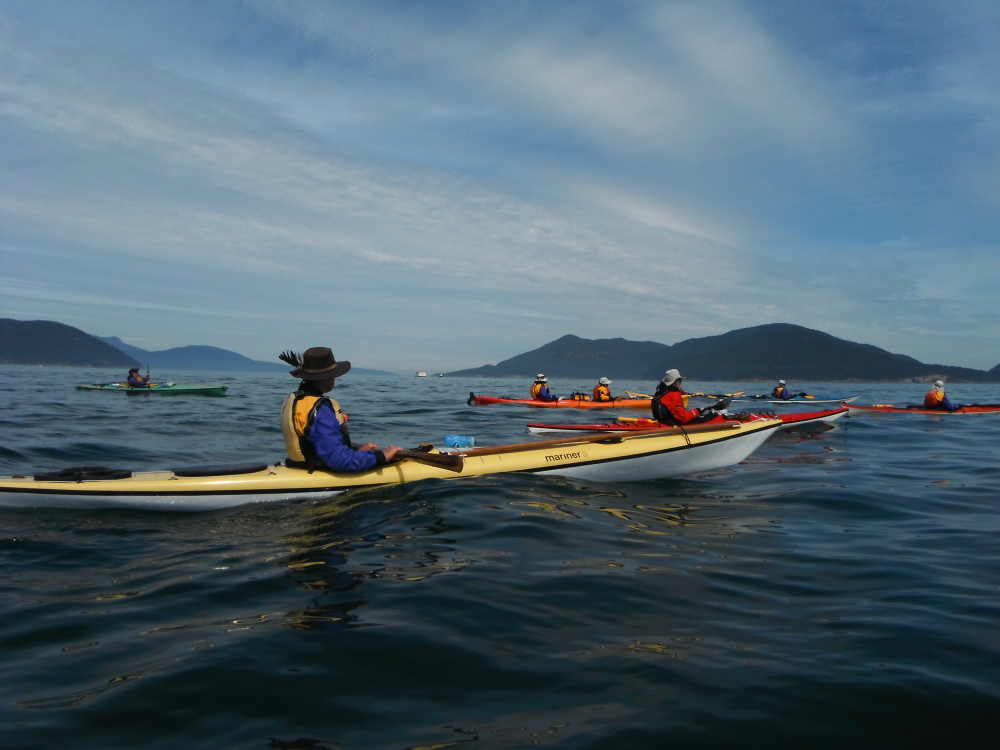 Pictures from Andy: