Cross Country Ski Trip at Methow Valley, Mazama, WA (13-16 Jan 2012)
The event was a Peninsular Wilderness Club (PWC) event sponsored by Paul and Emily. The event has become an established yearly trandition for the PWCers and friends over the MLK weekend. Much thanks to both for their time and efforts in planning and coordinating the trip, and thanks to the car (AWD or 4x4) owners for carpooling. And thanks to all the participants who together had a great time skiing, snowshoeing, sharing snacks & food & drinks, and socializing. Many of the participants were retirees, friends, and the long time PWCers who were having a great time enjoying their lives. For me, I wanted to classic ski possibily the different areas from the previous year's, and enjoy the area. For sure, I want to go back there again.
Trip Background (Copied from 2011 trip):
Methow Valley is located at Mazama, WA. We stayed at the Timberline lodges (Aspen Lodge and Elk Lodge). It is about 300 miles driving distances from Bremerton, WA. and the counties we drove through or stopped by were Kitsap, Pierce, King, Chelan, and Okanogan. The place was truly a Cross Country (XC) trail mega that had about 120 miles of groomed XC ski trails: for example, Methow Community Trail (19 miles, easist), Sun Mountain Trails (32 miles, most difficut), Mazama Trails (20 miles, moderate), and Rendezvous Trails (29 miles, difficult). Its place is considered one of the Top 10 XC ski centers in North America !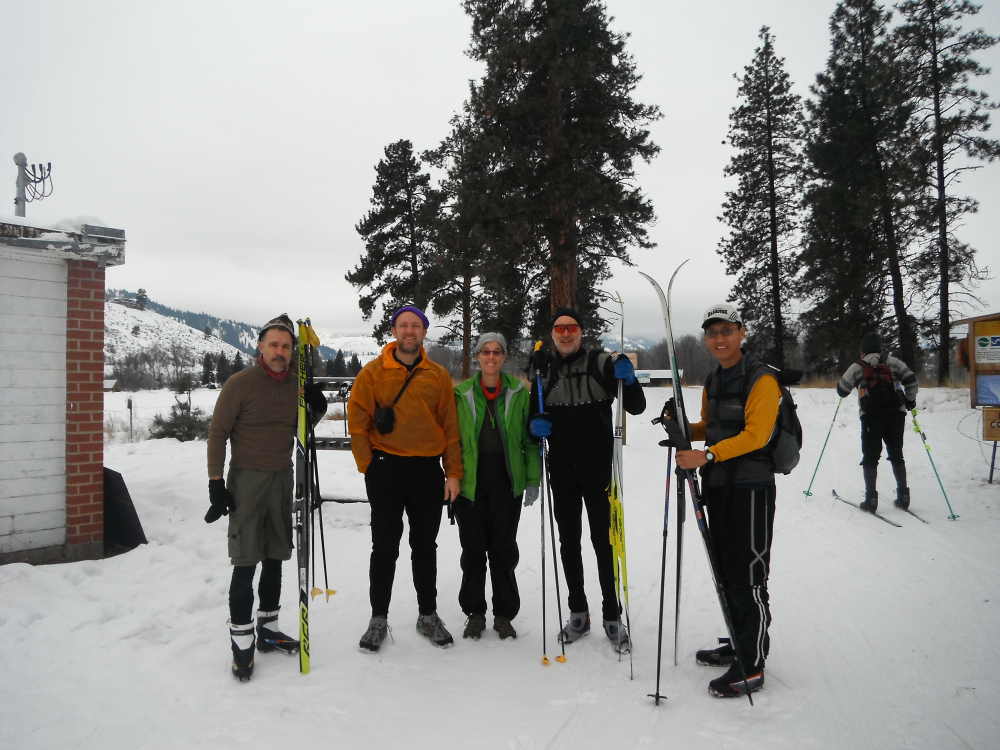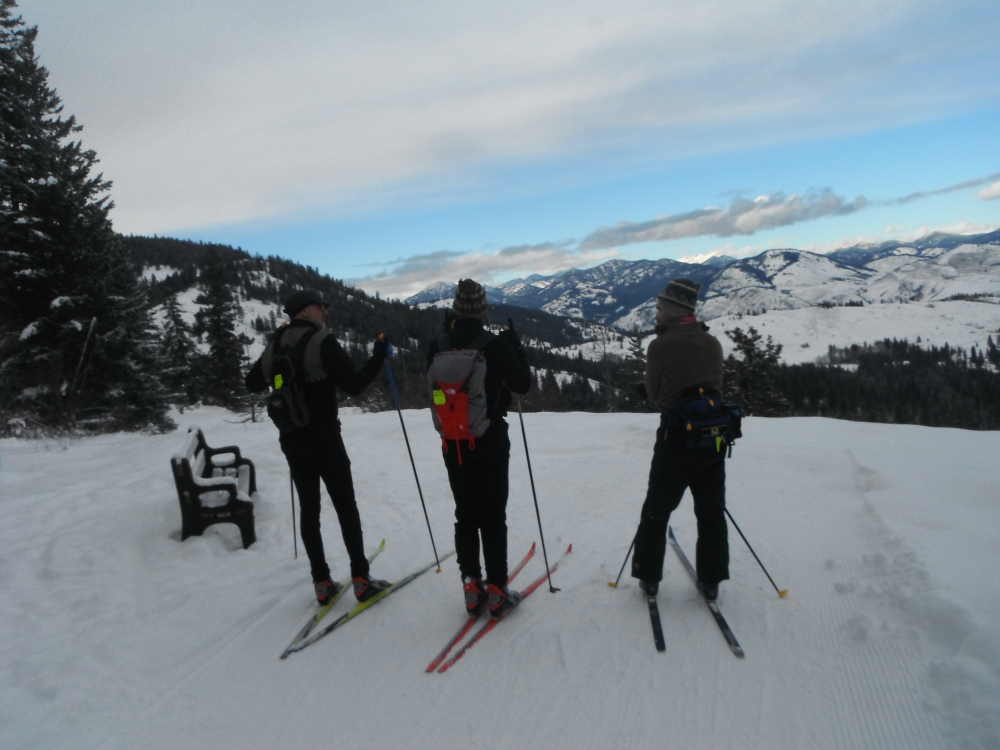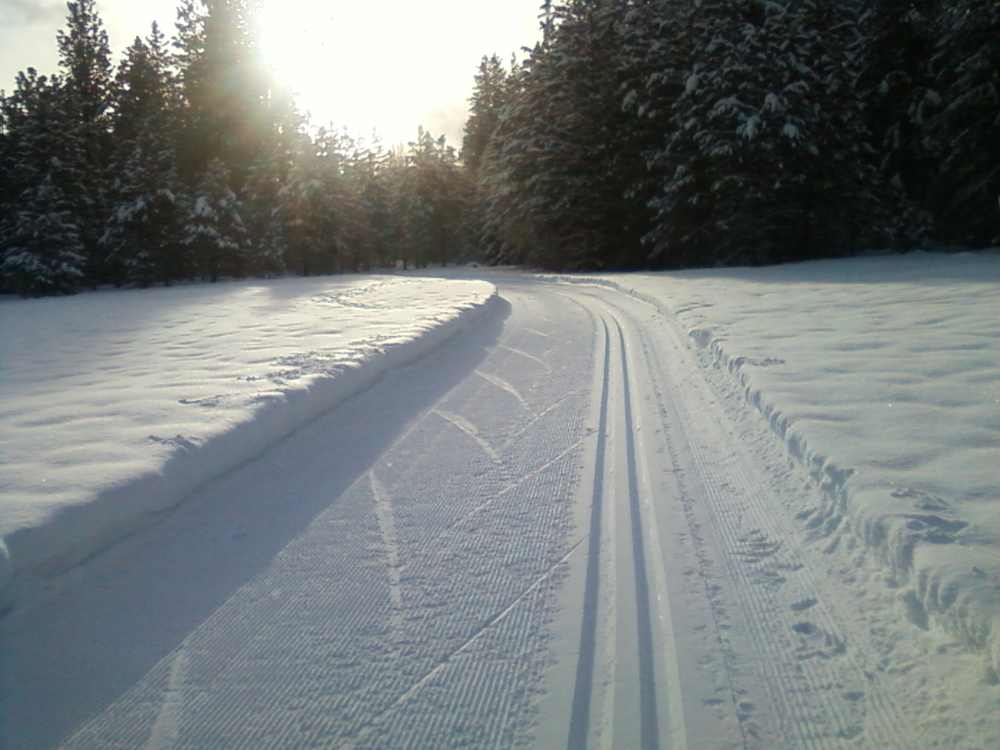 Food and misc information during the trip (the similar setup as the year 2011. One major difference was Free Wifi Internet Access):
a. All breakfast & lunch and Fri night meals were up to each individual. For Sat, Sun, & Mon breakfast, most of us ate the leftovers from dinner.
b. On Saturday night, potluck dinner for all paticipants at the Elk Lodge.
c. On Sunday night, it was up to each lodge. For us at the Aspen Lodge, special dishes were prepared by Paul D (Chicken stir fry), Kevin K (Tofu),Tom H (Yakisoba), Tom R (Pork tenderloin) in timly order. They were excellent 4 course meal... All were very tasty and memorable dishes.
d. Free WiFi Internet was AVAILABLE (unlike in 2011) at both lodges. A daily update was provided to the Kitsap Hikers group on the Facebook.
e. There were no cell coverages at the loges but had cell phone coverages at the Mazama and Winthrop towns.
f. No cable or public TV channel was available, but had a DVD player with many DVD movies.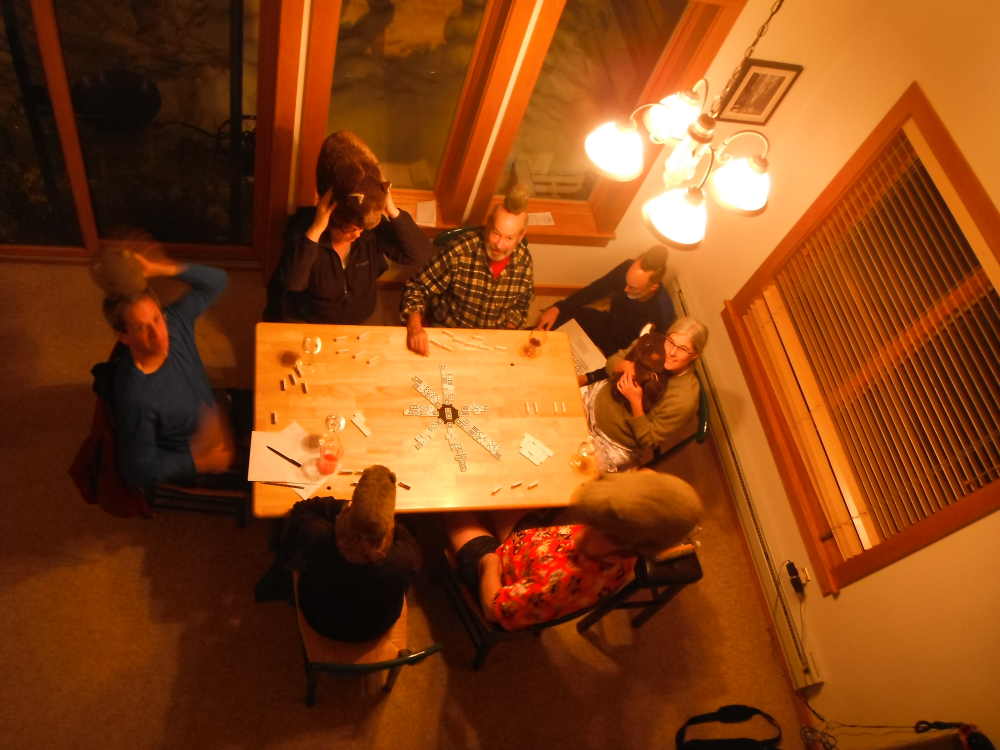 Cost for the trip:
Total of $255: 3 nights lodging: $140. Car pool expenses: $40. 3 days ski Pass: $25 (a coupon from Groupon. $51 regular). Food & drinks: $50.
Summary of daily activities (XC skied 54 miles total for 4 days (8 miles + 22 miles + 16 miles + 8 miles)):
Day 1 (Fri): Paul, Tom H, and I carpooled. Arrived at the Aspen Lodge, Mazama at 1610. Temp was high 10s. Skied 8 miles in 2 hours at the Mazama trail. We skied the last 4 miles with the head lamps. I learned that my backpacking headlamp was not bright enough and needed a brigher headlamp. The rest of the people (Kevin, Maria, Tom R, & Kathy) arrived around 2100.
Day 2 (Sat): Cross Country skiied all day (1020-1600, 21 miles with elev changes from 1700- 2100 ft) at the Methow Valley Community Trail. Temp was 9-19F. Snowed most of the time. For a warm up, I skied a 0.7 loop from the Aspen Lodge. Then, we (Kevin, Tom H, & I) skied from the Winthrop to Mazama. Despite elbow and knee snorness, Paul skied about 13 miles. Thanks to Maria again for providing us the shuttle. Pot luck dinner was excellent prepared by people from both lodges. Played the Domino with help and instructions from the master Domino player, Tom R.
Day 3 (Sun): Corss Country skiied all day (1030-1510, 16 miles with elev changes from 2600-3600 ft) at the Sun Mountain Trail. 50% chance of snow did not happen. Temp was 7-18F. XC skied at the Sun Mountain Trail. The dinner at our Aspen lodge, was delicious and filling as menioned before. It was Maria's birthday. Played the Domino. CJ Snow sang a wonderful birthday vocal at the Aspen Lodge.
Day 4 (Mon): Tom H and I XC skied from the Lodge to Brown's Farm (8) miles) one way, part of the Methow Valley Community Trail that we skied on Saturday. It was a bit cold near temp 8F. Thanksfully, Paul picked us up at 1020 and drove back home. Snow storm just started to move in on the Pudget Sound Peninsular on Sunday. There were some snows on the passes (Swauk (formerly Blewett) Pass (4000 ft elev) & Snoqualmie Pass (3000 ft elev) but was safe to drive with Paul's AWD car. Before the Swauk pass, one car almost lost control in front of us. If it happened a few seconds later, there would have been a head-on with a 18 wheeler. Right after passing the Snoqualmie Pass, we saw one 4x4 that two tires were blown on the right side. There was no snow on the Tiger Pass (2000 ft elev) along HWY 18. Some snow in the Gig Harbor and Port Orchard, but no snow in Bremerton and Silverdale. We all arrived back home safely.