Climbing Mt Baker via Easton Glacier (10778 ft. 15 miles with 7500 elev gain) (4-6 July 2012)
I have scratched off one of the prominent mountains that I wanted to climb in the Pacific NW area. Since the last year, I climbed Mt Hood, Mt St Helens, Mt Adams, & The Brothers Mt. I want to climb the Glacier Peak, Mt Rainier, & Mt Olympus. If timing is right with the fellow experienced climbers, I would probably climb mountains like Mt Shukson, Shasta, 3 sisters, etc. Much thanks to Tom Rogers for organizing and leading the trip.
For the climb, we could not pick the better days of the year. All 3 days were sunny. Originally, it was scheduled for 2-4 July but was delayed to 4-6 July due to bad weather (raining). It was also better for me since I did a tough dayhike over the weekend (30 June). For this trip, I took a whole week off from work since I was determined to climb this mountain. As usual, it was a tough climb that I felt like I barely had enough strength to be on the pace on the summiting day. The pace was quite fast for the last 1000 ft elev gain to the summit. I had to get breathers once in a while.
Day 1: Hiked up to a camp site at 6500 ft elev. 1030-1630. 4.8 miles with 3300 ft elev gain.
Due to some snow on the way to the trailhead (Schriebers Meadow TH, 3200 ft elev), we parked our cars about 0.4 miles before the trailhead and hiked up via the "Railroad Grade" (4700 ft elev), a lateral moraine named for its uniform slop alongside the lower Easton Glacier. Our camp site was at 6400 ft elev with some exposed flat rocks. It was an excellent spot for camping, cooking, and resting.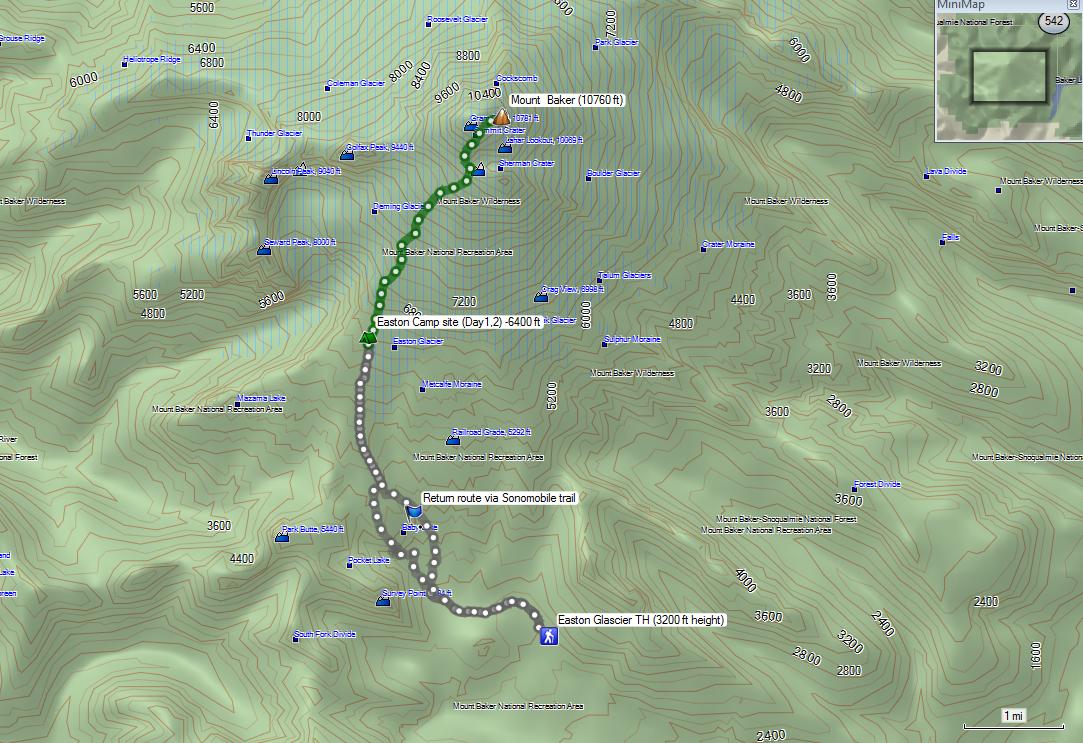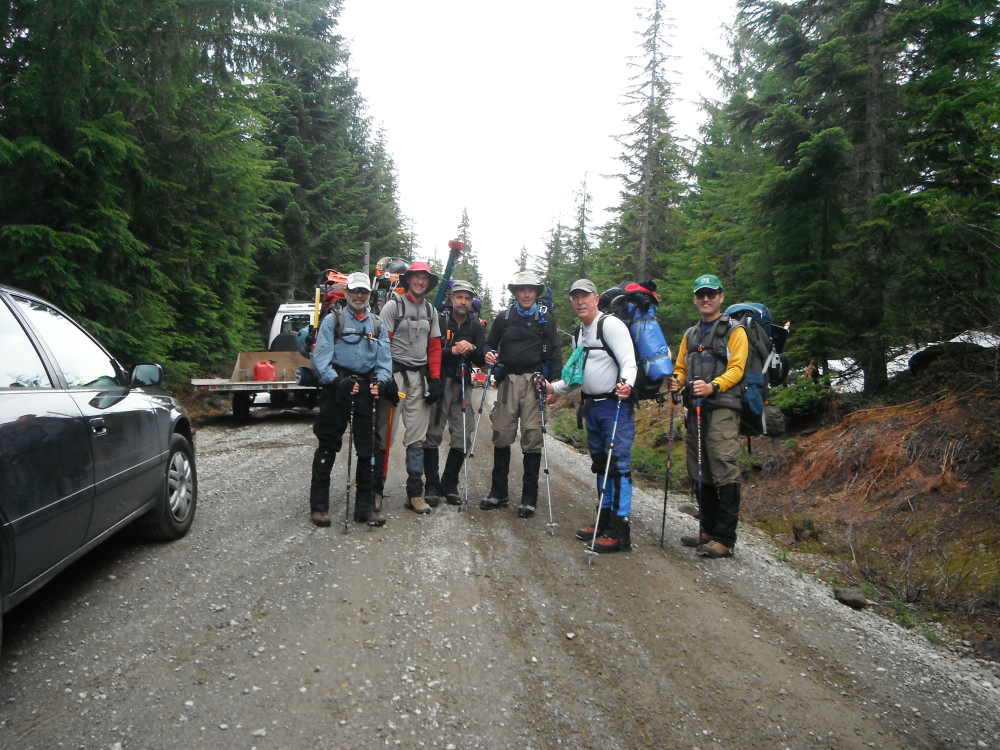 Day 2: Summit the mountain. 0320-1240. 5.8 miles with 4200 ft elev gain.
As usual in climbing a mountain, the key to success is good weather, good physical conditon, and good endurance. We were roped up but was not very particularly dangerous.. However, we passed by about 5-6 crevasses that could be fatal if fell. It's basically life or death situation. Whenever traveling near a crevasse, constant alert for a word, "falling," was anticipated to go down with an ice axe. When we reached 9500 ft (just before the Roman Wall) next to the crater , one of the climbers, Mike, opted to stay there since he had difficulty speaking at that altitude. And another climber, Brian, realized that he lost the right foot crampon. It was wise to stay back since the Roman Wall was quite steep and the crampons were needed.
Day 3: Hiked out. 0745-1030. 4.4 miles with 3300 ft elev loss. We decided to hike out on the same route. when we got near the end of the Railroad Grade trail, we chose to glissade down to the valley via the snowmobile route which avoided those scrambling switchbacks (due to snow) and shorter about 1 mile. On the way back home we stopped by for pizza and cold beer at the Alfi's Pizza, Sedro Woolley (Since I was the driver, I did not drink any alcohol !!!).
As with most volcano climbing, the key to success on this route is good weather, good physical condition, and good endurance. While the climbing is not very technical, it does require over 7500' of climbing from the trailhead and a long summit day with close to 5000 vertical feet of elevation gain.
Pictures from Tom Henning: