Dayhiking Tubal Cain, Mt Worthington, Hawk Peak, Silver Lake, and Mt Townsend loop (16.1 miles with 5800 ft elev gain) (Sat, 7-14-2012)
For the weekend, I wanted to day hike a long and interesting route. Back in 2010, the loop was my first overnighter with the PWC. We skipped the Mt Townsend trail due to its foggy condition in the morning. Some people called it the Kevin Koski loop since Kevin mentioned the loop to the PWC members. Trails above the Tull Canyon to the Silver Lake is not maintained or we call it "way trails."
Fortunately, Les Moore joined the hike, otherwise, I would not have hiked the trail by myself. The original route was Tubal Cain Trailhead, Tull Canyon, Hawk Peak, Silver Lake, and Mt Townsend loop (about 15 miles with 4800 ft elev gain). We made the loop bigger by adding Mt Worthington and 2 more peaks near the Hawk Peak: Tubal Cain Trailhead, Tull Canyon, Mt Worthington, Hawk Peak & 2 more peaks, Silver Lake, and Mt Townsend loop (about 16.1 miles with 5800 ft elev gain). It took us 11 hours with a few 5 minutes rest: 0720-1820. I think it was the toughest and longest dayhike I have ever done so far.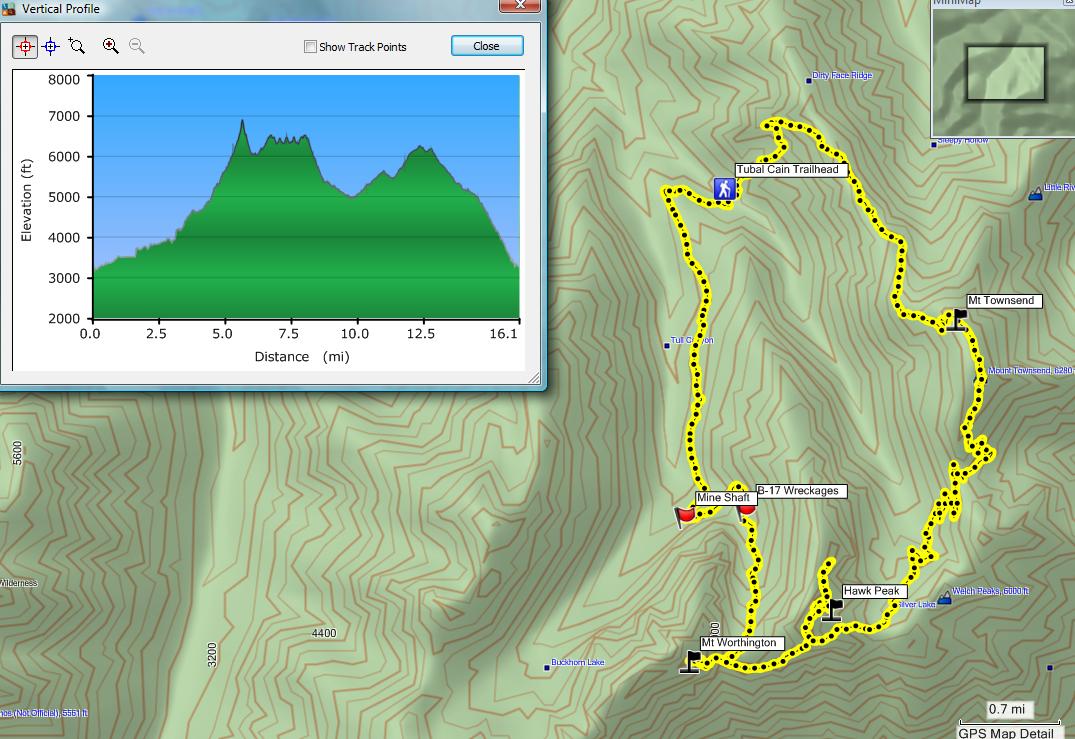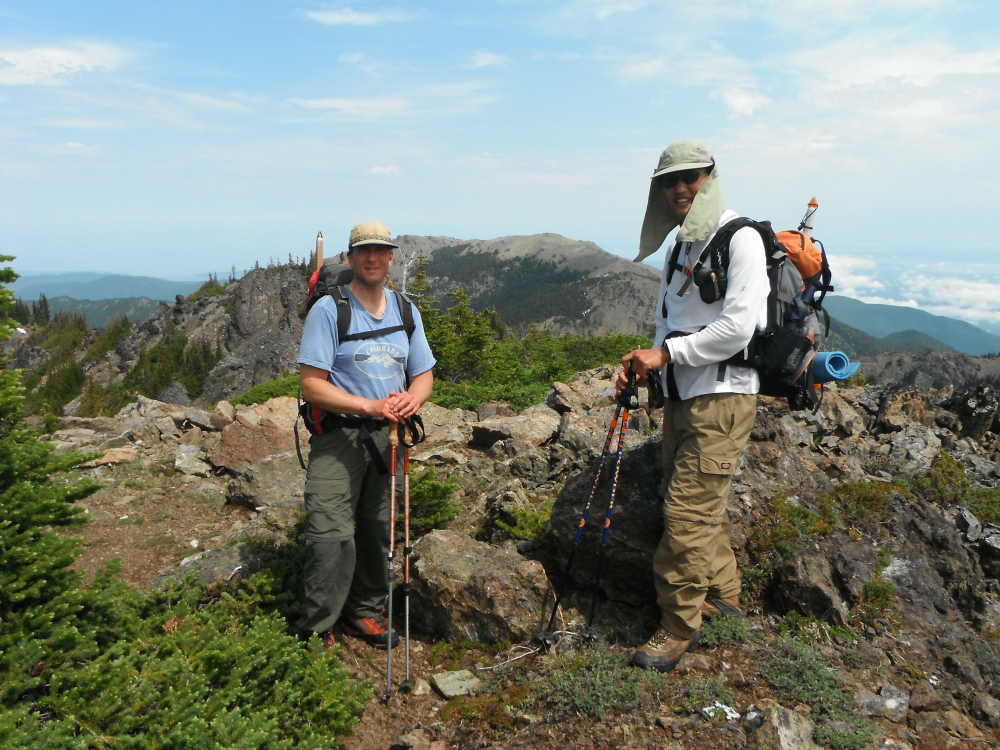 Here was our hiking summary:
1. Tubal Cain trailhead to Junction to Buckhorn Pass: 3.2 miles. While we were chatting, we hiked about 3 miles per hour pace.
2. To Tull Canyon (B-17 wreckages): Trail got little steeper but we kept on our pace. We checked out the B-17 wreckages that was clashed in 1940s. There were so much skeeters that we got out there quickly. I was beaten a few places: a couple on my face, and back and shoulder right through the shirt.
3. To Mt Worthington: We decided to summit the Mt Worthignto. We climbed up to the saddle and we scrambled up to the summit. Les called it a Class III climbing. For the day, weather forecast was not good. There was 30% chance of thunderstorm in the area. When we were near the Mt Worthington summit, we could hear the thundering on the North (Port Angeles area) but, luckily, it never came to our way. Indeed, we had decent views to all around all day. The valley above the Tull Canon still had some snow and the flat area (where we camped in 2010) was flooded with snow melt.
4. To Hawk Peak and 2 more peaks: We stayed on the ridge and continued traversing to the Hawk Peak and 2 other summits. It was unintentional that I was not sure which one was the Hawkpeak. It was the tallest in that ridge. We ended up summiting all of them.
5. To Silver Lake: We had to go back to Hawk Peak and take easier route. The route was all shale trail but was covered by snow. We used our foot traction and ice axe to go down to the Silver Lake. Les was quite good and fast going down the steep snow field. I had to self-arrest once. After the steep snow slop, we had to travel over a huge boulder field. Just above the lake, we refilled our water bottles. The lake was beautiful but it looked better from above near the Hawk Peak. A couple of people just arrived there for camping.
6. To Mt Townsend summit: From the Silver Lake, we were on the trail which was quite nice and easy going. We dropped xxxx ft 0.9 miles to the Mt Townsend junction and started to climb up to the summit. Since it was not off trail, it was quite nice. I was tired but had enough strength to move on slowly. My right thigh was cramping a bit but a few 30 second rest and sipping water kept me going. On the way up to Camp Handy, we met one 4 people party going to camp at Silver Lake. Also met a group of 5 dayhikers making a loop (Mt Townwend & Silver Lake). Also met a couple more day hiking groups. After passing the Camp Handy junction, we saw a few groups coming down the hill. And met two ladies from Seattle who left the Upper Big Quilcene at 1200 and arriving at the North Summit at 1630 ! One lady said that they were carrying some weight to train for backpacking trip.
7. Back to Tubal Cain Trailhead via Dirty Face Ridge Trail: It's a wonderful trail with the fantastic views to the interior of the NE Olympics. Trail was gentle for the first mile, then it started dropping quickly losing 2000 ft elev in 1 mile. Both of my knees, feet, toes, bottom of my feet, etc. all were hurting. Les had some issues jamming his toes but managed to come down the hill safely.
In summary, it was an excellent loop hike that I really enjoyed. Luckily, 30% of Thunderstorm did not happen. Les and I talked about that we now could do the Mt Deception via Royal Basin on a day trip. It should be easier than our day hike just completed.