Hiking a loop of Mt Baldy, Gray Wolf, and Mt Walkinsaw on a dayhike, NE Olympics (Friday, 7/26/2013), 17.2 miles with 7400 ft elev gain.
Like an old saying, "When life gives you lemons, make lemonade." I have been taking advantage of my furlough by day-hiking on Fridays and spending the weekends with my family. However, the 20% percent pay cut of the paycheck due to federal furlough have has been hugh, and I rather go to work for the income and hke in the weekend !!!
A week ago Friday, I tremendously enjoyed hiking to Petunia Peak (above Goat Lake) that involved some way trails and bushwhacks in the Olympics. Thanks to Charlie for leading the trip. On the following week, I wanted to do a similar adventurous dayhike. The Gray Wolf Ridge area looked quite interesting. It's directly across the valley (Royal Basin Trail) to the North from the Petunia Peak. Looking at from the South (Petunia Peak) on the week before,, the Gray Wolf Ridge area was snow free on the South side and appeared to be simple. Charlie mentioned that he hiked the loop 25 years ago ! He talked about starting from the Baldy-Tyler Trailhead, Baldy Trail, Gray Wolf, intercept Royal Basin Trail, and backup to Baldy-Tyler TH. I opted to start from the Upper Dungeness TH and make the loop (Upper Dungeness Trailhead, Lower Maynard Burn Trail, Baldy Trail, Gray Wolf Peak, Mt Walkinsaw (if managable within my comfort), Royal Basin Trail, and Upper Dungeness TH.)
Paul Dutky and I decided to do the loop. Surprisingly, there was no report of the loop in the internet. There were a couple of reports to Gray Wolf Peak trips from the Upper Dungeness Trailhead on the NWhikers website. So, it was a good sign that there is a trail (Lower Maynard Burn Trail) to the Mt Baldy trail.
Here is a summary of our estimated routes based on my GPS track data:
a. Upper Dungeness Trailhead (2500 ft elev) to Lower Maynard Burn Trail (2750 ft elev). Time 0850-0912. Total 1.2 miles from TH. After a mile from the TH and after the bridge, there is a sign on the right for the Lower Maynard Burn Trail. The sign can be easily missed.
b. Lower Maynard Burn Trail to the Junction (3200 ft elev) with Baldy Trail. Time 0912 - 0945. 1.1 miles. Total 2.3 miles from TH. It's on the logging road but the vegetation has grown. Turn left on the logging road and continued till intercepting the Baldy trail.
c. Mt Baldy Trail to Junction (6100 ft elev) with Tyler and Mt Baldy. Time 0945 - 1110. 2 miles. Total 4.3 miles from TH. Steep trail.
d. Tyler-Baldy Junction to Mt Baldy (6808 ft). Time 1110 - 1143. 0.9 miles. Total 5.2 miles. Took 10 minutes break. It's exposed to the Sun and a high country walk. It has a false summit (xxxx ft) before the true summit. Paul was strong as usual on the uphill. He was about 10 minutes ahead of me. We took our only group picture at the Mt Baldy Summit.
e. Mt Baldy to Gray Wolf Peak (7051 ft). Time 1153- 1303. Took 10 minutes break. Total 6.6 miles. It's exposed to the Sun. 1.3 miles walk with 1 up and 1 down before the summit.
f. Gray Wolf Peak to base of Mt. Walkinsaw (7378 ft). Time 1313 - 1517. Total 9.7 miles. It's exposed to the Sun. 3.1 miles walk with 2 ups and 2 downs before the basis of the mountain. The 2nd ascend was quite steep and had some snowfield. Paul was still strong charging forward.
g. Mt Walkinsaw. Took about 10 mintues break before scrambing up. Successful summit at 1620. Took 10 minutes break at the summit. Mt Walkinsaw is the most northern Mt among the Needles. I forgot to take some pictures but it required scrambling to just get to the base of the mountain.
h. Mt Walkinsaw to intercept Royal Basin Trail. Time 1630 - 1900. 1.8 miles from the Mt Walkinsaw summit. Took 5 minutes break. Total 11.5 miles from TH.
It turned out that the highlight of our adventurous hike was scrambling up the Mt Walkinsaw. I actually misunderstood that Mt Walkinsaw as Mt Clark on the week before when I took video shots of the area. When we reached the base of the mountain, it looked pretty impressive. Mt Walkinsaw was listed as class 3 per the Climber's guidebook. Class 3 sometimes consists of class 2 scrambling. I was willing to skip scrambling up the mountain if Paul felt the same since it was getting late. However, Paul wanted to try. As we scrambled up, we were able to find a manageable route that is less exposed and significantly less risk with careful footing in our comfort level. When we reached the jagged top, I was exhilarated. The views at the summit was amazing: The whole Gray Wolf Ridge Area, Mt Buckhorn area, Mt Constance (Mt Rainer behind it), Interior Olympics (Mt Olympus, Mt Cameron, etc), , Mt Mystery, Mt Deception, Mt Clark, the Needles, Grand Ridge, Blue Mt, etc. Much thanks to Paul for scrambling up together.
The most difficult part of this loop hike was intercepting the Royal Basin Trail (1.5 hrs for 0.8 miles with 1500 ft elev loss). Per the climber's guide book, we supposed to intercept 1.5 miles N from Shelter Rock (camp sites below Royal Lake) at about the 4600 ft elev level. We did intercept the trail near 4600 ft elev but just south of the massive avalanche chute. Per the guide book, it's the route for boulder slide and snowfield. Without snow, the area was too difficult to navigate which forced us to bushwhack very thick forest with many down trees. It was more dangerous than scrambling up the Mt Walkinsaw !!! I forgot to take some pictures because I was so busy using my both hands to bushwhack.

i. Royal Basin Trail to Upper Dungeness Trialhead. Time 1905 - 2115. 5.7 miles. Total 17.2 miles. It was a nice hike out on a gentle grade.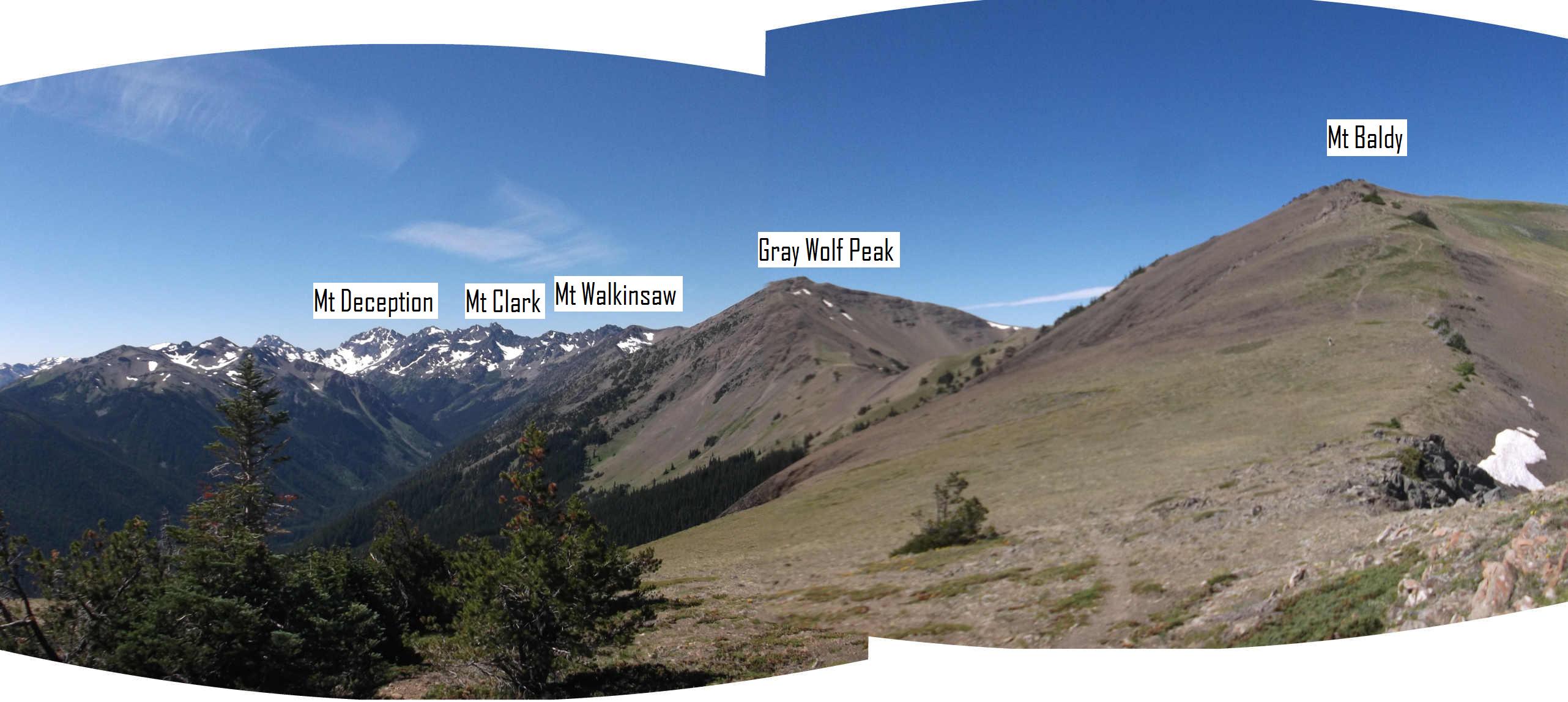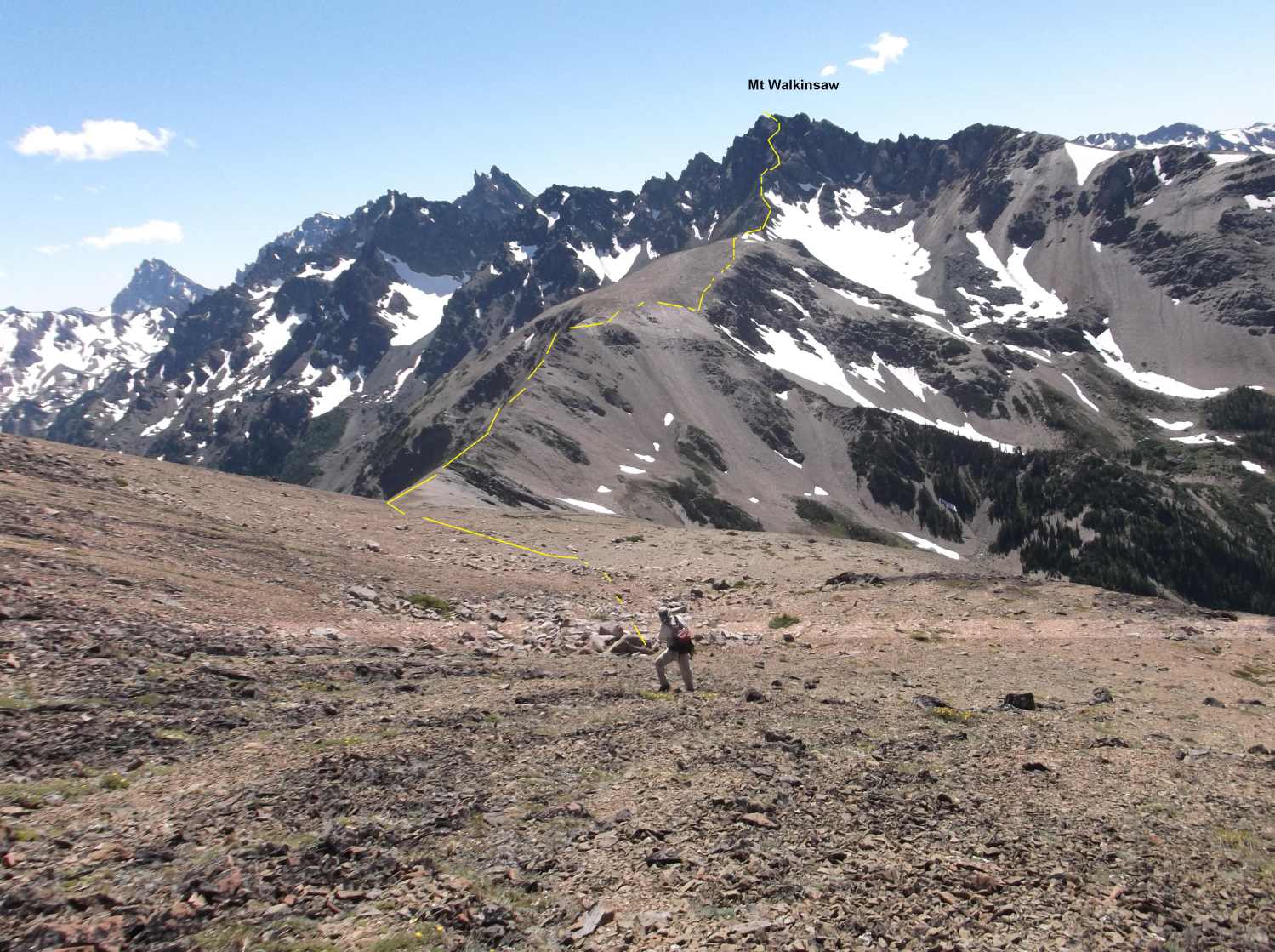 It was an incredible and very memorable hike, and much thanks to Paul for hiking together. My GPS data indicated we hiked 17.2 miles and estimated about 7400 ft elev gain. It was my most elevation gain on a dayhike. It must have been a tough hike because my legs felt the stifness the next few days.
Trailhead Direction:
Upper Dungeness Trailhead (TH), the same as the Royal Basin TH. 4 miles from here is the Tubal Cain Mine Trailhead.
a. Follow Highway 101 to Sequim Bay State Park, turn west across from the state park onto Louella Road.
b. Follow Louella Road one mile to Palo Alto Road and take a left on Palo Alto Road for 1.1 mile to the Forest Boundary.
c. The Palo Alto becomes FS Road #28. Turn right onto FS Road #2880, drive past Dungeness Forks Campground for 1 mile stay left onto FS Road #2870 for 8.7 miles to trailhead.