Hiking & Snowshoeing Blue Bt (6007 ft) above Deer Park (Olympic National Park) ---About 10.4 miles with 3500 ft elev gain. Fri, 2-15- 2013
Les, Paul, and I had an excellent snowshoeing event to Mt Angeles 2 weeks ago. When I asked for another event in 2 weeks, Les mentioned snowshoeing Deer Ridge trail to Blue Mt. He has mentioned about the trip before. I accepted its trip since there were not many places in high country (above 4000 ft elev) where we can hike/snowshoes in the winter. I hiked the area before. I day- hiked the loop of Slab Camp, Gray Wolf Camp, 3 Folks trail, Deer Park, Deer Ridge, and back to Slab Camp. On another trip, I drove my nephew to the Blue Mt along with my son and my friend (Aaron).
Deer Ridge trail is relatively steep: 4 miles stretch with 2800 ft elev gain. From Deer Park to Blue Mt is sort of climb. It's about 1 mile with xxx ft elev gain. It turned out to be another nice day in Olympics. Once again, it was trio of us: Paul, Les, and I. Temp was in mid 30s in early morning (started hiking 0800), little cloudy, and some winds above xxx elevation. In the Winter season, we were lucky to snowshoe the area since the trailhead is at 2500 ft elev with full of snow. Two weeks ago, Monday Hikers were able to snowshoe the Deer Ridge. They used snow chain to access to the trailhead. No problem was encountered with Les' car that had a high clearance and 4x4.
Its hike was straight forward. Up and up to the Deer Park, and steeper ups to the Blue Mt summit. The return trip was all downhill which was going fast. On the way up, the views to the East were breathtaking: Tyler Peak, Mt Baldy, Mt Deception, Mt Clark, etc.
Trip itinerary:
a. Left Paul's house 0620. I picked up Paul since he has been driving most of our trips and wanted to give him a break. On this trip, we needed Les' 4x4 with high clearance.
b. Pick up Les at Fat Smithy at 0700.
c. Started hiking at 0815.
d. By-passed the Deer Park to the right.
e. Arrived at the Blue Mt summit at 1140. Left Summit at 1210.
e. Arrived back at Slab Camp at 1430.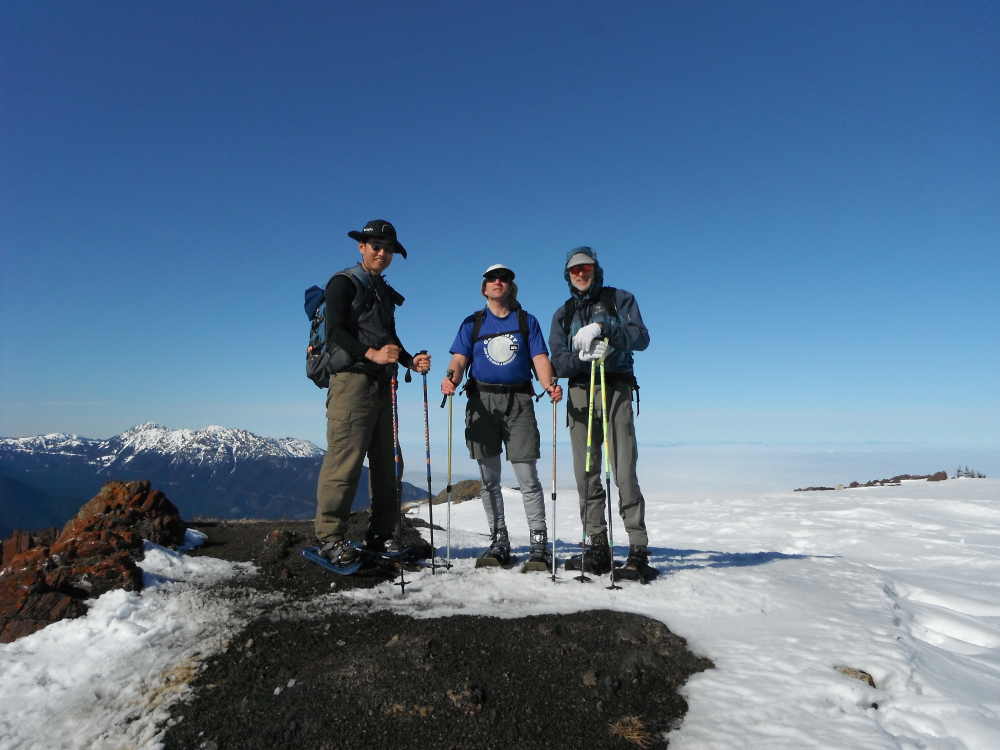 Direction to the Trailhead.

Approximately 2.5 miles west of Sequim on US Highway 101,


Take a left on the Taylor Cutoff Road (May not see the street sign.

Look for a small TEXCO Gas Station)


Continue on Lost Mountain Road and proceed to the intersection of Forest Service Road 2870 (Dirt Road) (may miss the sign & continue on the paved road).


Take a left on 2870 (Dirt Road), then turn right at junction with the 2875 Road (Turn left is the Lower Gray Wolf Trailhead).


Proceed on 2875 and watch for small parking area near Slab Camp.