Hiking Elbo Creek, Quilcene, WA (Sun,2-3-2013) --- 7.8 miles with 2200 ft elev gain.
It was a good weekend for me. Snowshoed Mt Angeles on Fri. Hiked a couple of miles for the "Half Day Hike with Isaac" event on the Clear Creek Trail in Silverdale. I would have hiked more if somebody showed up. Nobody showed up. One person did not show up and the other person was confused with the Sunday hike since it's on either Sat or Sun. On Sunday, Paul and I were planning to Nordic ski at the Cabin Creek but not enough people signed up for the trip. Since the Nordic ski outing was cancelled, I decided to do a hike. PWcers and the Kitsap Hikers were hiking the Elbo Creek starting late in the morning. There were some talks on the Kitsap Hiker's Facebook that the flags on the Elbo Creek trail might have been removed. I recalled that there were many flags above 2000 ft elev on the trail since its trail were not clearly carved out above 2200 ft-2300 ft elev. I was curious if I could find the junction to the road without those flags.
I opted to hike earlier, rest for the day, and watch the Superball. Rahul also wanted to do the same: hike early and get home early. Rahul picked me up at 0700 and headed to the Elbo Creek Trailhead at Quilcene. There were various flags all the way to the road junction. If there were no flags, it would be harder and could be dangerous due to post-holing since there was plenty of snow above 2300 ft elev. On the way down, we met the PWCers, near 1.5 miles from the trailhead. We started hiking at 0800 and returned to the car 1230. We had a short snack break on the way back and stopped by a couple of times to talk to the PWCers.
It was a short and nice workout finishing up the weekend. There was still more than 1 ft of snow on the logging road.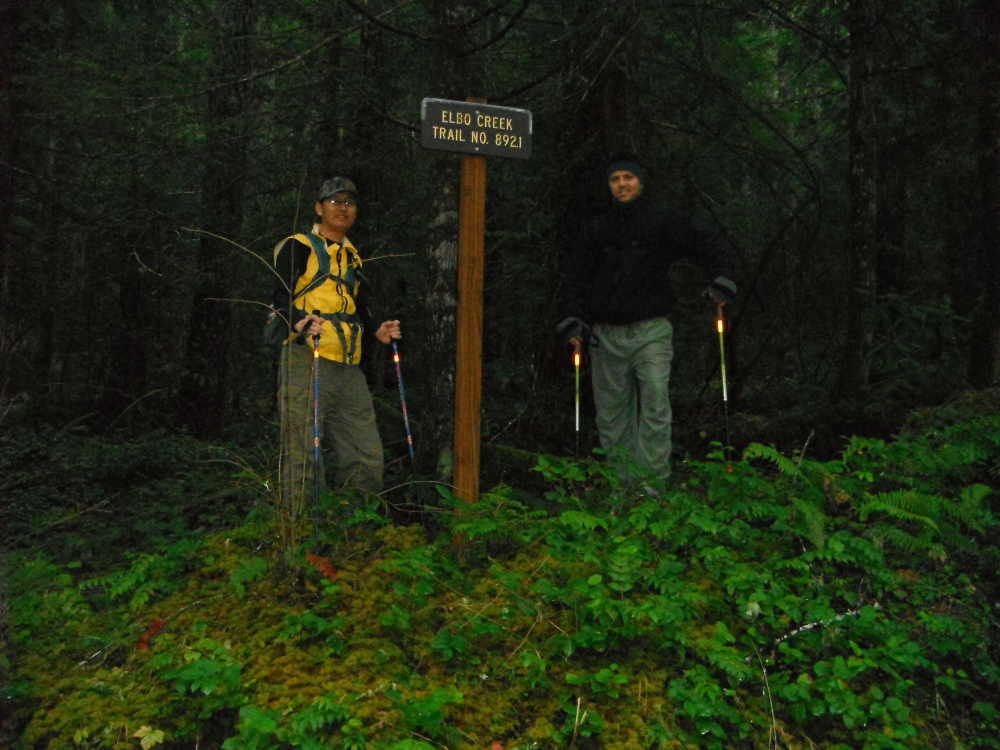 Trailhead Direction:
a. The trailhead (790 ft elev) is across Hwy. 101 from the Mt.Walker access road, and a few hundred feet south.
It is marked as Rocky Brook Road.

b.
Drive up Rocky Brook Road less than a quarter mile and look for a wide spot on the right, and the trailhead (not well marked) on the left side.