Climbing Mt Rainier (14,411 ft) via Disappointment Cleaver (Class II), 14.8 miles roundtrip with 9100 ft elev gain.(8-10 July 2013)
The event was a PWC event that was planned and coordinated by Les Moore. I signed up for this climb earlier this year and worked hard for about 5 months for the climb. Initially, we had all 5 climbers for 5 climbing permits but ended with 3 climbers (Les, Tom H, and I). Three of us climbed the Glacier Peak last year and it was my best climbing experience with them.
I've started hiking in July 2010 after a leisurely family hike to Mt Townsend. I have been healthy and fit in my life by keeping up with moderate exercise (playing basketball, walking, or jogging), so the Mt Townsend hike (8.2 miles roundtrip with 3000 ft elev gain) was quite easy, but most importantly, I thoroughly enjoyed the hike. Since then, I have enjoyed most of strenuous dayhikes . I thought that I would only be a trail hiker, not a climber due to lack of knowledge and proper equipment. As I have mostly day-hiked the Olympics with the Kitsap Meetup and the PWC in the weekends, I realized that I liked the rugged trails, way trails, steep slopes, and scrambling. Within a couple of years since hiking, whenever I had time, I tagged along the experienced PWC members and climbed a few snowy mountains (Mt Hood, The Brothers Mt, Mt St Helens, Mt Adams). I called those climbs semi-technical since they are basically steep snow slopes that needed an ice axe for self-arrest, crampons for foot traction, and a helmet for protecting from falling debris. Then, I found out that climbing a glaciated mountain with the crevasses was not horribly dangerous if the roped climbers have the proper skills. Last year, I climbed Mt Baker and Glacier Peak in a roped team. I thoroughly enjoyed those climbs. Then, I wanted to climb the tallest mountain in the Cascade Range, Mt Rainier, standing at 14,411 ft. It is the most prominent peak in the Washington State. It is visible over 100 miles (mathematically, 1.14 x SQRT (14,411) = 136.85 miles) as far as from the Portland, Oregon.
Then, on the week of 8 July 2013, I finally climbed the tallest mountain in the Cascade Range. Certainly , it's a lift time experience. Mt Rainier is the highest volcanic mountain of the Cascade Range and the fifth highest mountain of the continental United States. The tallest (Mt Whitney in California) is only 86 ft taller at 14497 ft. The most heavily glaciated mountain in the contiguous United States looks so massive with multiple glaciers and has multiple climbing routes of all technical levels. This was my 6th mountain among 11 "volcanic" mountains/peaks over 10,000 ft in the Western Continental United States (Climbed Mt Hood, Mt Adams, Mt Baker, Glacier Peak, Mt Shasta, & Mt Rainier). The other 5 volcanic mountains over 10000 ft are the 3 Sisters (in Oregon), Mt Jefferson (In Oregon), and Mt Larsson (in California).
This trip was organized by a PWC member, Les Moore. He is a versatile athlete and an avid outdoor enthusiast who climbs mountains, hikes/snowshoes strenuous trails, paddles sea kayak, backcountry ski, etc. He has been one of my favorite hikers/climbers/kayakers to hang out with and an excellent trip leader/organizer. We have hiked, backpacked, climbed, snowshoed, and kayaked together quite a bit since we met just over a year ago. There are many routes to climb Mt Rainier with 3 main access points (1. Paradise, Longmire and Westside Climbing Access, 2. Mowich Lake and Carbon River Climbing Access, 3. White River Climbing Access:). One of the routes is the DC (Disappointment Cleaver) route from Paradise (5400 ft elev) where the Mt Rainier Visitor Center is. The Camp Muir (named after John Muir, the father of National Park) is usually a basecamp for DC route climbing the Mt Rainier. We climbed the Mt Rainier via the DC route. It is about 7.4 miles one way with 9000 ft elev gain. It was the most elev gain climb I've ever done in climbing.
Here is a short trip description for climbing Mt Rainier via DC route:
Day 1 (Mon, 7 July): Drove 2.5 hours to Paradise pt, Mt Rainier National Park (about 80 miles). Backpacked to Camp Muir, 4.1 miles with 5000 ft elev gain.
Day 2 (Tue, 8 July): Climbed Mt Rainier. 6.2 miles roundtrip with 3500 elev gain.
Day 3 (Wed, 9 July): Hiked out from Camp Muir. 4.1 miles with 5000 ft elev loss.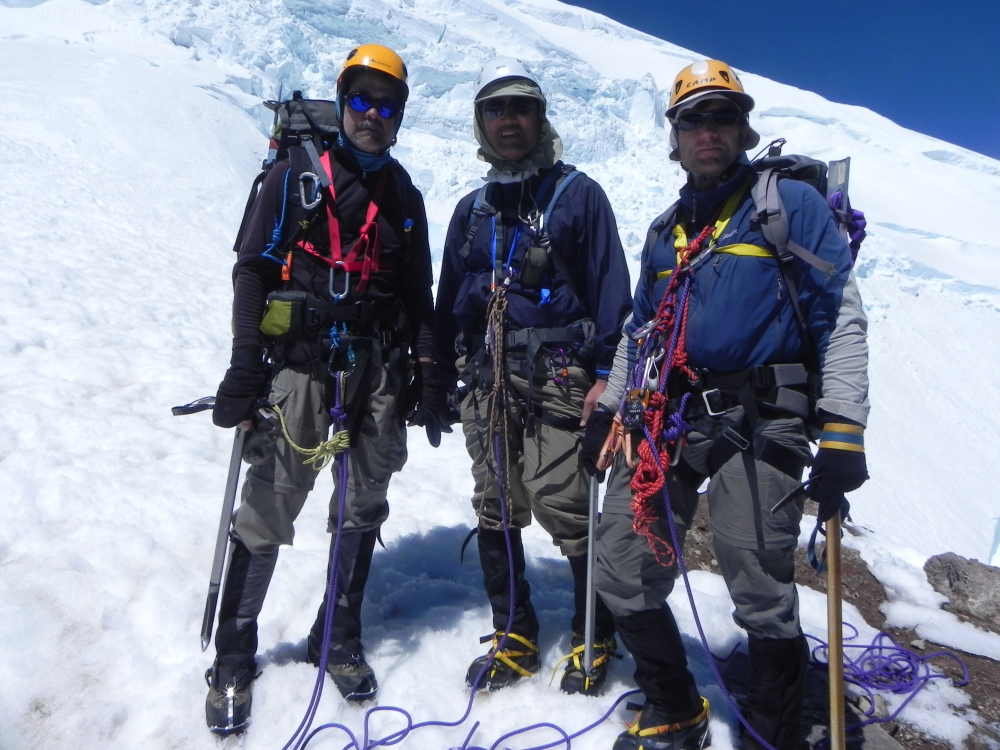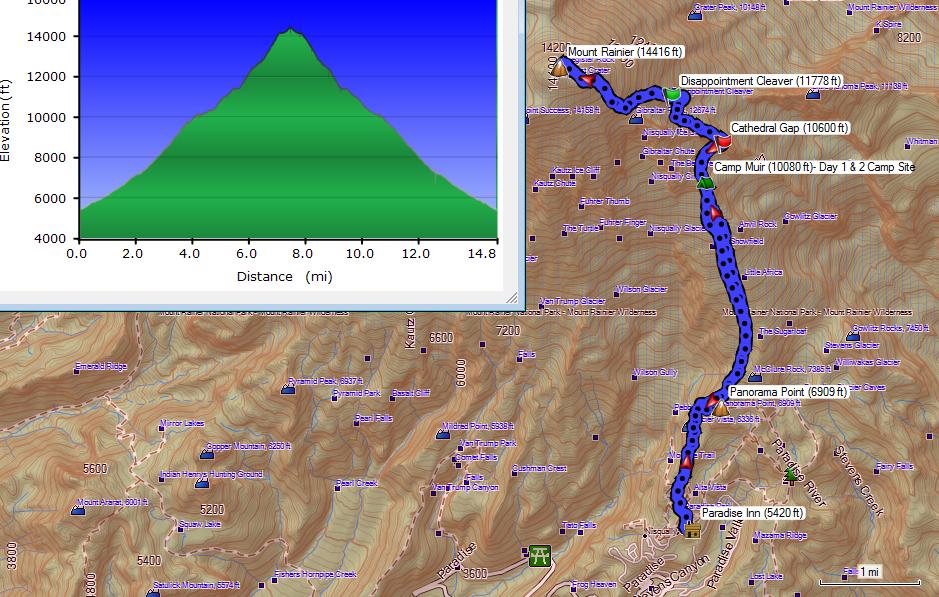 Day 1, Monday, 8 July: Drove 2.5 hours to Paradise, Mt Rainier National Park. 1100-1700, backpacked to Camp Muir (4.1 miles with 5000 ft elev gain). Les and I drove together to Tom's house at 0630. We needed to get to the Climber's information office at Paradise before 1000 to get our reserved climbing permits. Since it was little early on a week day, the paradise area was not crowded yet. We were able to change our camping permits in either Camp Muir and/or Ingraham Flat. For the Disappointment Cleaver (CD) climbing route, the ranger told us that the climbing route just beyond the DC was routed to left due to an opening crevasse. We decided to make a decision on where to camp our first night when we got to the Camp Muir. If we stayed overnight at Ingraham Flat which is at another 1000 ft elev higher than Camp Muir at 11000 ft, it would be easier to summit the mountain next day, however, we needed to backpack and roped together from Camp Muir to Ingraham Flat. We also had an option to stay one more night to acclimate at Camp Muir or Ingraham Flat.
Back in April, I hiked to Camp Muir once, so, I had some good idea how the trail looked like. Basically, it's exposed to the Sun and quite steep all the way to the camp site. Snow was melted on the first mile or so well before the Panorama Point. Then, the well worn trail (above 6500 ft elev) was all on the snow. I was not moving fast but I felt great despite my backpack was about 55-60 LB due to climbing harness, ropes, etc.

AS I HIKED UP THE MUIR SNOW FILED, I FELT LIKE THE MAJESTIC MT RAINIER WAS WELCOMING ME BY OPENING ITS ARMS: THE RIGHT ARM FELT LIKE THE VISIBLE LONG NISQUALLY GLACIER. THE LEFT ARM WAS THE PARADISE GLACIER (FOREARM) AND THE COWLITZ GLACIER (UPPER ARM) TO THE EAST INVISIBLE..
When we got to the Camp Muir around 1700, we decided to camp there. Les was not feeling well with high altitude and was not quite sure if we could climb next day. He told us before that he would be acclimated slowly. That's one of the reasons why we had 3 nights camp reservation, Turned in early around 2000 but was not able to sleep well due to lots of commotions till midnight. Some climbers started climbing at midnight !!! We decided to get up at 0200 and see if we decided to climb.
Day 2, Tuesday, 9 July: I slept on and off for a few hours through the night and was able to get up around 0210 as I heard my climbing partners. We started climbing 0340. The climbing route was well established that looked like a trench since it's a very popular route and frequently used by the climbing guide services such as RMI. Its climbing route of 3.1 miles one way with 3500 ft elev appeared to be simple and easy, but was not so. Just before the Cathedral Gap, we were scrambling on the loose rocks/shale route with crampons on and short-roped together. We steadily advanced taking our time. Close to the DC, we again traveled on the loose rocks and shale trail that got my crampons dull ! On the way up, we saw a few climbing parties (maybe 3) coming down. One party went up to the DC and was coming down. Also, met a climbing party with full packs that's crossing over to the summit and to the other side (Tahoma Glacier ?).
Around 13,000 ft elev, I started feeling fatigue that my both legs were sore and was breathing heavily. I was not quite sure if those were the symptoms of high altitude sickness that I did not experience before. However, it was not severe enough that would prevent me to the summit. Les was having a difficult time due to altitude but managed to lead the rope team to the summit. When we reached the south crater rim, there were a bunch of backpacks laying around and some climbers on the true summit (Columbia Crest). We took off our climbing harness and summit the top.
IN RETROSPECT, TOPPING THE MOUNTAIN WAS NOT EASIER THAN I THOUGHT. AS I HIKED UP ON THE FIRST DAY TO CAMP MUIR, MY SPIRIT WAS HIGH AS I FELT LIKE THE MOUNTAIN WAS WELCOMING ME ON THE MUIR SNOW FILED. ON THE ASCEND NEAR 13,000 FT, THE CONSTANT BREEZE ABOVE THE DISAPPOINTMENT CLEAVER WAS MAKING THE CLIMB TOUGHER. I THOUGHT THAT IT'S TYPICAL OF A HIGH MOUNTAIN. BOTH HANDS WERE FREEZING AND I WAS GETTING COLD. HOWEVER, I WAS PREPARED WITH EXTRA GLOVES AND JACKET. THE WIND WAS NOT GETTING STRONGER AND I WAS ABLE TO BEAR THROUGH WITHOUT ADDITIONAL LAYERS.
On the down climb, we caught up with the 6 climbers who were on a guided climbing party from Utah. One of the clients was Carol Mechester who was the oldest woman climbed the Seven Summits in the World ! We decided to slowly and safely down climb after them learning some down-climbing skills. One of them we learned was a term "Cow Tale". Cow Tale was to attach a short leach of yourself to an established roped using a carabineer. Since I was the last person on the rope, I collected all the carabineers. Those Utah climbers did 3 nighters: 1st night at Camp Muir, 2nd night at Ingraham Flat, Summit, & 3rd night at Ingraham Flat. Looks like it's the best way to climb a tall mountain by acclimating correctly. As soon as we got back to the Camp Muir, I was tired and hungry. We finished our dinner early and turned in early at 1800 ! It was too cold to stay outside due to chilly wind.
Day 3, Wed, 10 July: Hiked out from Camp Muir to Paradise about 4.1 miles with 5000 ft elev loss. I felt a lot better in the morning with 13 hours of resting in the tent. We leisurely got up around 0700, packed, and headed home. We left the Camp Muir around 0830. We did not even need the crampons as the snow was starting to melt Les and Tom glissaded just a little but I chose to walk down because I did not want to get a rip on my backpack and my pants. On the way back, we stopped by at the Scalesburger at Elbe where it's famous for the burgers. All of us devoured the biggest burgers on the menu.
Topping the Mt Rainier was a moment that my dream came true since I started hiking in July 2010. Back then, I've never thought that I would be climbing this tall majestic mountain. Mt Rainier which can be seen from pretty much all around the Puget Sound. It's probably the most admired mountain in this area. The climb itself was a lot tougher than I expected due to its high elevation and rough terrain. I would love to challenge the Mt Rainier climb again.