Hiked loop of Slab Camp, Gray Wolf, 3 folks, Blue Mt, & Deer Ridge (Sun, 6-23-2013)-About 18 miles with 5300 ft elev gain.
For the weekend, I wanted to do a long day hike for some workout and keep in shape for mountain climbing. Originally, I was planning to climb the Three Sisters with the PWCers but cancelled the trip due to family schedule conflict. Les had time to hike on Sunday. The weather did not look good for the weekend in overall. It turned out Saturday was a nice sunny day but the good weather streak did not continue on Sunday. Anyhow, I suggested Les this hike that I hiked the loop once in 2011. All the trails along this loop are well maintained and almost no exposure (in my standard) to cliff. It drizzled on us on and off for the entire trip. We did not get soaked, instead, felt really good with the fresh cool air. My GPS indicated we hiked 16.4 miles but there might be some intermittent tracks due to poor signal reception. I estimate that it was like 18 miles per custom correct map.
We made a few stops for adjusting shoes and resting: shoes adjustment before the Gray Wolf camp site and Bench on the Deer Ridge trail, Rest stop at 3 folks shelter & Blue Mt. The 3 folks junction where the 3 creeks (Gray Wolf, Cameroon, and Grand Creeks) merge was quite impressive with roaring and racing water. I learned that Cameroon and Gran Creeks merge first just NW of the Gray Wolf camp site near the Shelter, and then it merges with the Gray Wolf river at the Gray Wolf camp site. Our workouts began as we hiked up the 3 folks trail to Deer Park and Blue Mt summit: 4.9 miles with 4200 ft elev gain. Looking at my altimeter, we made 2000 ft gain in 1 hour !!! I felt really good but my energy level drastically dropped 2/3 way up to the Deer Park. After dropping my energy level, getting to the Deer Park and Blue Mt, each stride was painful on both legs and I felt little dizzy all the way to the Blue Mt. It could be the sign of dehydration but I had been hydrating often. We took close to 1/2 hour break at the Blue Mt, then hiked down at a reasonable pace. We left the summit at 1310 and arrived back at the TH 1520. We hiked down like 5.6 miles (3300 ft elev loss) in 2 hour 10 minutes.
The highlights of the hike were crossing the log bridges (Gray Wolf River, Cameroon Creek, and Grand Creek) and the blooming Rhodies. The Rhododendrons were in full boom that greeted us in the beginning and ending of the hike. We indeed had a good workout in short time period (0640am -0320pm).
Here was some mileages per my GPS for the trip which may be used for the future trip (my 2011 estimates were not good as I did not use a GPS unit then.)
0 miles: Slab Camp (2560 ft elev). 0640. Slab Camp Creek. Trail to Camp Tony was VERY WET and MUDDY. Rhododendrons were in full bloom.
2.2 miles: Camp Tony (1550 ft elev). 0728. Crssed a steel footbridge. The brige was pretty impressive: strong and steady. Saw one tent.
4.1 miles: Slide Camp (2300 ft elev). 0833. Gray Wolf River. Saw one couple ready to ;eave the camp site.
6.3 miles: Gray Wolf Camp (2350 ft elev). 0941. Saw pme couple just before the Gray Wolf Camp site.
6.8 miles: Three Folks trail. Shelter. (2350 ft elev). 0950-1020am. Ate snack and break at the shelter.
9.6 miles: Deer Park (5200 ft elev). 1210.
11 miles : Blue Mt (5904 ft) & Rainshadow loop. 1244 - 1310
16.4 miles: Slab Camp TH. 1518.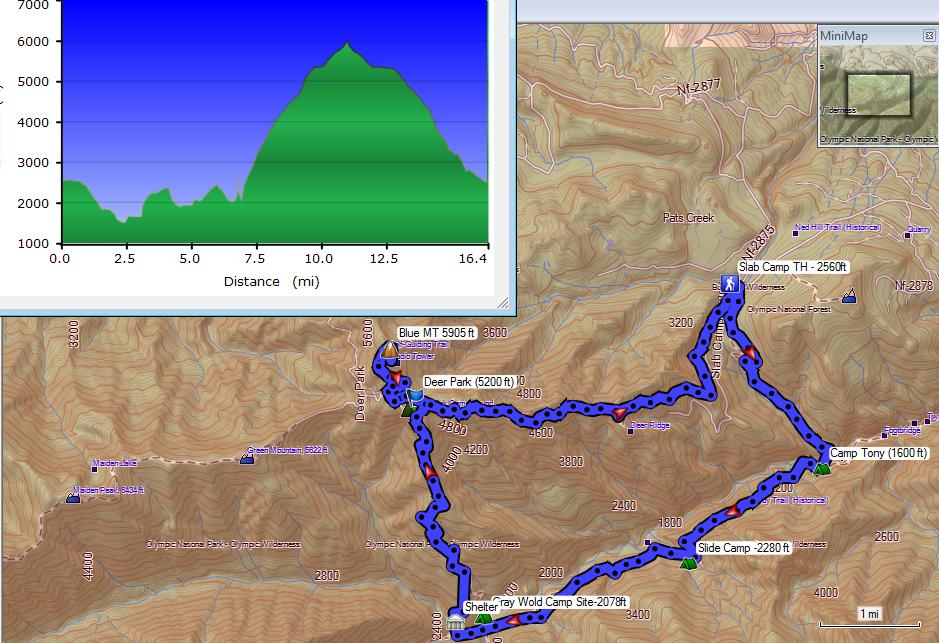 Direction to the Trailhead.
Approximately 2.5 miles west of Sequim on US Highway 101, Take a left on the Taylor Cutoff Road (May not see the street sign. Look for a small Gas Station).
Continue on Lost Mountain Road and proceed to the intersection of Forest Service Road 2870 (Dirt Road) (may miss the sign & continue on the paved road).
Take a left on 2870 (no sign) just before the sharp turn right.
Turn right at junction (No sign) with the 2875 Road right after the GrayWolf TH 6 miles sign. (Turn left is the Lower Gray Wolf Trailhead in 6 miles).
Proceed on 2875 and watch for parking area on the sharp turn near Slab Camp.