Hiking Tubal Cain trail, Buckhorn Pass, Buckhorn Mt, Marmot Pass, Boulder Shelter, Camp Handy, & Heather Creek Trail Loop (Sunday, 26 May 2013). 15.7 miles with 4000 ft elev gain.
For the 3-day Memorial Days weekend, I wanted to do a tough hike to condition myself before climbing Mt Shasta in a week and climbing 3 Sisters in 3 weeks. Les and I were talking about day hiking Mt Deception (the 2nd tallest Mt in the Olympics at 7788 ft elev, about 18 miles with 5300 ft elev gain). Since the weather was not favorable for Mt Deception, I suggested this day hike which could be done in an overcast and drizzling weather. I have hiked most of its trails but never hiked the trails between Buckhorn Pass to the Marmot Pass and between Marmot Pass to the Boulder Shelter. If there were enough and experienced hikers who are familiar with the trails, it could be a key swap hike starting from both Tubal Cain Th (3300 ft elev)and Upper Dungeness TH.(2500 ft elev)
I solicited the possible hikers on the PWC website and the Kitsap Hikers Facebook, but nobody signed up except for Paul. Three of us ended up hiking the traverse by shuttling a car: Les' car at the Upper Dungeness Trailhead and my car at the Tubal Cain Trailhead.
It was a gloomy day with overcast but turned out to be a fantastic day for a long hike (0720-1650). It was at low 40s and warmed up to mid 50s. It drizzled briefly when we started and 1 hr or so coming down from Boulder Shelter. When we head to the trailhead at 0600, it was raining hard in Kitsap County and Jefferson County. We met Les at the Fat Smitty's at 0640 and drove to the Upper Dungeness TH. We left Les' car there and continued another 4 miles to the Tubal Cain TH for our hike. Above 4500 ft elev (Buckhorn lake) on the North Side, there were full of snow. We used the snowshoes going up to the Buckhorn Pass. and used the ice axes going around to the Boulder Shelter.
The theme of the hike was to get exercise and take group photos at the sightseeing sites (Mine Shaft #1, Mine Shaft #2, Buckhorn Pass, Marmot Pass, Boulder Shelter, Camp Handy, & Heather Creek Trail). Both followed my intention but rejected once at the Buckhorn Lake Junction. So, I am missing one group picture there. I also wanted a group picture at the Buckhorn Pass (5900 ft elev) but we were not quite sure where it was. Since the summer trail was covered by snow, we ended up going above the summer trail to 6400 ft elev and hiked around toward the Marmot Pass.
After all, it was a good exercise.. It was sort of a tough hike and some technical since it involved snowshoes travel and use of ice axes. It was also not particularly dangerous in our hiking standard (Paul, Les, and I). Some of the trails could be intermediating to the hikers who are afraid of the heights. Self-arrest skill using an ice axe was a pre-requisite.
Hiking Summary (If added up the miles per the Custome Correct map, it was like 17.6 miles + Buckhorn Mt (2 miles ?) but my GPS indicated 15.7 miles.)
a. Tubal Cain Trailhead (0 miles, 3300 ft eelv) ,
b. Tubal Cain Mine Shaft #1 (3.5 miles, 4350 ft elev),
c. Tubal Cain Mine Shaft #2 (side trip, 200 yards away from trail),
d. Buckhorn Pass (7 miles, 5900 ft elev),
e. *** Buckhorn Mt (6988 ft elev, side trip, optional) *** mileage not counted. (It was about 1 miles total)
f. Marmot Pass (8.6 miles, 6000 ft elev),
g. Boulder Shelter Junction (10.3 miles, 4950 ft elev, Side Trip to Boulder helter -200 yards away),
h. Camp Handy (13.3 miles, 3100 ft elev, Side Trip- 100 yards away from trail),
i. Heather Creek Trail,
j. Royal Creek Trail Junction (15.7 miles, 2900 ft elev),
k. Upper Dungeness TH (16.7 miles, 2500 ft elev) .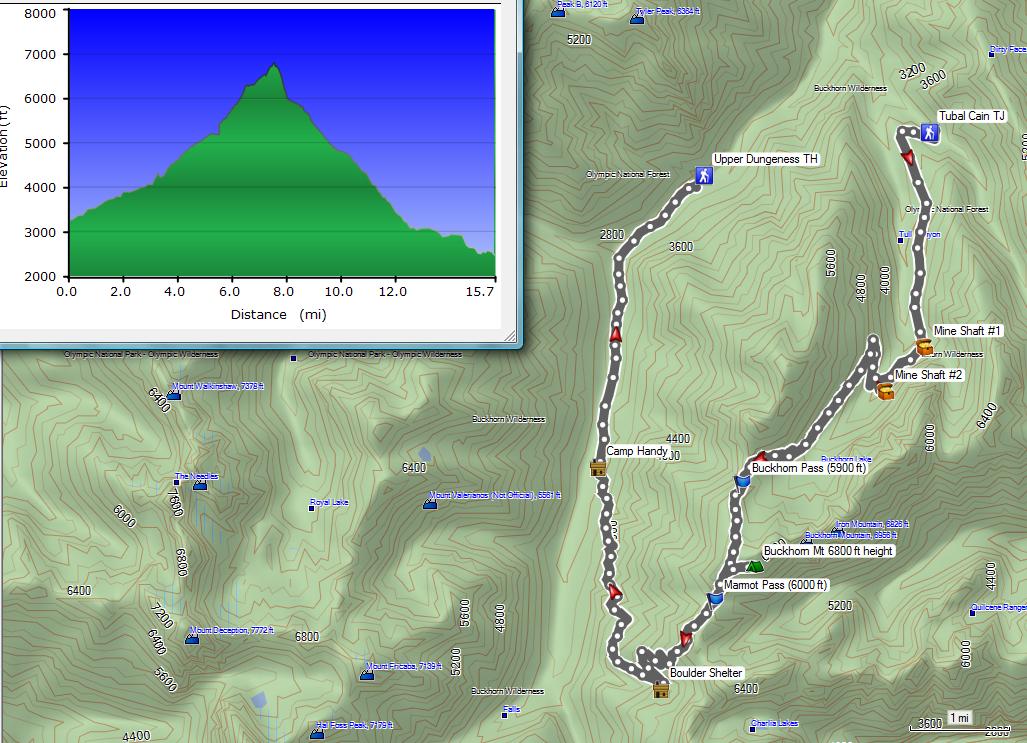 Trailhead direction:
Upper Dungeness Trailhead (TH), the same as the Royal Basin TH. 4 miles from here is the Tubal Cain Mine Trailhead.
a. Follow Highway 101 to Sequim Bay State Park, turn west across from the state park onto Louella Road.
b. Follow Louella Road one mile to Palo Alto Road and take a left on Palo Alto Road for 1.1 mile to the Forest Boundary.
c. The Palo Alto becomes FS Road #28. Turn right onto FS Road #2880, drive past Dungeness Forks Campground for 1 mile stay left onto FS Road #2870 for 8.7 miles to trailhead.