Dayhiking Tyler Peak and Mt Baldy on Sunday, 5 May 2013, 9 miles with 5200 ft eelv gain.
I was supposedly booked on both Saturday and Sunday for picking up our son for the summer from WSU, Pullman (350 miles one way !!!). He just finished the 2nd year in college. The weather forecast for both days looked superb with blue skies in 80s in the Spring ! We have not had such days probably more than 8 months. I did not want to spend both days on the road, so, decided to spend a long day on Saturday and hike on Sunday. It turned out that we came home 3 am on Sunday morning. I got up at 0600 for the hike !!! I felt really good but was very tired after the hike. On Sunday, I wanted to climb Camp Muir at Mt Rainier National Park but my hiking partner, Les, was not available.
The event was a PWC event sponsored by Doug Savage (I call him an Olympic Trails Legend who hiked almost all the Olympics Trails and a precious jewel (trip sponsor) in our club, PWC). The event was participated by Barbra, Sharon, Maria, Paul , and I. It was a tough hike due to soft and deep snow, and breaking trails. However, there was no danger of avalanche in the area unlike the Snoqualmie and Mt Rainier Areas. Back in 2011, Paul C, Soon W, Jay T, and I hiked the triangle (Tyler Peak trail, Tyler peak, Mt Baldy Junction, Mt Baldy false summit, & Maynard Burn Trail.) So, I had some familiarity with its very steep trails.
On this outing, we started Mt Baldy trail (Maynard Burn Trail) that Doug was comfortable and familiar with. Most of them hiked the Mt Baldy Trail before, and this time, they made to Tyler Peak via the Baldy trail (a longer way). Sharon made to the Junction between Baldy and Tyler as it was her first over 6000 ft elev. I left the Tyler Peak little earlier than our group and submitted Mt Baldy as I have not submitted its true summit before. Then, I rejoined the group by glissading down and intercepting the Baldy Trail. Coming down its steep trail was toes jamming and knees hurting. On the steep trails without snow, I hiked down backward which made a lot easier on the toes and both knees. We all made back safely. Good job, everybody.
In overall, it was a fantastic blue bird day in Spring and had a fantastic view atop both Tyler Peak (6364 ft) and Mt Baldy (6927 ft).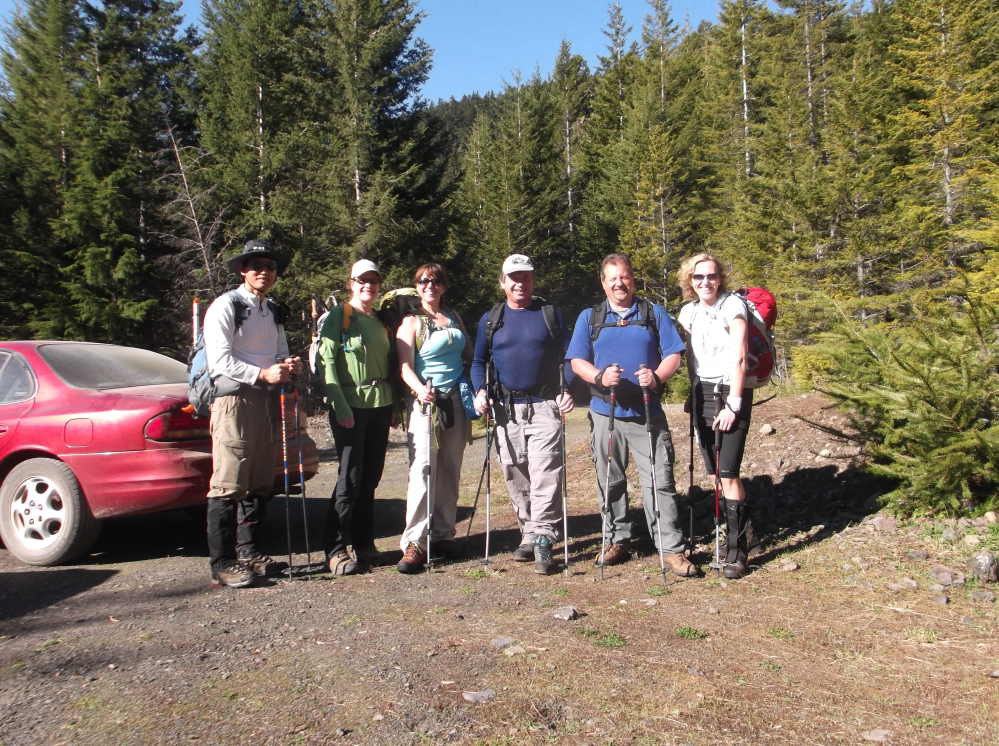 Trailhead direction:


1.5 miles to the right from the split to Dungenss/Tubal Cain sign (FS 2870). The sign says 2 miles left to Dungeness Trail and 6 miles to Tubal Cain Trail, but no signage for the Tyler/Baldy traill to the right. At the end of the road is the trailhead for both Tyler and Baldy hike.

a. Follow Highway 101 to Sequim Bay State Park, turn west across from the state park onto Louella Road.


b. Follow Louella Road one mile to Palo Alto Road and take a left on Palo Alto Road for 1.1 mile to the Forest Boundary.




c. The Palo Alto becomes FS Road #28. Turn right onto FS Road #2880, drive past Dungeness Forks Campground for 1 mile stay left till the sign (2 miles to Dungeness and 6 miles to Tubal Cain Trail)