Snowshoeing Mt Townsend (from Bon Jon Pass) via Little Quilcene TH - About 13 miles with 3400 ft elev gain. Fri, 1 March 2013
This was my third consecutive bi-weekly Friday event. The first two were snowshoeing Mt Angeles and Blue Mt with Paul, Les, and I. On this trip, Paul was busy preparing for his biking trip, so, it was just Les and I. We originally wanted to climb Mt Stone but changed our destination due to 50% chance of rain and possibly rough trail. On my last attempt with Dane and his friend on Dec 2011, we ran out of time trying to summit the Mt Stone due to route finding, scrambling in the wood, bad postholing, and so on.
For this trip, I had the idea from a long time PWC member, Craig Mecklenburg, who tried to hike the Snow Creek Trail to Mt Zion in earlier February. I thought that we should be able to summit Mt Townsend if we could drive up to the Bon Jon Pass where it split off between Little Quilcene TH (3 miles) and Mt Zion TH (2 miles). From the Junction to the Little Quilcene TH is about 3 miles one way with 1000 ft elev gain. Les and I agreed to head to Bon Jon Pass instead of Mt Stone.
We started early. At 0600, we met at the Quilcene Cut Off along the HWY 104, drove to Quilcene, and drove 2 miles up to the Loads Lake Road. There were lots of snow above 2300 ft elev since it's on the North Side. Les' 4x4 with a high clearance truck made to the Bon Jon Pass which was our plan. We just hiked about 2 miles and then put the snowshoes on all the way to near the summit. I was surprised that one way to the summit indicated 8.9 miles by my GPS. Later, when I look at the GPS data at home, there was a GPS data glitch at the Junction with the Dirty Face Ridge Trail. After removing those bad GPS data points, it was still 8 miles one way to the summit in contrary to estimated 6.3 miles (3 miles from Bon Jon Pass to the TH and 3.3 miles to the Summit). So, our path to the Mt Townsend summit was from Bon Jon Pass, to Little Quilcene TH, to Sleepy Hollow, to Dirty Face Ridge Trail Junction, to North Summit, and to South Summit. The views were quite impressive at the summit. Weather was quite nice (no rain drop) despite 50% chance of rain in the whole Olympics area. Temp was probably in 40s while the inlands hit 60F for the first time. For the return trip, we decided to snowshoe down the ridge near the North summit by skipping Dirty Face Ridge and Sleepy Hollow Trails. It turned out pretty nice that we did not have to side hill and skipped a few miles. Interestingly, about half way down on the ridge, there were tons of yellow flags and cut trees which indicated some people have been secretly maintaining the way trail. It's a short cut route to Mt Townsend summit and excellent route for snowshoeing in the winter.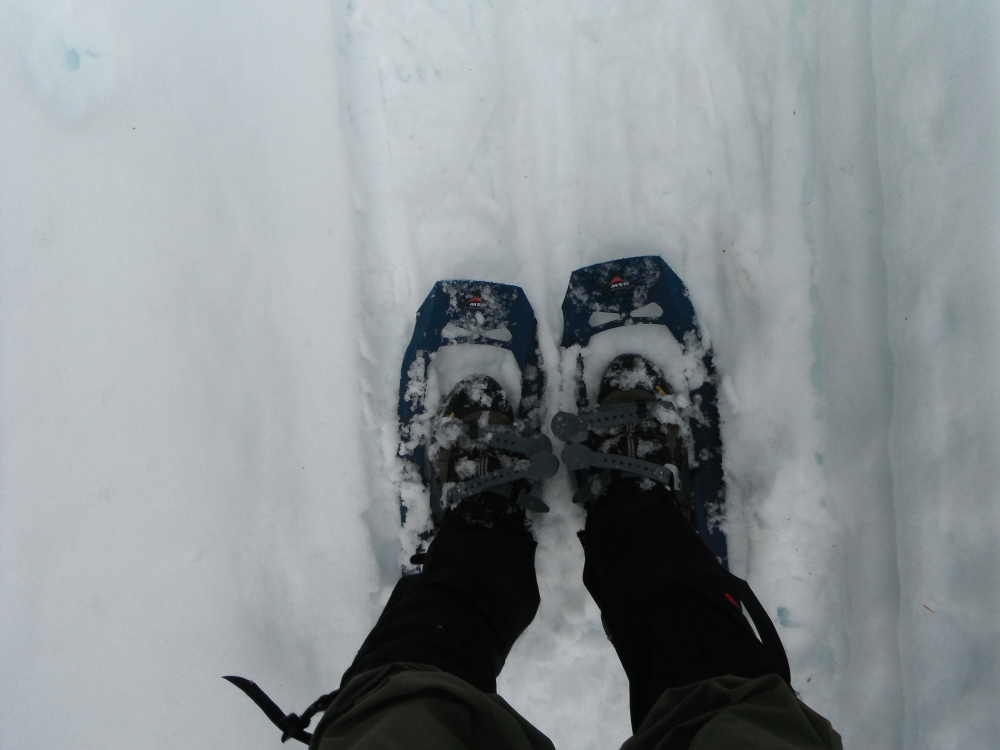 Trailhead direction:
In Quilcene, head North on Hwy 101. It is just over 8 miles from the Lords Lake turn off.
Turn left on Lords Lake Road 2 miles north of Quilcene, stay to the left at the lake and follow Forest Service Road 28 over Bon Jon Pass to the junction with FS Road 2820. Follow 2820 3 miles to the trailhead (a sign post to Little Quilcene (3 miles) and Mt Zion (2 miles)).