Dayhiking Appleton Pass, Oyster Lake, Spread Eagle Pass, & Heart Lake loop (Fri, 7-18-2014). About 21 miles with 4900 ft elev gain.
For the last 2 weeks, the weather has been warm at 80s-90s. Last year, I recall that we used our ceiling fan for just one day, but his year, we have already been using it for the last 2 weeks ! Fortunately, it started cooling off on Friday dropping to mid 70s and 10% chance of shower in the weekend.
On the Fri, it was my day-off and had a chance to do a solo dayhike again. My last trail bagging hike was Copper Mt and Mt Rose two weeks ago. It was my record breaking elevation gain of 8400 ft on a day hike. It was a bit too much as I felt fatigue, but gave me a strong confidence on my day hike limits. I have wanted to knock off a few trails that I have not hiked yet: Anderson Pass, Dodger Pt, and Spread Eagle Pass loop. Each of those dayhike is over 20 miles with 4000 ft elev gain. For me, it's an excitement of trail bagging. I've always preferred to hike with a partner or two, but it's not easy to get a hiking partner for such a long and tough hike. Les and Paul have been my hiking partners for some trips, but unfortunately, they have been on the injury list. I actually enjoy solo-hiking but do not particularly like driving to the TH and back to home alone. Also, any bad injury during the hike could lead to possible fatality. Anyhow, solo hiking should be avoid if all possible.
I reviewed all 3 dayhikes last year, so, I had a good idea on each of its trip. I decided to do the Spread Eagle Pass loop. It starts out from Sol Duc Trailhead, Appleton Pass, Oyster Lake, Spread Eagle Pass, Swimming Bear lake, Upper High Divide Trail, Heart lake, and back to Sol Duc Trailhead. Its spec is about 21 miles with 4900 ft elev gain.
Per the Olympic National Forest website, the Appleton Pass trail (maintained trail and 7 miles in from Sol Duc TH)was in decent shape as of 29 June 2014. Then, it supposed to be a way trail from the Appleton Pass area to the he Upper High Divide Trail. From my research, there are some dicey area after going over the Spread Eagle Pass if there are snow due to its steep slope. So, I carried foot tractions and an ice axe.
On Fri, alarm rang at 0400am and I was a bit slow to get up as I felt asleep around midnight. I was half-awake for 30 min and finally got up. My daypack was ready including 4L of water on the night before. So, I only needed to eat something and pack my lunch. Before hitting the road at 0510am, I checked the Olympic Mountain weather condition which looked good and the temp ranged 51F-59F for the day in Sol Duc area. The drive was about 2.5 hours (110 miles to the trailhead. Since I hiked the High Divide Loop a couple of times, I was somewhat familiar with the Sol Duc trailhead area.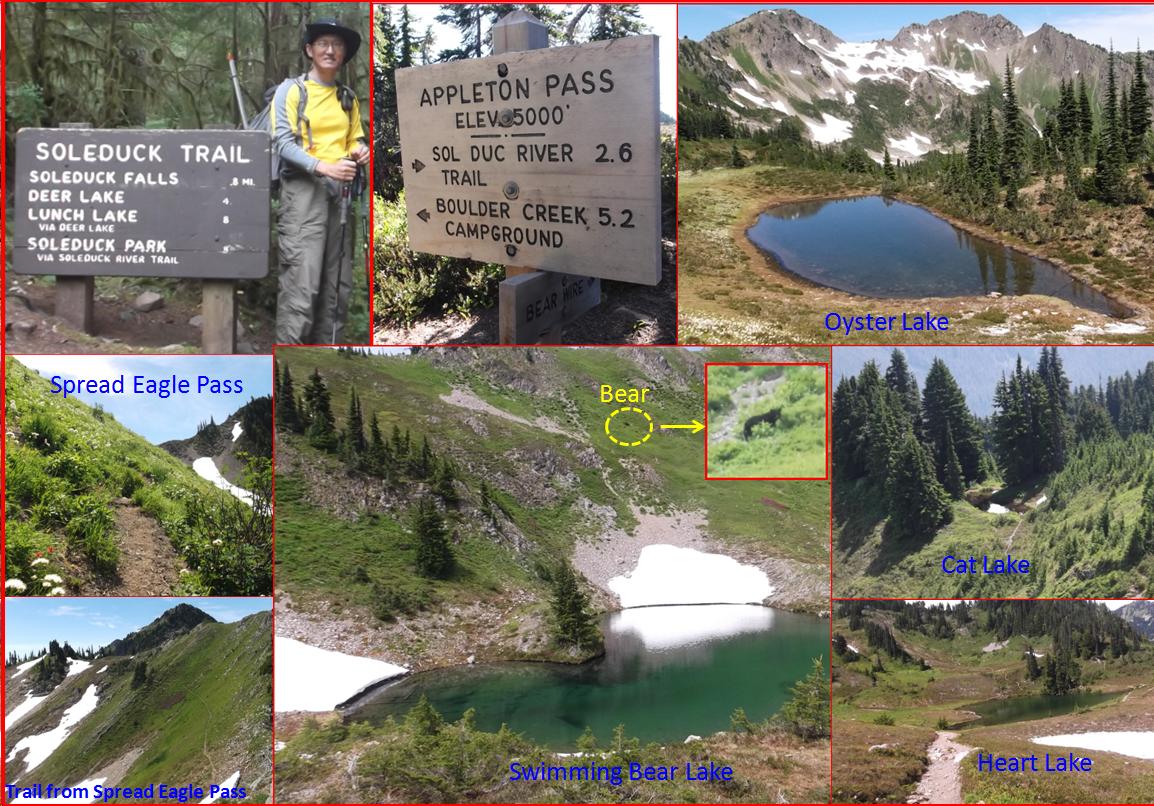 Here was my hiking summary (My GPS (Garmin Dakota 10) did not track well, so the mileages are my estimates and gives some idea of its distance):
a. Sol Duc Trailhead (1950 ft EL). Time 0740. I was in good spirit and appeared to be in excellent shape. Mission to soak up the trails, the views, and the negative ions began.

b. To Sol Duc Waterfalls(1960 ft EL). 1 mile in. It was a tributary visit and also to soak up the negative ions. It's conveniently located right at the junction to make either clockwise or counterclockwise loop of the High Divide. About 1/2 to the fall, met a couple who was going down after taking early morning pictures of the Sol Duc waterfalls.
c. To Appleton Pass Junction (3100 ft EL). Time 0930. 5 miles in. Took a 10 min break. For some reason, I did not feel right as I was cold -sweating and felt little dizzy.
d. To Appleton Pass (5000 ft elev). Time 1100. 7 miles in. For 2 miles, it was about 2000 ft elev gain which is reasonably steep. Looks like trail maintenance was done recently. No down tree on the trail. Very little view since its trail elevation is less than 4000 ft. There were a couple of tarns just before the Pass, and looked like they were bleeding ground for the skeeters. I got bitten a few times. The Pass was nice. Along the Pass ridge, there were a number of established camp sites with some breeze. And the avalanche Lilies just started blooming. It was SIMPLY SPECTACULAR, and I was STUNNED for a while. It's a scenes that we don't normally see but usually see in the movie.
e. To Spread Eagle Pass. Time 1240. 7.5 miles in. The Eagle Pass could be seen from Eastern side of the Appleton Pass Ridge. I stayed up on the ridge too long but saw the trail below me. I intercepted the trail in a hard way. After the Appleton Pass, one should stay right on the ridge and start to descent. My GPS tracks worked out great as the tracks were obtained from
f. To Swimming Bear Lake. 10 miles in. It was a wonderful high country walk with the views of Cat Peak, Cat Basin, and Mt Olympus. Trails were sketchy a couple of times due to small boulders but easy to figure out by looking at ahead. If there are snow, it would be too dangerous and extreme cautions should be taken. There was one steep spot (short section) that still has snow. Snow was mushy, so I was able to cross it safely without using my foot traction but walked very slowly with crawled down position.
g. To the top of the Heart Lake Basin. Time 1445. 11.2 miles in. From Swimming Bear Lake, there was a small tarn (that I called it Cat Lake) and the trail was well established. Met a couple who were heading to Cat Lake area.
h. To Heart Lake. 11.7 miles. Looking at the Hart Lake Basin, I saw 2 black bears. It was all downhill from the ridge.
i. To back down to Sol Duc Trailhead. Time 1830. A total of 18.6 miles (My GPS but it's about 21 miles.). It was almost non-eventful. Met a 3-4 parties going up to the Hart lake. Trail crews (summer interns) who I saw early in the morning above the Sol Duc falls were going up to the Ranger Station (above Sol Duc Camp Site #4).
In overall, it was a fantastic day of soaking up the trails, views, and negative ions (from waterfalls). Now, I am heading for the 15 days of Wonderland trail trip in the coming weekend.