Mountain Bike, Quad Exercise (3/30, 4/6, 4/20)

Sunday, 3-30-2014:
It's been pretty much raining for the whole week. Across the Sound, the City of Seattle broke its rainfall record with 9.44 inches in March, 270 percent of the normal March precipitation. The previous record was 8.40 inches, set in March 1950 ! So, it tells a lot about March raining in the area.
I was planning to bike Ueland Tree Farm but the hourly weather forecast was 60% chance of rain all day. On the day before (Saturday), it down poured on and off in Silverdale/Bremerton area. I did not want to get soaked with my new mountain bike (Cannondale 29er SL 1). I ended up cancelling the trip. On Sunday morning, I looked at the hourly forecast and looked good till 1000am. So, I decided to go out and bike from home to the Clear Creek Trail at 0820. I also wanted to try my brand new mountain bike. I left home at 0820 and returned 1000. It was quite nice with not too many people on the trail. There were several people on the North side but did not see any on the South side. The boarded trail was quite slippery due to wet logs and extra caution was needed (bike slow). I did not rush but spend leisurely time at lower trail near the Dyes Inlet. The new bike was simply amazing and fun to ride. It equipped with hydraulic brakes and 30 gears ! I had no problem going up the steep hill. I felt really great. I need to bike more often.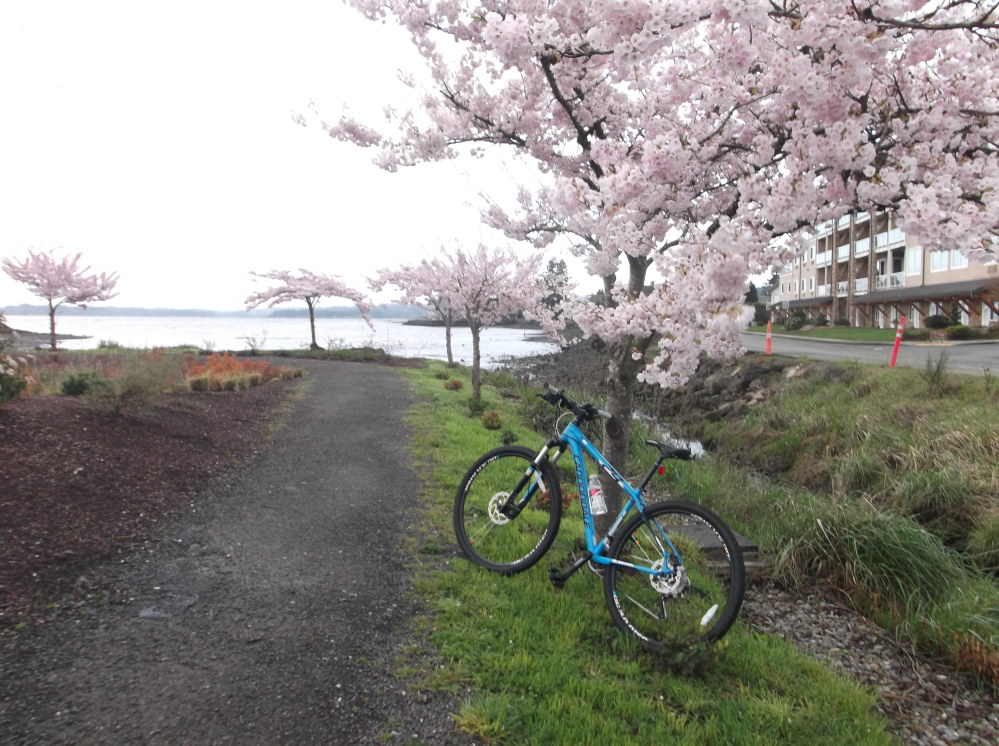 Sunday, 4-6-2014:
I sponsored the bike ride at Ueland Tree Farm. Since nobody contacted me, I was going to bike a local trail or skip. Well, Bill called me to ride on the day before. So, I got out and biked. I showed hime a couple of loops. Thanks to Bill for motivating me to get out. By the way, it was quite easy ride with my new bike. I used to get off and walk some steep hills. I did not have to do that with my 30 speed bike !
Sunday, 4-20-2014:
It was a nice Sunday. I paddled at the Island Lake in the morning but wanted to get some exercise before the San Juan Island Kayak trip (4-25-4/28). I ended up bikiking to Paul's house to say hello and rode back part of the Clear Creek Trail and Island Lake ! It was clsoe to 25 miles. I felt great. It must be due to my new bike !!!