Hiking Copper Mt and Mt Rose (Thur, 7-3-2014) (13.8 miles with 8400 elev gain),
Copper Mt (7.4 miles with 4900 elev gain) & Mt Rose (6.4 miles with 3500 elev gain)
I finally had a chance to hike those two trails that I had not hiked before in the Staircase Area. For the area, I dayhiked Rapid Loop, Camp Pleasant, Flapjack Lakes, Gladys Divide and Black & White Lakes, Mt Ellinor, and Mt Washington, and backpacked down from First Divide to Staircase. For the Copper Mt hike, I was curious of its steep trail. The "very steep" sign (2.9 miles with 3200 ft elev gain) at the Weagonwheel Lake Trailhead and bushwhack way trails to Copper Mt have been intrigued me for a while. For the Mt Rose hike, I was curious of its snowshoeing routes in the winter. The hikers tend to hike Mt Ellinor which has fantastic views to the Olympics and is just north of Mt Rose. My plan was to primarily hike Copper Mt and see how I felt. I ended up bagging both trails for my personal achievement. I have been mountain biking pretty much once a week for the last 2 months and wanted to see if it helped and how I fit. I also needed to keep myself in shape for backpacking the Wonderland Trail (continuous 15 days with two food caches) at the end of July to Aug. Copper Mt hike was quite easy, except for getting pounded on the knees on the way down. I did feel tired about a half way of the Mt Rose trail. I drank about 6L for the day and ate lots of snacks (2 fruit bars, 2 Cliff bars, mixed nuts, beef jerky, and Tuna Sandwich).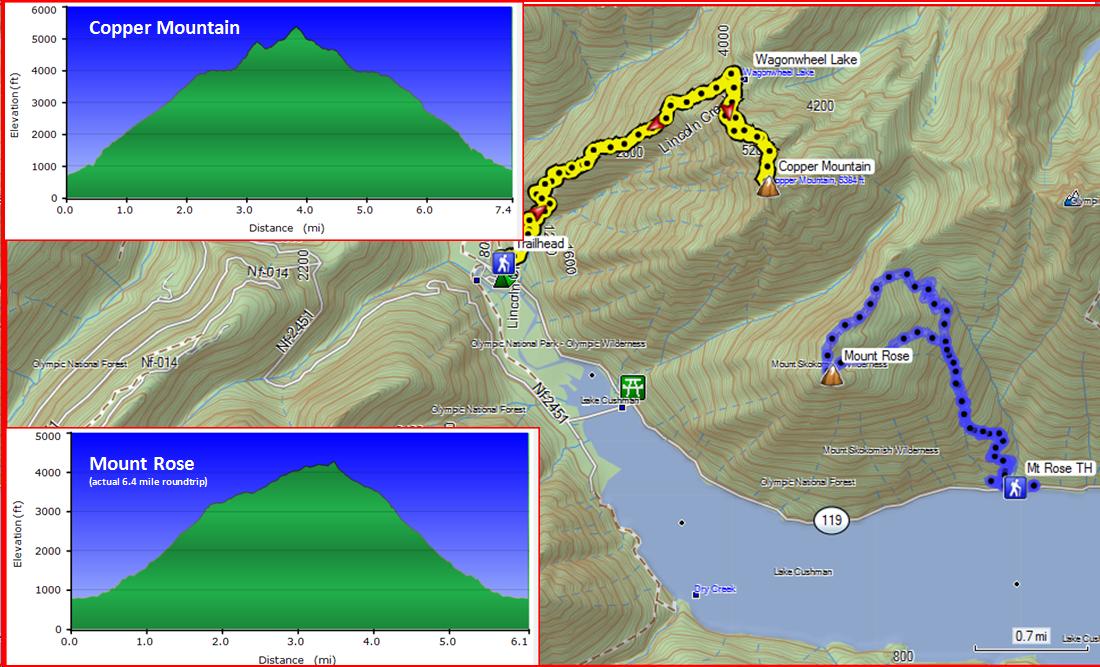 Here was a hiking summary of Copper Mt (Hiking Stat: 7.4 miles with 4900 elev gain):
a. Weagonwheel Trailhead (840 ft elev). Left 0730.
b. Weagonwheel Lake (4100 ft elev). 2.9 miles 3100 ft elev gain. It's a well maintained trail within Olympic National Park. Arrived at 0920. Took 10 min break eating and studying the routes.
c. To the first ridge (about 4500 ft elev). 3.0 miles. Time 0955. Bushwhacking started at the South end of the Lake. Be careful with devil's clubs. I tried to stay on the ridge using my estimated GPS hand-drawn track data. I ended up little too much on the South side but high enough to see the southern ridges of the Copper Mt. It was probably the toughest part of the hike.
d. To the Saddle (4900 elev). 3.2 miles. Time 1030. It was little bushwhacking in the beginning. Going up to the saddle was a boulder field. Once at the Saddle, Copper Mt summit could be seen and the routes could be estimated.
e. To Copper Mt summit (5400 elev). 3.82 miles. Time 1110. It was a walk (down and up) on to the base of the Mt. On the north side, it's all cliffy. Go up the steep and short shale chute to the southern ridge of the Copper Mt. Scramble up the ridge and over the ridge to the west. Go through a narrow gap and find a safe way to the summit. In general, in my opinion, there was no serious exposure. Took 20 min lunch break at the summit hopping that the clouds became clear but never did.
f. Back traced to the saddle. From the Saddle, since I could see the bushwhacking routes better, I stayed lower and went over the ridge above the Lake. It was little easier and almost totally avoided the Devil's clubs. Next time, after going south of the Lake, it's better to go North to go over the ridge. To me, bushwhacking between Weagonwheel Lake to the Ridge was the most difficult part for the entire trip.
g. Back to Weagonwheel Lake Trailhead. Time 1355.
Here was a hiking summary of Mt Rose (Hiking Stats: 6.4 miles with 3200 ft elev gain). My GPS did not track well. I needed to draw the tracks manually.
a. Mt Rose Trailhead (800 ft elev). Left 1430.
b. Arrive at the Summit Loop Junction. 3050 ft elev. Wide and well maintained trails. Nice switchbacks. No down trees. Views to the South were the Lake Cushman through the tall trees. There are 3 nice benches for the rest stops. Near the junction, I started to feel tired. Both legs were getting sore. I kept on drinking water and rested once in a while. Also, ate a lot.
c. Summit Loop. I made the counterclockwise loop. After 1/3 loop, it's a ridge walk that can be pleasant. After about 3/4 loop, there were reminisce of the fire devasted area: burned and dead tall trees.
d. Back to Mt Rose trailhead. Time 1830.
In general, some hikers said that those trails (Weagonwheel Lake and Mt Rose) were not quite appealing due to its lack of views and its steepness. After hiking those trails, I agreed with their assessment but I liked its well maintained trails. If a hiker wanted to do just a walk and to check one's physical condition, both trails are excellent.
Weather condition for the hikes was cloudy all day, damp in the morning, and high 50s - high 60s. When I was half way of the Copper Mt, the clouds were cleared enough temporally to see the mountain and the general direction. For the Mt Rose hike, it was near 70s and partially cloudy. In overall, it was a pleasant condition for both hikes.