Hiking El Cajon Mt and Harbor Island in San Diego (11/9, 11/12), 11.7 miles round trip with 3900 ft elev gain
I was on TDY (Temporary Duty or Work) in San Diego and expected to have the weekend off. While I was working there, I had several places in mind for the hikes during the week and weekend, but ended up doing one long hike in the weekend and one short hike in the week. I had to work on Saturday but was lucky to hike on Sunday. The long hike on Sunday was rated top 5 toughest hikes in San Diego area. I ended up hiking El Cajon Mt and El Capitan Mt since its trailhead was reasonably close (about 30 minutes drive from downtown). My GPS indicated 11.7 miles with 3900 ft elev gain (0810-1300). On the way up, I met a local hiker (Shannon) and ended up hiking together. He was young and quite strong. I managed to keep up with him but, on the way back, I did feel quite tired. It was due to lack of food and water. I ran out of my 2L water about 2 miles left. I was not in danger but underestimated its hiking condition. Also, I forgot to pack my snacks. Luckily, Shannon had extra water and snack. For a payback, I bought him a sandwich lunch on the way back.
Trail was in fair condition. Its trail was widely open and there were basically no open area. No scrambling was required but needed to be careful with footings due to steep and possibly loose dirt trail. I was glad to bring my hiking poles that helped me a lot.
On the way up, we passed a few group of younger people who were hiking there for the first time. They were just carrying a bottle of water but did well getting to the top. We submitted El Cajon Mt and stopped by at the El Capitan Mt on the way down. There was a shack at the El Capitan Mt. Not sure what it was about (I need to do some research about it).
I hurriedly came down the mountain as I needed to pickup my co-worker at 1400 at the airport.

It was really a satisfying hike in San Diego.

It was also an opportunity to reflect how lucky I am living in WA state with nice trails in the Olympics and along Cascades mountains.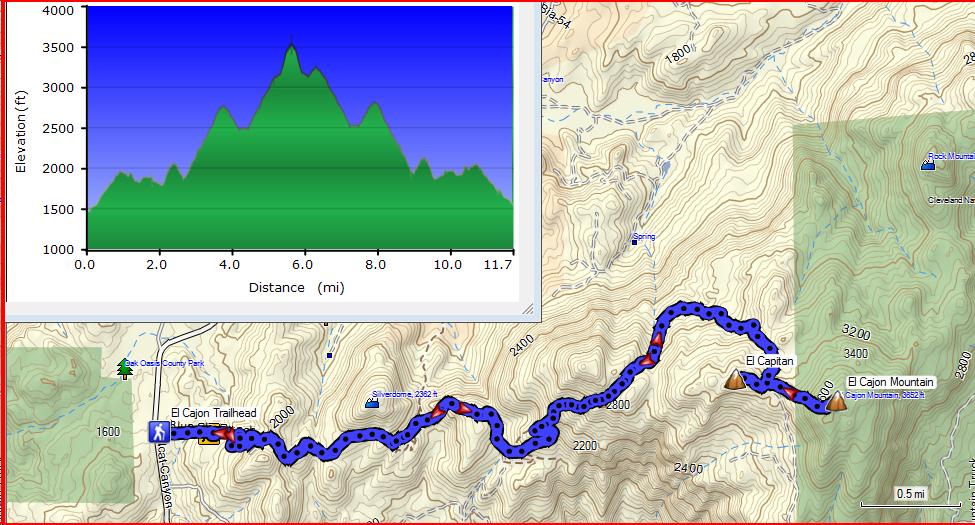 On 11/12, I did a short walk on Harbor Isalnd which was near across the San Diego Airport. It was close to 2.7 miles (1700-1800). For the first time, I've seen a heron cathing a fish at night.