Kayak pool sessions and paddling in Feb 2014
Kayak Pool Session #1 at North Kitsap Community Pool (Sat, 2-8-2014). 1400-1600.
It's been a while since I practiced rolls. My last pool session was some time in Nov last year with the Gig Harbor Mountaineers. I thoroughly enjoyed its 2 full hours. For the last few years (for the 3 years I have been paddling) , the PWC had sponsored 4-6 pool sessions at Bremerton YMCA but the 2013-2014 session was cancelled due to lack of participation. In order to rent the pool, It's my 4th year paddling and I have started enjoying roll practices in warm water environment. So, I was exhilarated to get back in the Kayak for a pool session. It was also my first pool session at the North Kitsap Community Pool. The event was sponsored by the Kitsap Mountaineers group. As a non-member, I participated the event on a non-interfering base while the mountaineers were conducting various hands-on training such as self & assisted rescue, and rolls. I practiced mainly bracing technique, re-entry rolls, and bomb-proof right-side rolls.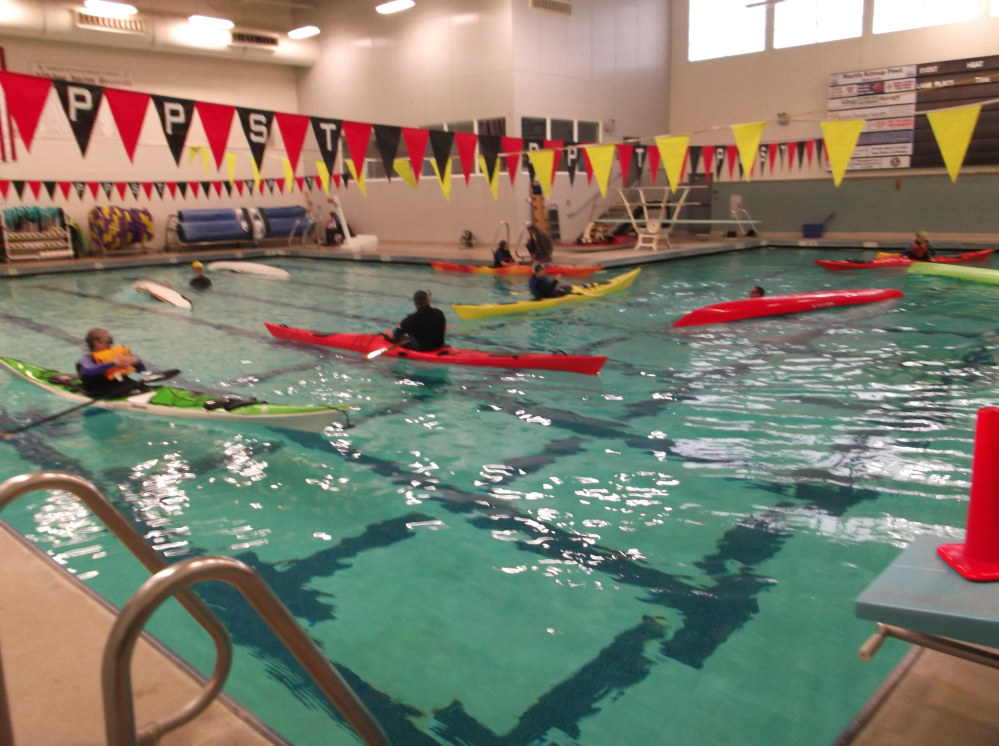 Kayak Pool Session #2 at Gig Harbor (Mon, 2-17-2014). 1845-2045.
The last pool session at the North Kitsap Community Pool was fun, and I was able to roll my left side about 50% of the time. Timing for its pool sessions at Gig Harbor is not so good since it's on Mondays (1845-2045), but I wanted to practice rolls on my left side. I needed some exercise any way as I have not hiked last 2 weeks. Weather has been cloudy, drizzling, and snowing in the mountains for the last couple of weeks. It turned out to be an excellent pool session. I was able to roll pretty well on both sides.
Kayak Pool Session #3 at North Kitsap Community Pool (Sat, 2-22-2014). 1400-1600.
This was the last pool session at NK hosted by Kitsap Mountaineers, and I did not want to miss this last pool session since it's conveniently located from our home. It was another excellent session that I really enjoyed. I was able to roll both sides without any problem.
Paddling at Dyes Inlet, Bremerton (Sun, 2-23-2014). About 9 miles. 1145-1430.
It was a last minutes paddle on Sunday that was decided on Thur. Paul and I paddled about 9 miles in Dyes inlet area. I have paddled the Dyes inlet but have not gone beyond to the Rocky point and the Wheaton Way Bridge. Temp was high 30s but felt like low 40. It was cloudy and drizzling on the way back. Water was calm with very little wind. I took a few pictures from Dave Canahan's house. The Dyes Inlet is a beautiful area. As I paddled, I appreciated more of the beautiful area. I was so glad that I learned paddling. When we returned back to the Chico Boat ramp, I comfortably rolled both sides a couple of times. Water was really cold that my face felt numb. I had a balaclava but forgot to leave it out. Paul had an issue with lower back but was ok when we returned. Hope that he feels better soon and lead the kayak trip to San Juan Islands in April.