Clilmbing Mt St Helens in a Dress, (Tradition since 1987), 10.3 miles roundtrip with 5600 ft elev gain (Sunday, 5-11-2014)
(Side Trip to June Lake via Warm Flows Climber's route, Loowit trail, and June Lake trail, 7 miles with 1000 ft elev gain)
Mt St Helens is located in Cowlitz County, WA, about 170 miles from Silverdale/Bremerton, WA. Mt St. Helens is infamous for its catastrophic eruption at 0832am (PDT) on May 18, 1980. It was the deadliest and most economically destructive volcanic event in the history of the United States. 57 people were killed. 250 homes, 47 bridges, 15 miles (24 km) of railways, and 185 miles (298 km) of highway were destroyed. An earthquake was measured at 5.1 on the Richter scale, and caused an eruption that reduced the elevation of the mountain's summit from 9,677 ft (2,950 m) to 8,365 ft (2,550 m), replacing it with a 1 mile (1.6 km) wide horseshoe-shaped crater.
I climbed the mountain with the PWC members back in June 2011. Then, I wanted to climb the Mt on the Mother's day with Mother's costume which has been a tradition since 1987. Weather for Year 2012 and 2013 was horrible. There was storm in 2012 that refunded the climber's prepaid permits. I did not go in 2013 due to its rainy weekend. This year, the weather forecast for the weekend looked bad (rainy and cloudy). So, I was not planning to go. However, the weather looked promising 4 days before the Sunday climb. Tom Henning who climbed the Mt seven times but never climbed on the Mother's day wanted to climb. So, Tom and I decided the climb at the last minutes. There were 6 PWC members and their friends climbing together. Nobody was joining Tom for carpooling. I solicited the possible climbers from PWC Facebook but nobody contacted me.
Per the climber's permit issuing desk at Lone Fir Resort, 750 permits were issues for the Sunday (Mother's day) climb. We were expecting a huge crowd and wanted to get to the Marble Mt Sno-Park trailhead early since it has about 130 parking spaces. When we arrived there at 1240 on Saturday, 80%-90% was full. Then, we found out that most of them climbed the mountain on Saturday. Later in the day and by Sunday morning, the lots got full and there were many cars along the Forest Road 83.
Here was the summary for the weekend:
Day 1 (Sat, 5/10):
Drove about 190 miles to parking lot at Marble Mt Sno-park (0800-1240). I solo-hiked the June Lake trail loop (1330-1640, 7 miles with 1000 ft elev gain).
Day 2 (Sun, 5/11):
Climbed the Mt St Helens, 0600-1320. My GPS data indicated 10 miles with 5600 ft elev gain. Arrived back home 1810.
Click here for Youtube Video (Virtual Tour)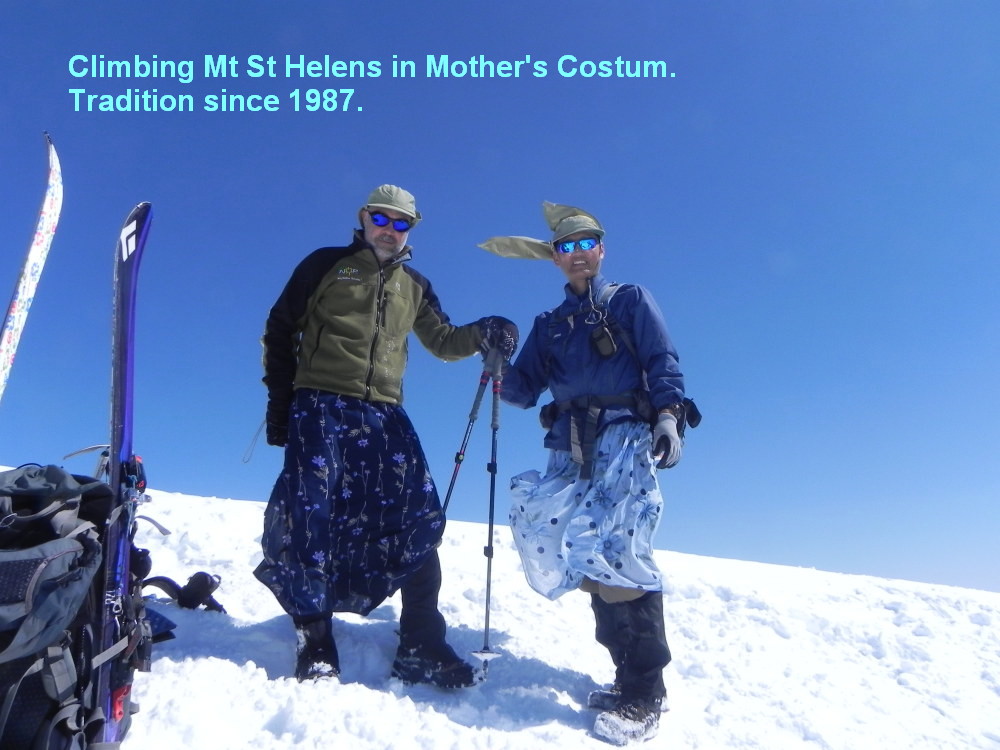 On Saturday (5/10), Tom and I left his house at 0800. We picked up the permits at 1140 at the Lone Fir Resort, and arrived at the Marble Mt Sno-Park at 1220. I pitched my tent in the wood. We cooked some hot meal (spicy noodle). I wanted to scramble-hike the Ape Cave that I did in 2011 but, instead, I solo-hiked a loop to the June Lake via the Warm Flows Climber's route, Loowit trail, and June Lake trail. We did not want to lose our parking spot since my tent was pitched 30 ft away from Tom's truck. Tom slept on his truck bed. June Lake loop was about 7 miles loop with 1000 ft elev gain. The first 2 miles are the trail to the Mt St Helens. Then, before crossing over a gulch, there is a small sign of Timberline Trail. It traversed East and then on the lava boulder fields. The lava rock routes were marked by 8ft high 2 inch diameter PVC white pipes and some Carnes ! After the lava field, enters the forest to the South, and then to a junction with June lake: continue on to the Loowit trail to the left and 1/4 miles to June lake to the right. If hiked from its trailhead (1 mile away from Marble Mt Sno-park parking area) at FR 83, it's 2.8 miles roundtrip with 700 elev gain. Of course, I hung around the waterfall about 5 minutes to inhale the negative ions from the waterfall.
Later in the day around 1800, cars stated coming in and the parking was getting full. We turned in early at 0930pm.
On Sunday (5/11), We woke up at 0500 and started climbing at 0600. Tom lead the way. We were moving fast since there were hardly any snow on the well established trail and most of the climbers were backcountry skiers and some snowboarders. We hit the Loowit trail junction in 1 hr, and arrived at 5600 ft elev in 2 hours (gain of 3000 ft elev in 2 hours)! We continued to climb by joining the long line. It was such a beautiful day. I stopped often for rest, and looked at Mt Adams (12281 ft) to the East, Mt Hood (11249 ft) to the South, and the long line of climbers above / below us. There were lots of energy flowing on the side of the mountain. In general, it was smooth going except for one bottle necking at the rocky route on the ridge. After a while, we moved to the snow gully on the left (West) by by-passing many climbers along the rocky ridge. Then, it was up and up: 3 miles with 4600 ft elev gain. There were 4 short plateaus areas after each steep ascent. When we arrived at the plateaus, we took some breaks. After the 3nd flat, we continued on without rest. It's sort of long steep stairs to the Heaven ! It's probably nearly close to a Stairmaster workout albeit I have not worked out on a Stairmaster before. We did not need the crampons for the entire climb. I felt burns on my quads around 7000 ft elev, so I kept on my comfortable pace. Tom arrived at the summit 0959 am and I arrived at 1025am. We took some pictures together, had snack, helped the others taking pictures, enjoyed the views of the surroundings (Mt Rainier, Mt Adams, and Mt Hood) and watched the long line of climbers coming up. The summit was getting too crowded, so we left the summit at 1115. We glissaded as much as we could. Along the long line of climbers, we met the PWCers (Barb , John, Mike) around 6800-7000 ft elev at 1130.
From 7000 ft elev to 3500 ft elev, if we were not glissading, we were post holing about one feet deep quite a lot, occasionally, little deeper holes. It was quite dangerous, so extreme caution was required. Near the 3800 ft just above the camp sites near the Loowit trail junction, one climber got his left leg stuck on a hole (between the rocks). He was fortunate that he did not break his leg. Tom and I help him remove some snow that took a few minutes to get him free !
a. Marble Mt Sno-Park Trailhead (2665 ft) to Loowit Trail Junction (3660 ft), 2.6 miles: Hiked through the sno-park, forest with gentle slope, and junction to the Loowit Trail. There is a small Loowit trail sign.
b. To fisrt plateaus (5625 ft). Weather monitering station. 3.8 miles.
c. To second plateaus (6300 ft). 4.2 miles.
d. To third plateaus (7025 ft), 4.6 miles.
e. To forth plateaus (7660 ft), 4.8 miles.
f. To the Mt St Helens Summit (8666 ft), 5.2 miles.
We arrived back at the parking lot 1320. So, it was about 7.5 hours of round trip. Per some reading, its typical climbing hours are from 7 to 12 hours and 10 hours is the average. So, out time was fast. On the way home just before I-5, we stopped by at DQ and had some fatty burgers. We arrived home safely around 0550pm.
In overall,

it was a nice trip that now I can say that I climbed the Mt St Helens on the Mother's Day.