Hiking a loop of Happy Lake, Boulder Lake, and Olympics Hot Springs (about 18.3 miles with 5045 ft elev gain), Saturday, 6-27-2015.
For the year, this was my first long dayhike in the Olympics. I have not been day-hiking since it's not been easy to get a hiking partner or two, and difficult to get a hiking day in the weekend as I have been primarily looking to hike on Sunday. Probably, the most important factor has been that I have not been motivated as much as I used to be in the previous years. To be in shape, I have been mountain biking once or every two weeks. Mountain biking helped a lot for the strength but not as much for endurance. I managed to hike the loop without trouble but the hike turned out to be a lot difficult than I thought as my legs and quads were sore for a few days.
It's been a record breaking June with the temperature averaging in mid 80s ! For the day, it supposed to be the hottest day of the week reaching high 80s in town. Back in 2010, I hiked some portion of the Happy Ridge Trail and the Olympics Hot Springs in the winter, but never hiked the loop before. So, it was a trail bagging trip for both of us (Les and I). Les was in good shape as he recovered from his ankle injury last year and has been in a couple of climbing trips with the Mountaineers.
Here was a summary of the hike. My GPS indicated 18.3 miles loop with 5045 ft elev gain. When I added up the miles using the Custom Correct Map, it was 18.8 miles. There are some discrepancies but I think that the GPS data are more correct.
a. Happy Ridge TH to Happy Lake Junction. 5 miles. 1 mile round trip to visit the Happy Lake. Along the ridge, we could see the interior Olympics (Mt Carrie and Mt Olympus - To the South) in the far distance once in a while.
b. Junction to Lake Crescent. Xx miles. Ridge walk with some views of the interior Olympics.
c. Happy Lake Junction to Boulder Lake Junction. 5 miles. 0.2 miles round trip to visit the Boulder Lake. Ridge walk with some views of the Vancouver Island, BC (To the North).
d. Junction to Appleton Pass. Almost no views along the ridge and down to the valley.
e. Olympics Hot Springs. We skipped visiting the Hot Springs as it was getting late. We left this hike for our wives ! I visited the Hot Springs back in 2010.
It was great to be out and hope to do a dayhike once a week for a while. We met Alex at the trailhead. He is a Chemistry High School teacher and lives in Port Angeles. We took off early but he caught us up on the Happy Ridge Trail. He was a strong hiker. From there, we hiked together. We found out that he was a well experienced hiker, climber, and kayaker. I got his e-mail address. We are planning to do some dayhikes and some climbing (Mt Olympus and Mt Rainier via Emmons Glacier) together.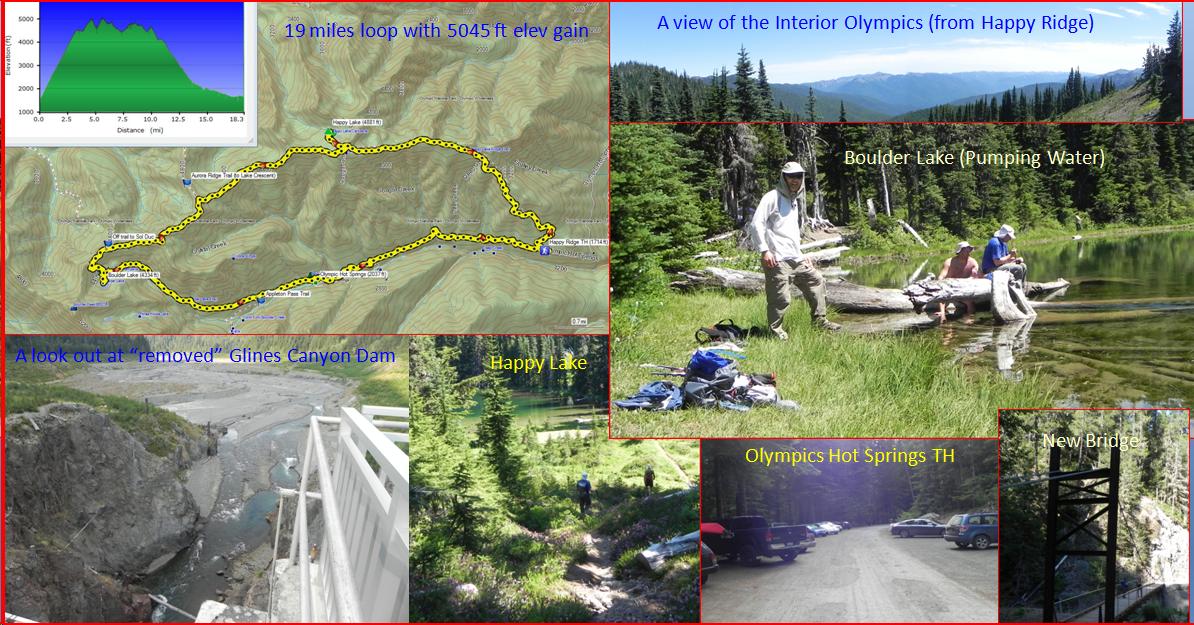 Trail Head Driving Directions: Take U.S. 101 nine miles west from Port Angeles to the Elwha River Road. The signage has changed a couple of times so look for Olympic Hot Springs Road or Elwha River. If crossed the bridge over the Elwha, just missed it and need to U Trun. Take a left onto the Elwha River Road and drive about 10 miles to the end. Most of the roads were paved to the trail head.