Climbing the Mt Hood (23-24 May 2011)
What a beautiful, sunny, and fantastic day we had climbing the Mt Hood (11245 ft, 3428 m) on 24 May 2011. Mt. Hood is located approximately 50 miles east of Portland, Oregon. It was my first experience and exposure climbing a glaciated peak !!! This Peninsular Wilderness Club (PWC) event was planned and coordinated by the former PWC president, Tom Rogers. I was very thankful to safely participate the event along with Tom Henning, Paul Dutky, & Frank Oslick. It was probably less than 7 miles of round trip with 5500 ft elevation gain in two days, but it was physically and mentally challenging.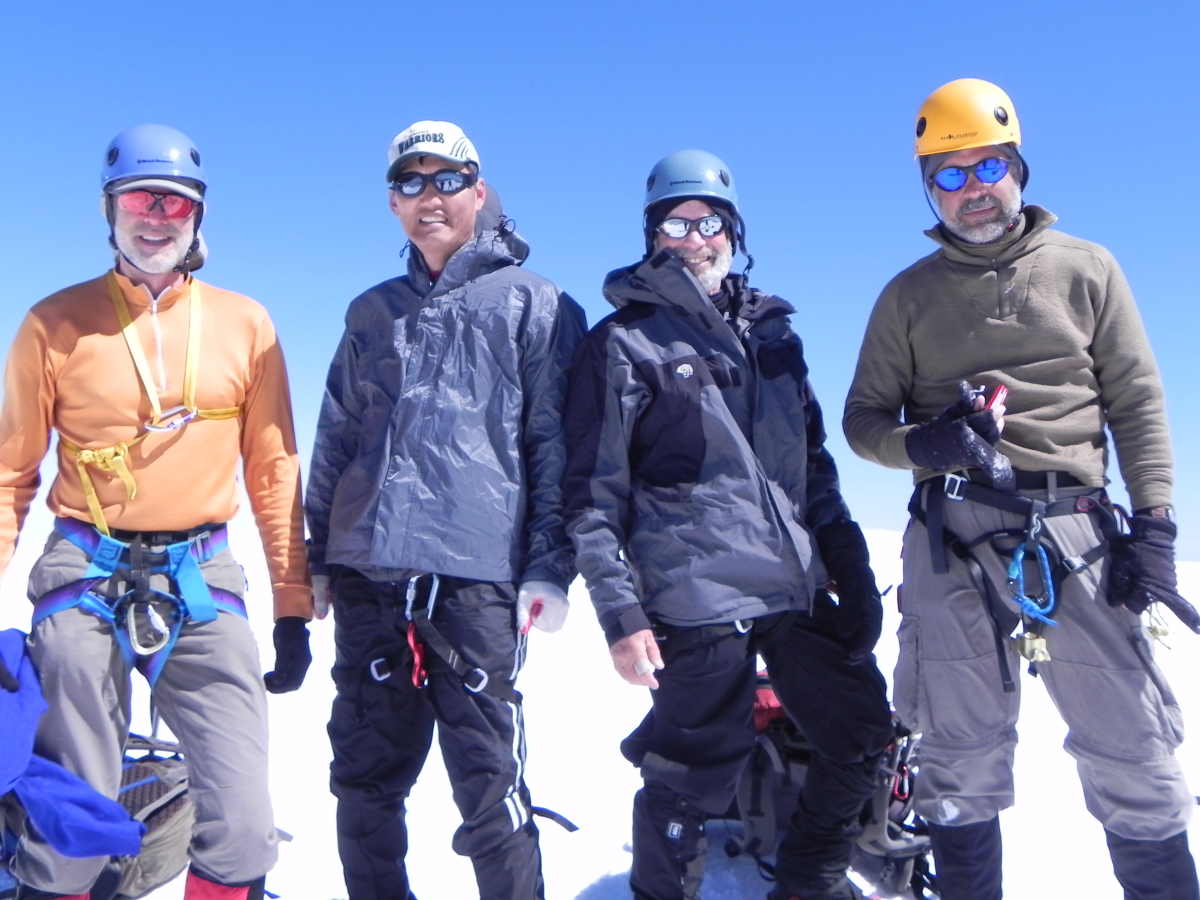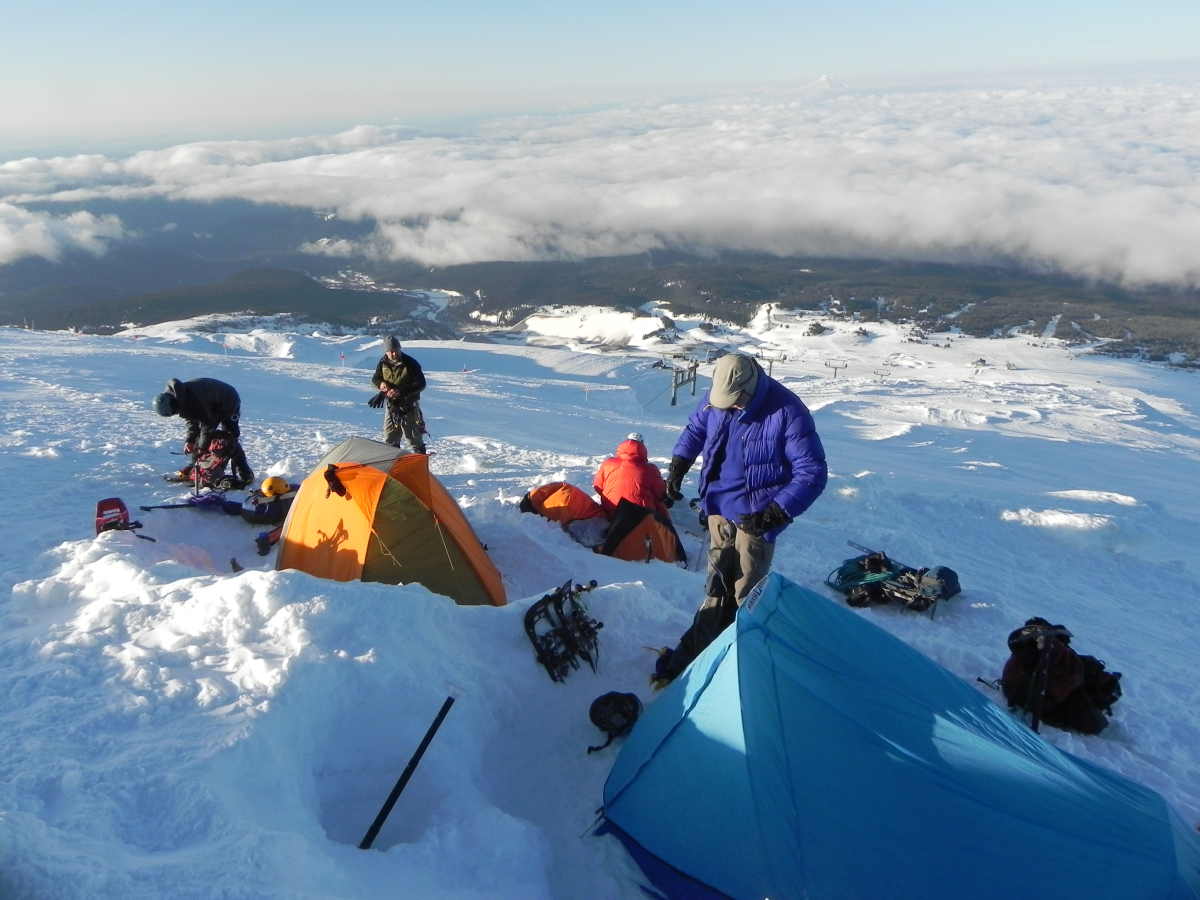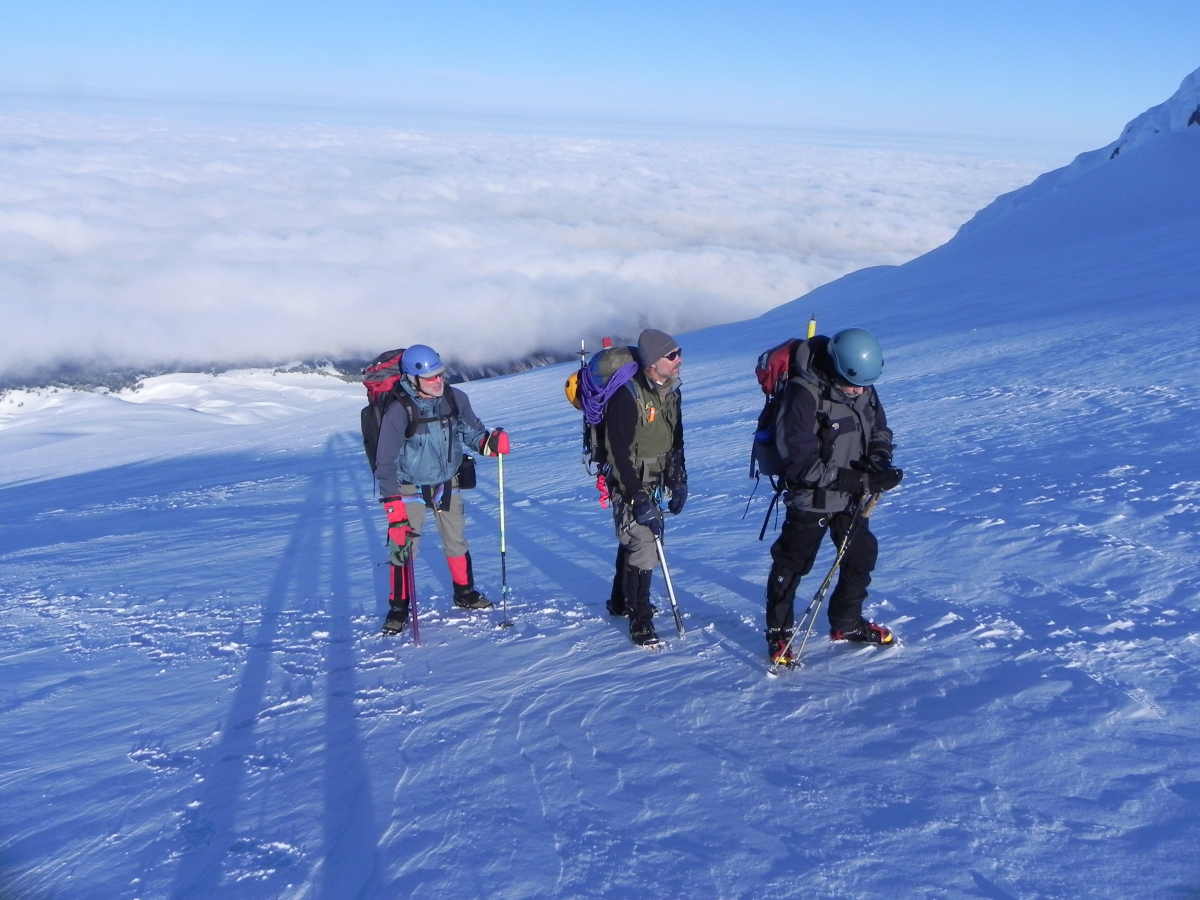 In short summary, we conquered the Mt Hood without belaying (rope and picket) or roping although we were prepared. The condition was just right for the climbers without those technical climbing gears and did not need to worry about the crevasses. Basically, we followed the already established boot tracks.
Here is a summary of our climbing:
1. Day 1 (Mon, 23 May):
a. Time 1300. The PWC climbers met at the Timberline Lodge (5800 ft elev) parking area. The timberline offers the only year-round lift-served skiing in North America. Both Toms and Frank carpooled. Paul and I carpooled since we hiked the Columbia Gorge River areas with several PWC members over the weekend.
b. Time 1400-1630. Weather was little lousy by drizzling on and off. Hiked up to our base camp along the Cat track and parallel to the track, just above the Palmer ski chairlift (Elev 8540). It was probably about 2 miles one way with 2740 ft elev gain. I really had a tough time carrying my full pack, estimated at 50-55LB weight. My physical condition was in bad shape after two days of day-hikes (Sat and Sun) in Columbia Gorge River Area. I probably did not nurture myself correctly during the weekend hikes or my physical condition for carrying such a heavy backpack was not there yet. Both legs were really tired and had to hike up slowly. I significantly slowed down our climbing party. I had an option to take a chairlift but opted to experience carrying the full pack up the hill.
c. Time 1700-1900. Weather turned South: a white out condition. We setup our tents in windy (estimated 15-20 knots), snowy (tiny hail), and cold condition. Excavating snow for tent platforms was very tough since some snow were frozen solid. When we were done, I was exhausted and lost my appetite, and just wanted to crawl in the sleeping bag hoping that the weather turned nice next day. Thankfully, Paul gave me some mixed fruit and nuts. Our next day plan was to go home if the weather was continuously bad in the morning.

2. Day 2 (Tue, 24 May):
I had a decent night during the windy, snowy, and cold night (slept through 2200-0200 then half awoke till 0510.)

a. Time 0520. We woke up to a very nice sunny day with some breeze 5-15 Knots. There were already many climbers coming up the hill passing our tent sites. One climber said that over 50 climbers were already went up. Most of them started 0300 from the Timberline Lodge for a day hike.

b. Time 0530-0700. None of my stoves, rocket pocket or white gas, worked. I think it was probably due to wind (not sure about the altitude). I still did not have appetite to eat but forced to eat an uncooked ramen for some carbohydrates. Most of my dry food were soaked with the white gas (the gas fillup knob was loose.) Only things I ate for the day was a few pieces of beef jerkis and a piece of cheese thanksfully given by Paul and a snicker bar given by Tom R. Frank's stove worked and melted the snow for water in the morning.

c. Time 0705-1040. We started climbing and 4 of us summited. Probably 1.5 miles one way with 2700 ft gain. I felt better (with much ligher pack weight) but still was not in good physical condition. But I managed to keep up with the group in most of the climb. Frank could not make it. He was having cramps on the leg. He made it to about 1/2 way elevation (10000 ft). It was tough climbing up and was not dangerous till the steep chute just short of the summit. I was planning to take some pictures of the chute (I thought I did) when I got nearer but forgot to take some pictures, probably busy in surveying the situation and psyching myself for a safe climb. The chute was very intimidating and fearful, and I really focused on my survival by ensuring three points in place: two crampon feet's and one Ice Axe. In the half way up the chute, I looked back the chute below me to see how intimidating the Chute was. I vividly remembered that, if a climber slips there, an ice axe self-arrest would not work and it would be most likely a plunging death. However, it would be very clumsy to slip. Once at the top, Tom H was talking to a couple of climbers that lead us to a different chute and safer path to climb/descend. We decided to take the different, the West Chute, to descend.
d. Time 1040: At the Mt Hood summit. What a joyful and fantastic moment ! We descended via NOT THE EAST CHUTE but to the West Chute which was a lot easier and safer to descend because it had a well established zig-zagged path on the very steep chute.

e. Time 1100 - 1415: Descended to our base camp, packed, and hiked out. Descended to our base Camp just above the Palmer ski lift, packed our tent & gears, and hiked out to the Timberline Lodge parking area. It was probably 3.5 miles one way with 5500 ft elev loss from the summit to the Timberline parking area. Lots of pounding on my knees and both quads. Again, I took my time coming down the mountain to avoid any injuries. At the parking lot, it was our celebration time. Tom R broght a 6-pack that looked really good and probably soothed some leg pain (I did not drink any since I was driving.)

f. Time 1445: Left Timberline and headed home to Bremerton.

In summary, it was a tremendous and unforgettable experience climbing a glacier peak for the first time. I really enjoyed climbing the glacier peak: climbing the steep snow fields, the steep ridges, and the steep ridge tops. It required tremendous mental concentration and physical condition.
As usual for such an event, safe return of the all members was always welcome and blessing.
More Pictures from Tom Henning: