Climbing the Brothers Mt (6866 ft) - (28-29 May) ----South Peak (6866 ft) via Route I (South Couloir).
What a fantastic day we had again climbing the Brothers Mt only after 3 days summiting the Mt Hood ! The event was again sponsored by the former Peninsular Wilderness Club (PWC) president, Tom Rogers. It was a last minute trip posted on the PWC website (PWCkitsap.org) since the scheduled Mt Shuksan event (sponsored by Brian Steely) was cancelled due to possible inclement weather. I was very fortunate to join the event since it was only the weekends (Sat & Sun) and I wanted to spend some time with my family on the Memorial Day.
Mount Olympics (the peak of the Olympics), The Brothers Mt, & Mt Constance are probably most popular (maybe top 5) and prestige climbing in Olympics. The Olympics National Forest that is centered by the Olympics National Park is located in the Northwestern part of the Washington State (1.5 – 4 hour of driving distance from Bremerton, WA. How lucky we are !!! ). Those rugged Olympics mountain ranges are clearly visible from across the Puget Sound and even from the Seattle Area on a clear day. I was very happy climbing one of those peaks for the first time (other than hiking up the Mt Ellinor, Mt Townsend, & Mt Buckhorn) usually assessable by the well trained Mountaineers.
In summary, it was an excellent climb that provided rewarding views and minimized risk. The climb did not require belaying or roping, but, as usual for climbing, it required good physical condition, not afraid of height exposure, and use of proper climbing gears (Crampons and Ice Axe). There were a few climbers (not counting 16 Olympic college climbing class) but we were the first climbers topped the Mt for the week.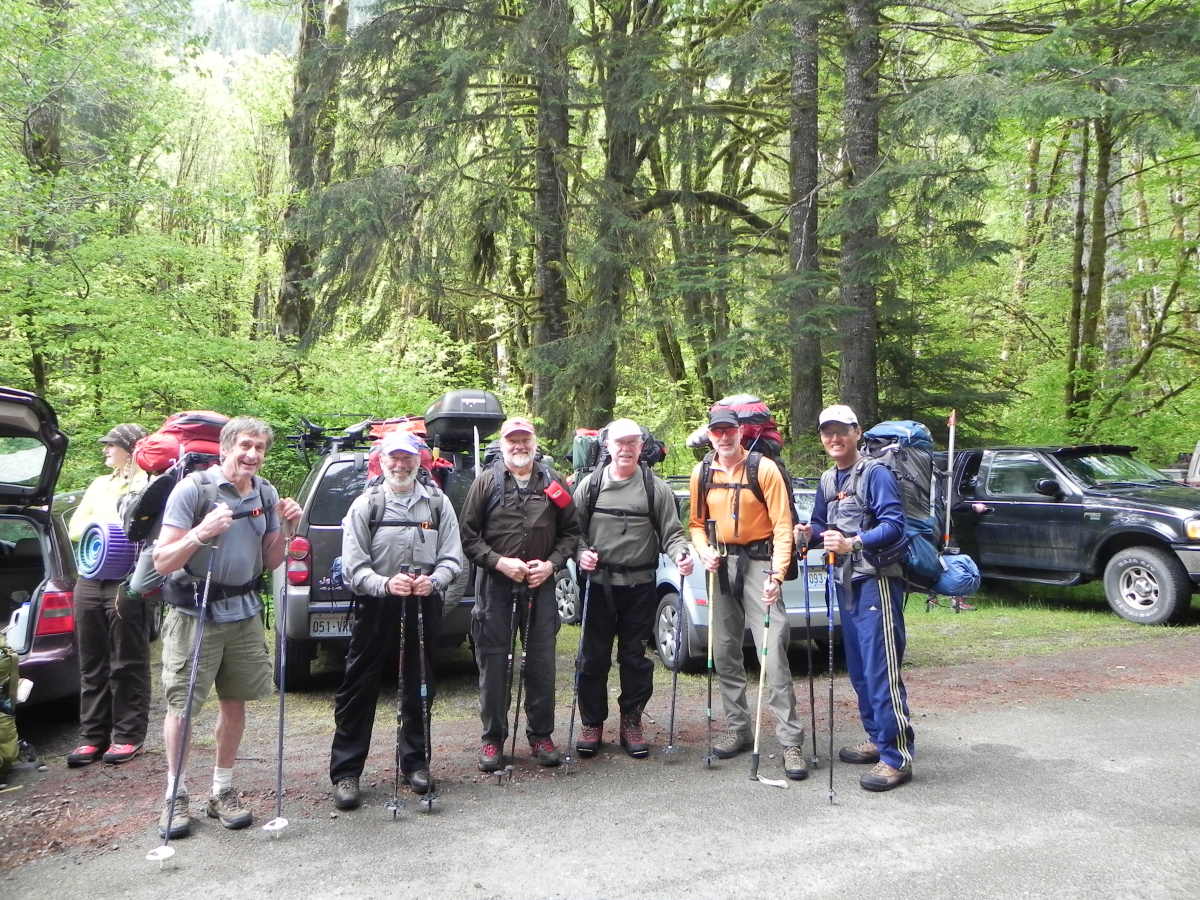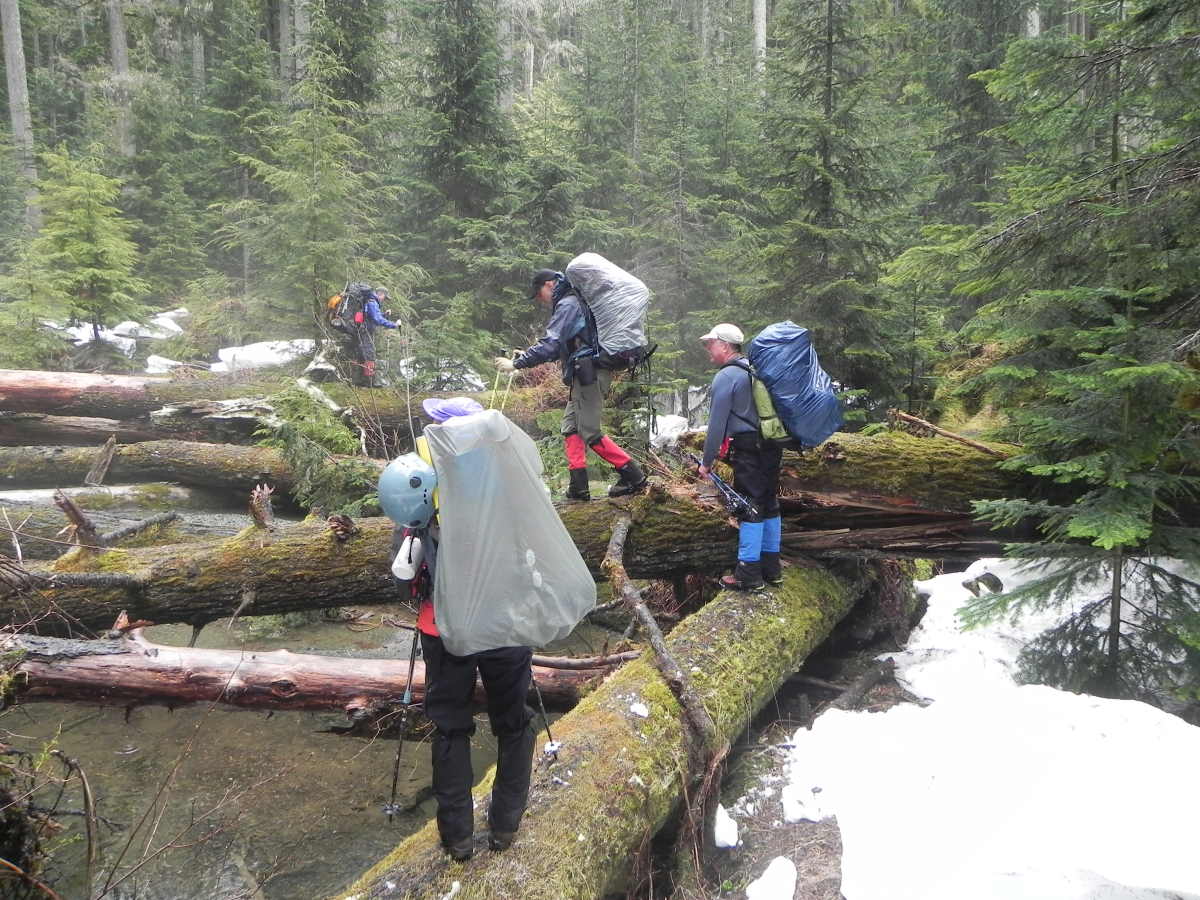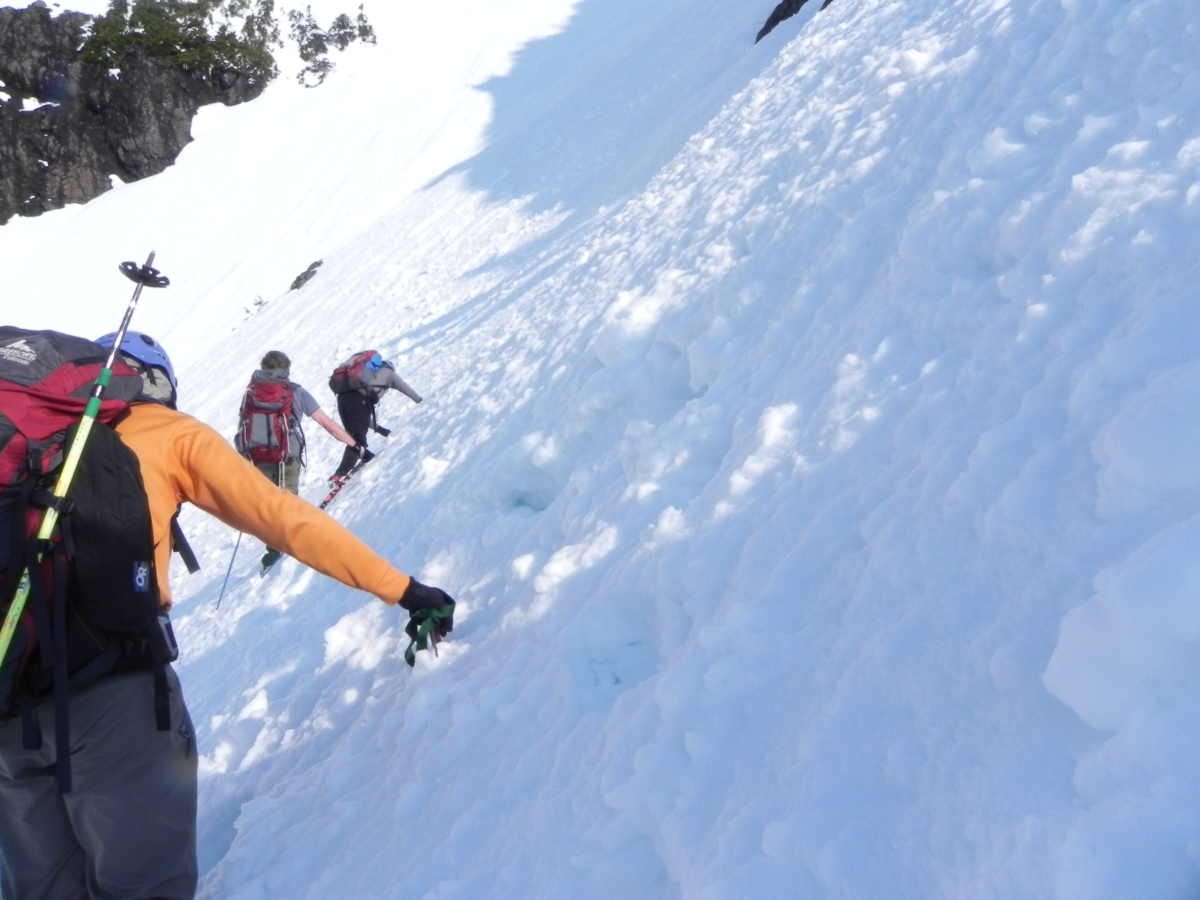 1. Here is a summary of our climbing
Day 1 :
Time 1005 – 1630 (Hiked in to our basecamp):
Temp 40-50s. Drizzled and showered occasionally about half of the time. From the Lower Lena Lake trailhead on the Hamahama road, we hiked in to our base camp (estimated 7.7 miles one way with 2900 ft elev gain). Due to route finding, it took a lot more time and used lots of energy. I think there are 6 log bridges to cross and one bridge was washed away (Please do not Quote me). After 4 bridge crossing, it was raining moderately, so I stopped taking pictures. After crossing the 4 bridges (passing the Valley of the Silent Man), the trail was washed away or obscured by fallen trees. Somehow, we ended up at a log jam that was directly above the creek. If one falls, one can hurt badly or may get soaked. Seeing the pictures may not give a good clue but it was really messy and required lots of energy & concentration. After getting back on the trail, we needed to go across the creek again. The log bridge looked like washed away. We used a snow bridge to cross. There must be some logs holding the snow bridge. We hiked about another 1.5 miles passed the Climbers base camp (Elev 3000 ft).
When we arrived at our intended campsite (Elev 3600 ft), raining stopped and had a lot easier time (compared to Mt Hood) setting up our tent on the snow. Turned in early for next day climbing.
Day 2
Time: 0600- 0930. (Summit the South Peak (6866 ft) of the Brothers Mt).
Temp 40-50s. Overnight was not cold as expected (water was not frozen and little wind). I had 2 good hours of sleep and half awoke most of time. We woke up to a decent day: some clouds but a nice day. Climbing on the steep snow hill all the way. 16 Olympics College Climbing Party passed our tent sites just before 0600. We put on the crampons and followed the boot tracks till about 6000 ft. Then, we followed our planned climbing path. It required lots of work making fresh tracks. Tom Rogers, Paul Dutky, Greg Hyatt, and I topped the South Peak. They made lots of new tracks (I took some pictures lagging behind) since we were the first party climbing the Peak in a while. We met a few climbers but none of them made to the top because there were no boot tracks.
Tim 1000-1110, Descended to the basecamp. After descending to the chute, about 400 ft elev down, we glissaded all the way down close to our basecamp. No doubt that it was steep chute but the soggy snow provided excellent glissading condition. What a ride !!! No pain on the knees and quads, but soaked pants, socks, & boots. It was well worth to get soaked !!! Always have an extra pair of socks…
Time 1300 – 1700. Hiked out. Reasonably, easy hike out. For the day, we climbed about 2 miles with 3200 ft elev gain. For the day, I estimated that we hiked out 10 miles losing 6200 ft elev gain (glissaded 3000 ft elev though).

In overall, it was excellent climbing a snowy mountain, one of prestigious mountains in Olympics. The right snow condition provided not particularly dangerous situation. Even if a climber falls, he/she should be able to easily ice-axe self-rescue. However, if it was icy like the Mt Hood, belaying should be used. There are multiple exposed areas that could be unforgiving on icy condition.
It was excellent two days testing my physical fitness following Mt Hood climb (that I struggled). On this climb, I thought that it was somewhat tougher (than the Mt Hood) since we had to travel some distances on deep snow. On both days, I was in a good physical condition that I have expected since I have been exercising diligently during the last fall/winter season.
The best part of the trip was always the safe return of the climbers. We celebrated our trip at the Olympic Timber house at Quilcene. The worse part was that driving back home after such a good meal. Lessons learned was that come home straight or cerebrate near home after climbing or hike/backpacking. As always, no drinking alcohol and driving for me.