Christine & Sam Sim
Justin has arrived on 30 DEC 01!!!








Jessica's 1st Birthday Party in Hawaii (3/3/2001)
Jessica born on 2/10/00
( 6 lb 13oz, 22 inch)

6/2000
Jessica's Recent Pictures (Early 2000):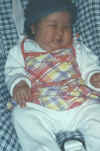 1998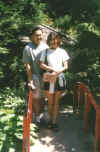 Christine, Husband (Sam), and Mom
w/ PC camera (1997 ???) in Hawaii.



Happy get together with David and Michelle's family in Los Angeles (7/22/00)











Sam's Parents: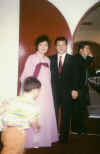 This picture was taken
on their wedding day.
Whoops! Danny in the front
and Sam's brother on the right.
One of Memorable Pictures: