Dayhiking Buckhorn Mt (6988 ft elev) and more from Big Quilcene (10-15-2011) --- about 14 miles with 5000 ft gain
Last year, I hiked to the Marmot Pass in the furry snow and rain without any views (Click here). Well, this time I got really lucky with the weather. It was such a nice Saturday. I solo day-hiked to the Buckhorn Mt passing the Marmot Pass via the Big Quilcene trailhead. My goals for the hike were to summit the Buckhorn Mt (Class I), hiked down to the Buckhorn Pass if could not see the trails, and check out the trail to the Boulder Shelter. Well, I was able to achieve all my goals, plus I harvested some mushrooms on the way up to the Shelter Rock Camp.
Weather was excellent for the weekend but it was cold (in high 30s) at the trailhead. I listed my hike on the Peninsula Wilderness Club (PWC) website but nobody contacted me for the hike. So, I was thinking about doing a 22-23 miler with 4500 ft elev gain: Upper Dungeness Trailhead (TH) to Boulder shelter to Marmot Pass to Buckhorn Mt to Buckhorn Pass to Tubal Cain Mine to 4 mile road walk, then back to Upper Dungeness TH. I got lazy and left home late close to 0730. So, I hiked the trail as I originally planned: Big Quilcene TH to Marmot Pass to Buckhorn Mt, down to Marmot Pass, part of Boulder Shelter trail, back to Marmot Pass, and quickly hiked out to the Upper Dungeness TH.
I probably met about 20 day hikers and backpackers. A couple of interesting stories. One hiker reminded me that we met together on the Gold Creek Trail (Green Mt Seabeck) last year. He said that I gave him a Green Mt trail map. He also said that he attended a monthly PWC meeting (Craig Romano presentation) and enjoyed it. For the Marmot Pass hike, he said that he checked the PWC website calendar and knew that the PWCers were hiking to the Marmot Pass ! Another group of 3 told me that they knew that some PWCers were hiking to the Marmot Pass today !!! Well, apparently, hikers are checking out the PWC calendar to check out where the PWCers are hiking.
The highlight of the hike was the views from the Buckhorn Mt, that I could now name the places like Constance Pass, Mt Fricaba, Buckhorn Pass, etc. It was kinda fun and fullfilling.
Here were some hiking technical that I copied and modified from last year's hike:
a. 0 miles: Big Quilcene Railhead (#833.1, 2500 ft elev). On the way up to the Shelter Rock Camp, harvested wild mushrooms (Woolly Chanterelle, Coral, Cauliflower, white Matsutake, and some others to check the species with a book). It took me 2 hours to get to the Shelter Rock Camp.
b. 2.6 miles: Shelter Rock Camp (3650 ft). Good place to fill up the water. Trail gets steeper. To the Marmot Pass, 2.7 miles with 2350 ft elev gain. I sped up to the Marmot Pass. Took 70 minutes !
c. 4.6 miles: Camp Mystery (5400 ft) - Another good place to refill the water. Snow started to accumulate
d. 5.3 miles: Marmot Pass (6000 ft)
e. 6.5 miles: Buckhorn Mt (6988 ft). Some snow but no traction was requried. Neat to see the Buckhorn Pass, Constance Pass, Mt Fricaba, & Hall Foss. I could not tell the Mt Townsend though... Buckhorn Pass was exposed and dangerous if there was frozen snow.
f. 7.7 miles: Back down to Marmot Pass (6000 ft)
g. 8.2 miles: Hiked toward Boulder Shelter. less than 200 ft elev loss. Hiked half-way to the Boulder Shelter. Some portion of the trail had some frozen snow and was already getting dicey without an ice axe. I took each step with extreme precaution. Trail further toward the Boulder Shelter could be very dangerous if there were frozen snow on the steep ridge. If one falls, it will be like 1000 ft drop near to the Heather Creek.
h. 8.7 miles: Marmot Pass
i. 14 miles: Big Quilcene Trailhead.

At the Marmot Pass (6000 ft elev) On the way to the Buckhorn Mt summit: a view of the Marmot Pass & Constance Pass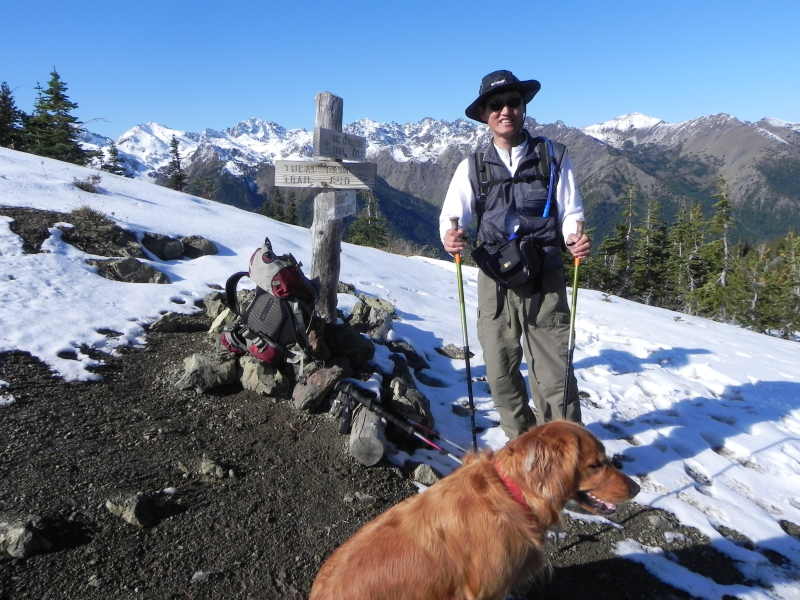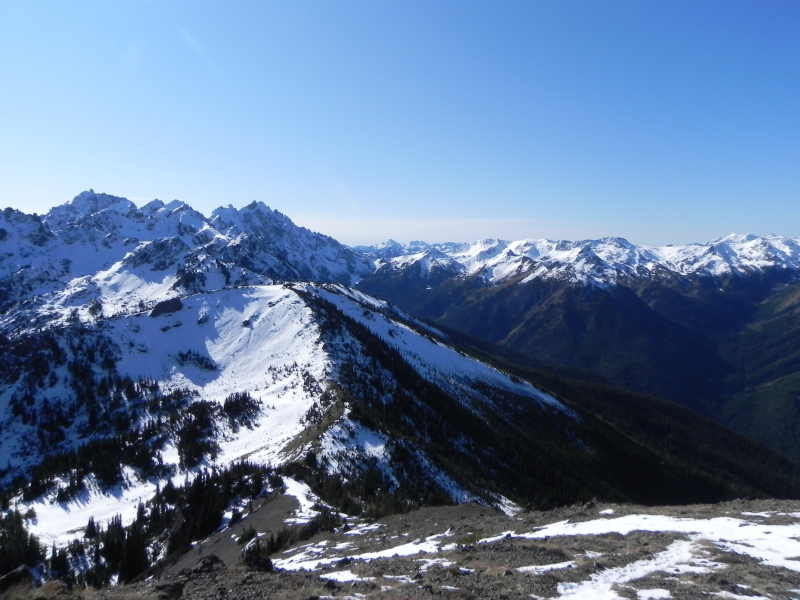 At the Buckhorn Mt summit, a view of the Buckhorn Pass


Upper Big Quilcene Trailhead to Marmot Pass to near to the Buckhorn Mt Summit.
Views from the Buckhorn Mt summit:
On the way down to Marmot Pass, trail to Boulder Shelter, back to Marmot Pass.
Direction for Big Quilcene Lower and Upper Trailhead for Mt Townsend hike:
From Quilcene drive, US 101 south for 1.5 miles.
Turn right onto Penny Creek Road.
After 1.5 miles, turn left onto Big Quilcene River Road (paved Forest Road 27).
Proceed on FS #27 another 10.6 miles to FS Road #2760 (follow 760 for 0.7 miles to the lower trailhead).
To the upper trailhead, stay one more mile on #2760 and turn left onto FR 27-190.
Drive 0.75 mile more to the end of the road.

Tunnel Creek to 5050 pass trailhead is also on the way up the Lower Big Quilcene Trailhead.