Incredible 4 days of Sea-Kayaking & Hiking Trip to San Juan Island, WA (26-29 April 2013)
The San Juan Islands are located at the very Northwest corner of the Washington State or the contiguous United States between the US mainland and Vancouver Island, British Columbia, Canada. The area has lots of islands. The prominent islands are Guemess, Sinclair, Cypress, Blakely, Orcas, Shaw, Decatur, Lopes, and San Juan (Fridays Harbor). The trip was a PWC event planned and coordinated by Paul Dutky. This year's multi-days kayak trip was on the very west side of the San Juan Island. Paul described the trip as " We'll take the ferry from Anacortes to Friday Harbor Friday morning, then drive to Roche Harbor to begin our exploration of Stuart Island and the entire west side of San Juan Island. "
Last year, when we went 3 days of kayaking trip to San Juan Islands (Doe and James Islands), we had 12 paddlers but, this year, it was just Paul and I since the trip was scheduled a bit late. Much thanks to Paul for planning this wonderful trip. To plan for this kind of multi-days kayak trip, one requires a good understanding of the area, possible adversary sea conditions, back up plan (bail out areas for safety), and decent kayaking skill. Paul certainly had them all. If we had a bigger group with less paddling skill, the trip would have been modified accordingly. A bigger paddling group with decent paddling skills is desired for the safety reasons but I felt that I was qualified to do this trip in a small group as I have practiced quite a bit of paddling skills this year (paddling strokes, rolling, bracing, assisted rescuing, & re-entry roll) in the pool and occasionally in the cold water. I've recommended Paul make a kayak multi-days trip in April as an annual PWC event.
Sight Seeing:
a. The main highlights were seeing the Orcas, the Bald Eagles, and the non-native Red Foxes (could be orange, silver, black or any combination therof).
b. The others were the Seals, river Otter's, Oyster Catchers, Sea birds, Shorn/unshorn domestic sheep, a herd (50-60) of wild deer in Spieden Island, Wild deer (Mouflon) in Stuart Island, and Red Foxes.
c. Lime Kilns Sites at Lime Kiln Point State Park.
d. Marine life museum at Cattle Point.
e. Drove around the San Juan Island for about 45 minutes (Jackles' Cove at American Camp,, Cattle Point, etc).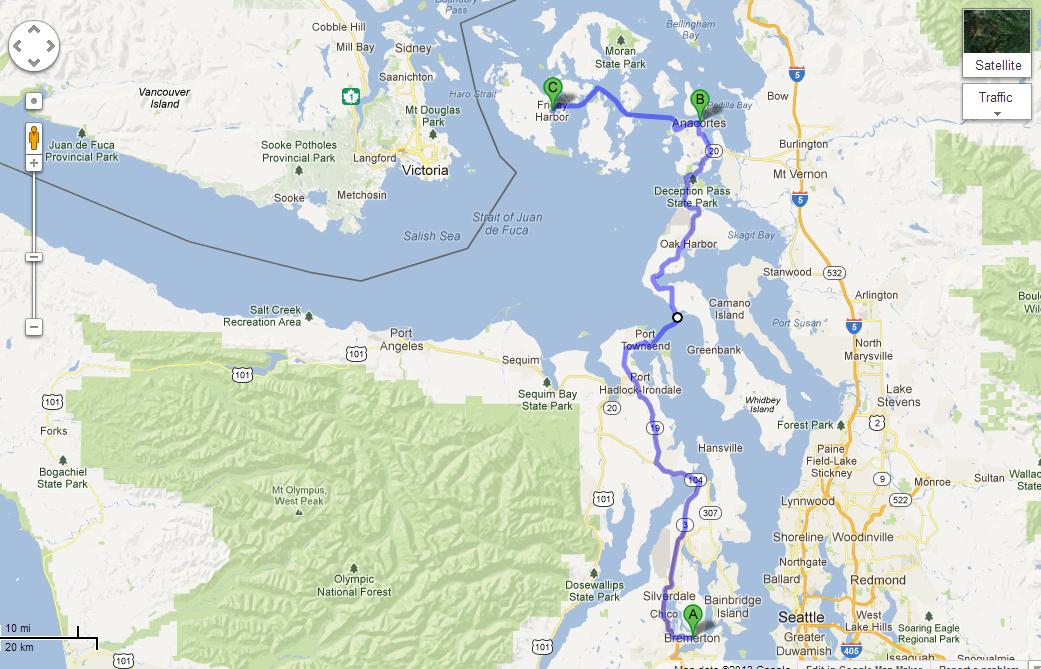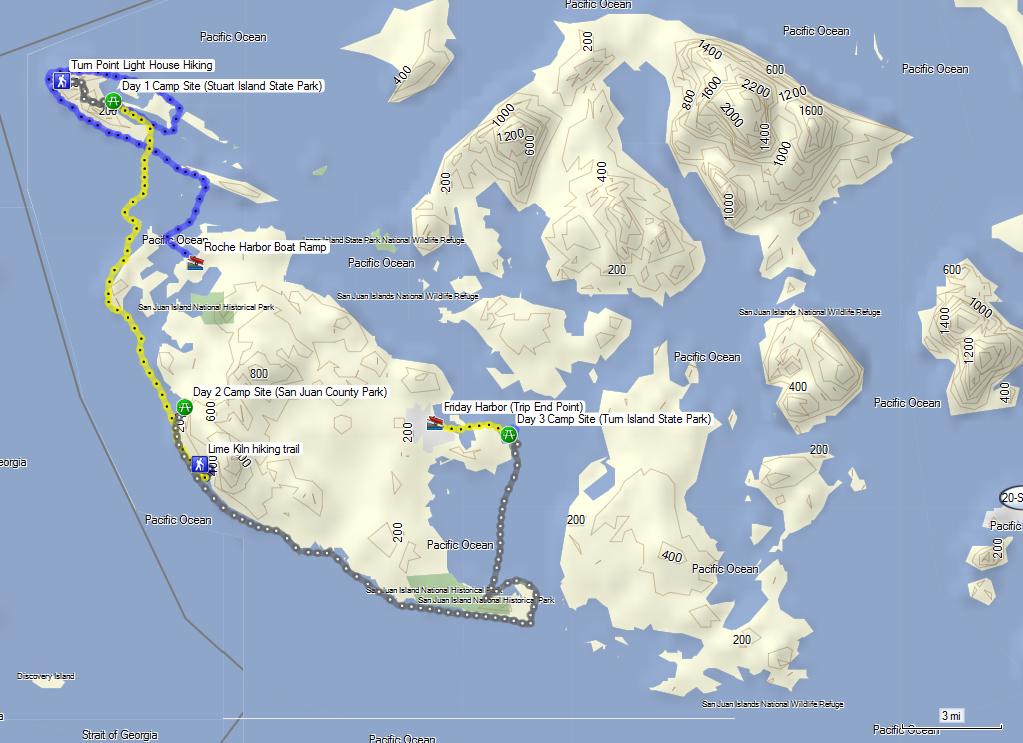 Day 1: Cloudy day. Paddled 15 miles in Class 3 (1205-1640). Tide info: 04:49 7.2H, 11:52 -1.5L, 19:28 7.4H . Hiked 3 miles with less than 200 ft elev gain.
a. Drove, took 0700am Kingston ferry, drove, took 0930am Anacortes ferry, and drove to Roche Harbor. Started (1205pm) our paddling trip here.
b. Paddled around clockwise to Stuart Island State Park for camping. Setup our tents.
c. Hiked to the Turn Point Light House. 3 miles + 2 miles of car ride. Paul met a park caretaker back in Roche Harbor. We met him just before the road. He was happened to be there by our luck. d. Had a nice camp fire and dinner. There were plenty down trees around the camp site. Always to carry a hand saw !
e. Fresh water was not turned on yet at the Stuart Island State Park Camp site. Water was supposed to be available on 1 May.
Day 2: Cloudy & Sunny day. Paddled 16 miles in Class 4 (0840-1530 (included hiking)). Tide Info: 00:16 4.8L, 05:22 7.2H, 12:35 -1.9L, 20:23 7.8H. Hiked 2 miles with less than 200 ft elev gain.
a. Paddled from Stuart Island State Park to South, to the west of San Juan Island.
b. Padded past our camp site (San Juan County Park).
c. Took lunch break at Lime Kiln State Park. Toured the Lime Kilns sites. Hiked about 2 miles.
d. Padded back up to San Juan Island County Park for camping. Setup our tents.
e. Viewed the Orcas (4-5 Orcas).
f. Had a nice camp fire and dinner. Camp fire woods were gathered from the beach.
g. Fresh water was available at San Juan County Park.
Day 3: Sunny, Cloudy, and Rainy Day. Only rain when we went to sleep ! Paddled 20 miles in Class 4 (0920-1620). Tide info: 01:11 5.2L, 06:00 7.2H, 13:22 -2.0L, 21:20 7.9H. Hiked about 1 mile with less than 100 ft elev gain.
a. Paddled south and continued going around San Juan Island on the West Side.
b. Ate lunch at Cattle Pass (the site housed a wireless compass station in 1920s).
c. Paddled around the Cattle Point and visited Jackle's Cove, American Camp .
d. Arrived at Turn Island State Park for Camping. Setup our tents. Hiked about 1 mile.
e. No camp fire was allowed but had a nice hot dinner before started raining at 0830pm. Went to bed early.
f. No fresh water source a Turn Island State Park.
Day 4: Sunny Day, Padded 2.1 miles in Class 1 (0700-0750). Tide info: 02:13 5.6L, 06:41 7.0H, 14:11 -1.8L, 22:18 8.0H
a. Padded from Turn Island State Park to Friday harbor.
b. Paul took a taxi to Roche Harbor to retrieve his car.
c. We had about one hour to burn. For sightseeing, drove through Friday Harbor downtown, to American Camp, to Jackle's Lake,and near the Cattle Point.
d. Took 1115am Friday Harbor Ferry. Drove. Took 1325pm Edmond Ferry. Arrived at Paul's house at 1455. Washed off the gears.
In overall, it was an excellent trip for both of us. Looking forward to another trip in the area (San Juan Islands or Canada) next year.