Back to Homepage, Back to James' Photo, Back to Isaac's Photo
A wonderful family trip to Sacramento, California (6/15-6/18/2017)
Attending our dearly nephew, Andrew's wedding in Nevada City, CA (Saturday, 17 June 2017) and more.
Its trip was on my calendar at least 10 months in advance. Originally, we were planning to take some time off and drive down to Sacramento, CA as a road trip but changed out mind when we bought the airplane ticket about 1.5 months into the trip. Fortunately, both of our children could make Andrew's wonderful wedding trip. It was also an excellent family trip that 4 of us had some time together. Additionally, our big brother David and his son, Samuel, were able to attend the weeding on Saturday. Also, it was wonderful to see James' and Sam's family as well.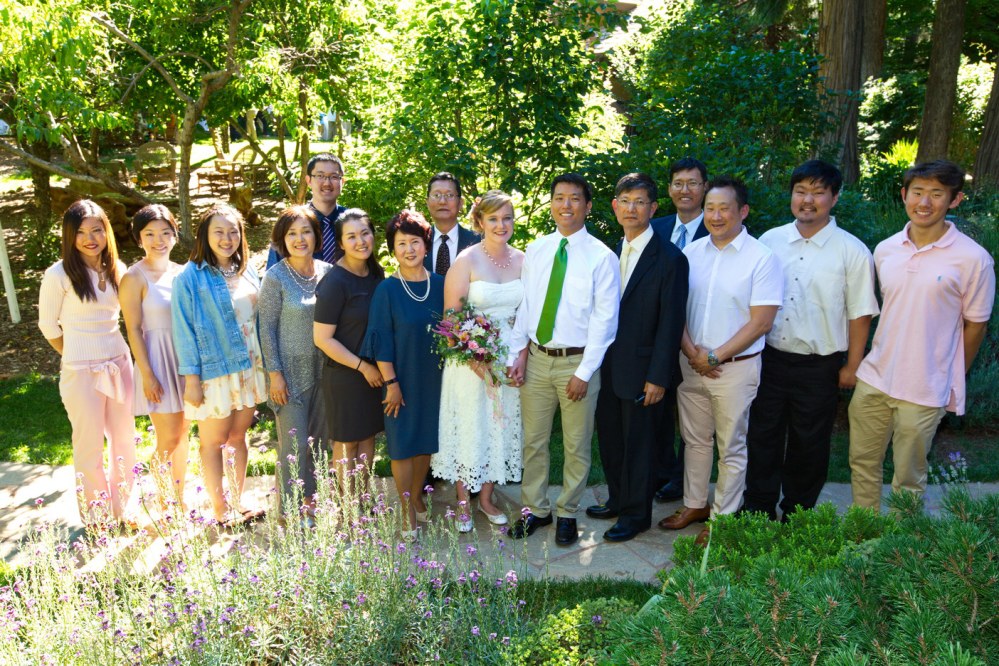 a. Thursday, 15 June. Flew to Sacramento.
Our plan was to meet up Danny at the SEATAC airport as he was flying in from Pullman, WA. Then, we planned to fly together to Sacramento as we had the seats side by side. However, Danny's flight got delayed in Pullman and missed the connection flight (that we already boarded) by 10 minutes. Our flight (at 1355) was full, except for Danny's seat right next to me ! However, he made the next flight at 1630 with another 30 min delay. We drove around close to the airport and picked him up at 1830. We decided to eat something in downtown Sacramento on the way to Grass Valley, CA which is less than 10 miles west of the Harmony Ridge lodge where the wedding would be held. We ended up eating Pho at "Pho Saigon Bay" near downtown Sacramento. Danny and I ordered XX Large, and my wife ordered X large. XX Large was the biggest bowl that we've ever seen. It also had lots of noodle. We could not finish the Pho ! It was sort of a memorable place to eat an EXTRA large with decent taste.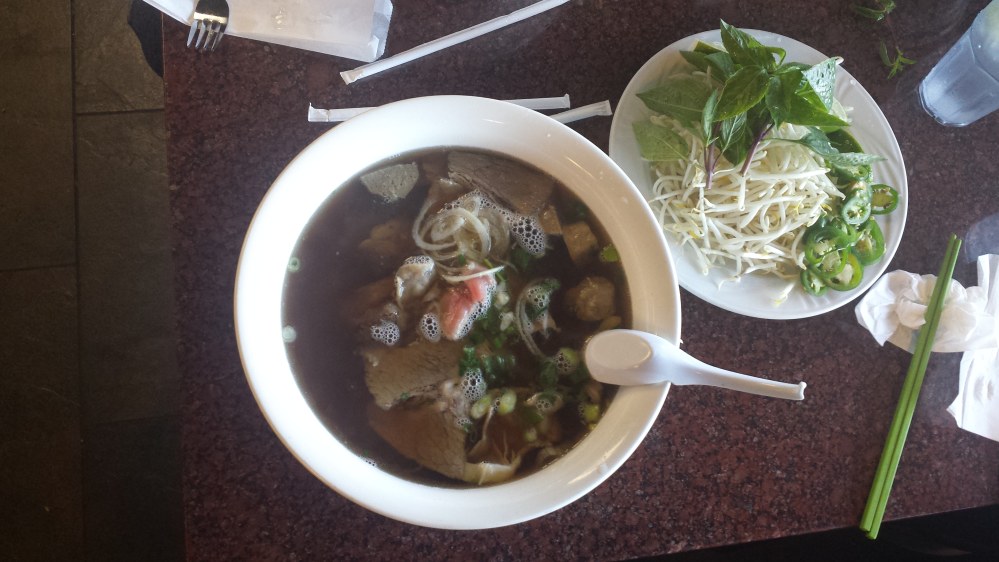 b. Friday, 16 June. Sightseeing in downtown Sacramento and picked up Carol at the Sacramento airport.
Carol was flying in around noon, so we had a couple of hours to burn in downtown Sacramento. We were looking at visiting California State Railroad Museum that opens at 1000. When we arrived at the Museum and had less than 2 hours to kill, we decided to do sightseeing at the Old Sacramento Passenger Station which is just NW of downtown Sacramento. There were an exhibit of "Santa Fe" steam locomotive (Santa Fe 5021). After gold was discovered in 1800s, 30 miles away from Sacramento, the California Gold Rush, changed the Sacramento forever. Sacramento became California capital in 1854 after 4 years of California Statehood. Sacramento Valley Railroad (1852-1877) was the first railroad west of the Mississippi River ! Then, we stopped by at the Wells Fargo History Museum. Interestingly, Wells Fargo started in Sacramento ! It provided financial services by the fattest means available: overseas by sailing ship, overland by stagecoach, Pony Express by railroad, etc. There were more than 10,000 Wells Fargo offices by 1919 throughout the US.
We picked up Carol around noon at the Sacramento airport and headed for lunch in downtown Sacramento. We ate lunch at Aura Korean and Japanese Restaurant. The place was crowded with the locals. Then, we saw California Governor's Mansion which is now a historic park. It housed thirteen governors from 1903 to 1967 (Ronald Reason housed, 33rd governor), and began housing by the current governor (39th) in 2015.
Then, we headed for the 1600 wedding rehearsal at Harmony Ridge Lodge. We got to meet the bride's sides. I chatted with a few. They were humble and very nice people. The officiant was bride's uncle who lives in San Francisco. Also, brides's aunt lives in Grass Valley, CA (where our hotel was located, 7 miles West of Harmony Ridge Lodge). Talking with bride's fathe, I was surprised to hear that bride's parents just moved from Utah to Lacey, WA last October. Lacey is about 65 miles south of of residence in Silverdale, WA. After the rehearsal around 1730, we had dinner that was prepared by aunt. It was delicious and healthy Mexican food. I really enjoyed the food.
c. Saturday, 17 June. A big day for Andrew.
Temp was close to high 90s. Sacramento was supposed to hit 100s for the whole week. We had a few hours before attending the wedding ceremony at 1600. Danny goggled up and suggested going to the Northstar Mine Powerhouse & Pelton Wheel Museum and the Animal Farm. Both were located in Grass Valley area which is only 5 to 10 minutes away from our hotel. Our first stop was the Northstar Mine Museum that opened at 1100. Its historic site (closed in 1959) exhibited gold mining artifacts including the largest Pelton Wheel (ever constructed at that time), Cornish Pump, Stamp Mill, and so on. It also exhibits the 2nd largest collection of the Pelton Wheel replica. I was told that the biggest correction is at Chicago. It was well worth the trip and highly recommended if one is interested in such historic topics.
Then, we stopped by Farmer's market that's going on for the weekend. Then, we drove to the " Animal Place" in Grass Valley. Animal Place, which was founded in 1989, is one of the oldest and largest sanctuaries for farmed animals in the United States. Nestled on 600-acres in Grass Valley, Animal Place provides refuge to hundreds of neglected farmed animals. Its mission was to support all life with a special emphasis on farmed animals by providing permanent sanctuary, education, legislation, and appropriate placement of needy animals.
For Andrew's weeding at 1600, we arrived at Harmony Ridge around 1530. The wedding ceremony and reception were held outdoor within the lodge. Interestingly, temp of mid 90s seemed not to bad. Food was excellent. It was unique: Chicken with blackberry sauce and lean meat (from cow shoulder). Then, the dance party started around 1900 till 2200 !
Downloaded from Andrew's wedding photographer:
Isaac's Smartphone pics:
Misc pics (from the Suns and Sims via Kakao):
Sam's smartphone pics:
d. Sunday, 18 June. Flew back home.
Alas, we almost missed the flight. I was thinking that our flight was at 1355 but it was at 1245. We arrived at the terminal area around 1115 and played Skip-Bo. Danny introduced the card game that none of us has never played before. Its game was by the same company who made the UNO cards game. I liked the Skip-Bo game. Around 1225, Carol was wondering why we are not heading to the gate. After confirming that we have only 20 minutes and faintly hearing the last call, we ran to the terminal 7 from terminal 11, and made the flight. My big brother David and Samuel were at the Gate waiting for any open seats. They bought the tickets but the flight was oversold, and was looking for the volunteers. They (airline) could not take awayt our seats since we already checked in one day before ! After we embarked, fortunately, David and Samuel got the seats as well. What a relief !
During the flight, the pilot announced that the plane was flying directly over the Mt Shasta that I climbed in 2013. Mt Shasta is the 2nd tallest Mountain in the Cascade Range, in the Western continental United States. The plane also flew over the Crater Lake National Park but it was not visible from the left side of the plane.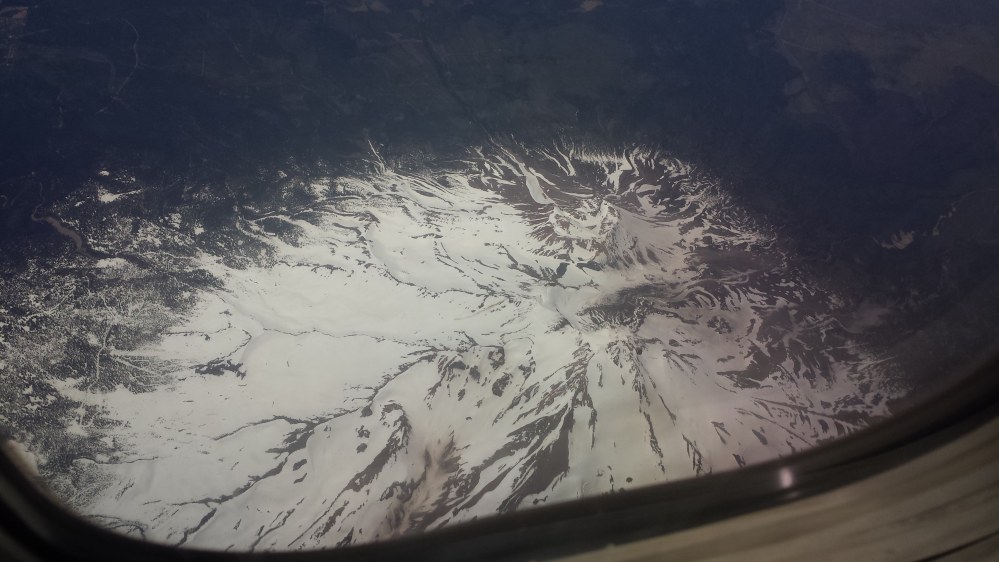 Back to Homepage, Back to James' Photo, Back to Isaac's Photo