Back to Homepage, Back to James' Photo, Back to Isaac's Photo
A beautiful trip to Maui, Hawaii (4/17 - 4/20/2015):
Attending our beloved niece, Julie's wedding in Kihei, Maui (Saturday, 18 April 2015) and more.
Originally, my work schedule (travel to East Coast) prevented me attending Julie's wedding but my travel schedule got shifted by one week, so we were able to attend Julie's wedding in Maui. Basically, it was a busiest month ever week after week: 4/6 - 4/9: Travel to Washington DC for work. 4/17 - 4/20: Attend Julie's weeding. 4/27 - 5/1: Travel to West Palm Beach, Florida for work.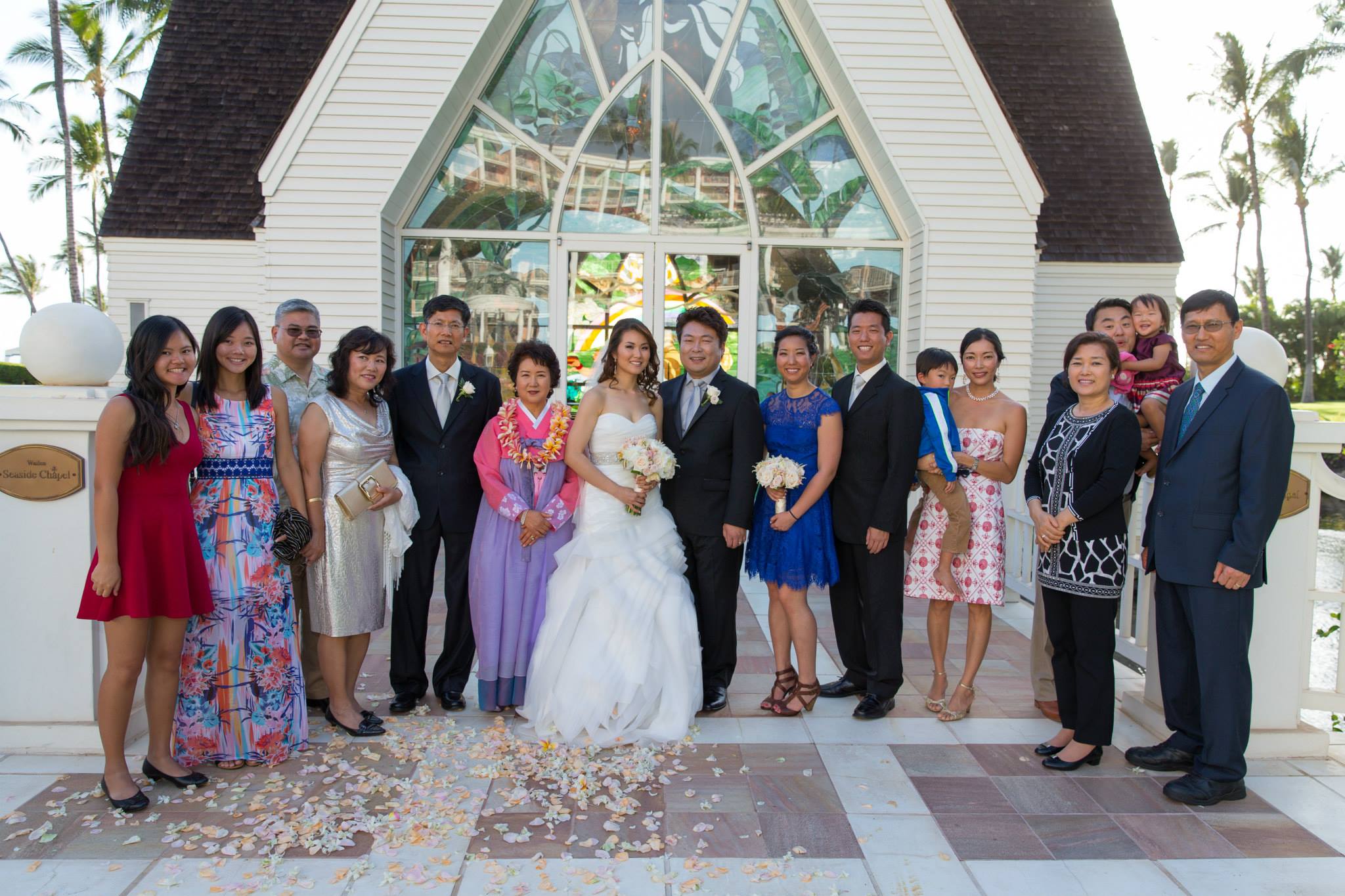 a. Friday, 17 April. Flew to Maui.
We invited our kids (and we would pay for their trips) to attend Julie's wedding but both could not make it. Danny did not have enough annual leaves yet on his new job. Carol could not make the trip due to her college classes. We had the same Hawaiian Airline flight as my brother's family (James, sister-in-law, and Kelly). We met up at the gate terminal, SeaTac airport. It was aobut 5 hours of straight flight to Kahului Airport. In Maui, my brother rented a van and we rented a compact car so that we could independently move around the places where we had not been and as we wished. For lodging, we piggy backed on a 2 bedroom condo that my brother rented for 3 nights. Upon arrival at Kahului, my wife and I drove to a shopping center for lunch, stopped by at COSTCO for some shopping, and arrived at the condo just passed 3 pm. Then, at 5pm, we had a dinner with Young Jin (Julie's future husband), his father, and his friends with their family. Young Jin's father, James, and I set together and had a good conversation about pretty much every thing. All of us are 1st generation Koreans who were naturalized US citizens and been living in the state for over 35 years. Albeit age gaps, we were getting along very well. In retrospect, I give lots of respect to Young Jin's father for his open mindedness in his age group and ability to communicate with much younger generation like me.
b. Saturday, 18 April. A big day for Julie.
Upon unpacking my clothes at the condo on the day before, I realized that I forgot to pack my dress pants. After trying it on back at home, I inserted the belt on the pants and left it on the couch. Since I needed a new set of dress suite, we decided to buy new one at Macy's early in the morning. We left the condo just after 0830am to do some sight seeing and buy the dress suite. We drove to the Iao Valley State Park. It is located in central Maui just west of Wailuku. This peaceful 4000 acre, 10 mile long park is home to one of Maui's most recognizable land marks, the 1200 ft high Iao Needle. This iconic green mantled rock outcropping overlooks Iao stream and is an ideal attraction for short hiking and sightseeing. In 1790s, King Kamehameha I used Iao Needle as an enemy lookout. Its ferocious battle ultimately changed the course of Hawaiian history. We also stopped by at xxxx that exhibited gardens by a few countries (Porteguese, Korean, Philipine, and China).
Then, headed to the Macy for the dress suit. We got 50% and another 20% off with Macy's card. Ended up paying $250 for a full dress suit !
Then, I picked up Andrew from the airport around 0130pm. He just flew in from Utah to attend her sister's weeding.
Around 0420pm, we headed to the Grand Wailea Resort for Julie's wedding. The wedding ceremony was held in front of the beautiful chapel within the resort. Then, the reception was held outdoor just above the Chapel looking SW to the blue ocean and to the Kahoolawe Island. Food was excellent. There were musicians, singers, and hula dancers. Dinner party lasted till 1000pm !

c. Sunday, 19 April. Drove to 10000 ft elevation (Haleakala National Park).
Six of us jumped on the Van and drove to the Haleakala National Park. The park features the dormant Haleakala (East Maui) Volcano, which last erupted sometime between 1480 and 1600 AD. It was about 1.2 hours (40 miles) of driving from sea level to 10000 ft elev. I've hiked or climbed several over 10000 ft high mountains but it was my first time driving up to the 10000 ft elev. We expected it to be really cold (like in 50s F) but it was not that bad. It felt like mid 60s F. 360 views was amazing. A few of the Big Island to the south was impressive. Along the way to the top near 7000 ft elev, there were bicycles for rent. I also saw one party (2 riders) cycling up on the way up and one party cycling up on the way down. Its downhill route is famous for bicycle riding.
On the way back to Condo, we had lunch at a very popular and unique place, Zippy's. We were amazed how expensive each entry was for its petite portion. Upon coming back to the condo, some of us took lunch fiesta. Later my brother and I walked to the beach. Of course, I swam for about 10 minutes. The water was warmer than the air ! Then, all of us had a dinner at Thai restaurant.
Monday, 20 April. Flew back home.
Our flight was till later in the afternoon at 0330 pm. My brother's family headed to Oahu for 3 nights. They are planning to meet other relatrives who live in Oahu and visit our parents' graves. I wanted to do the same but needed to back home for another trip (to Florida) on the following Monday. Before our flight at 0330pm, we had a chance to stop by at Lahaina which is the most populated and the most historical town in Maui. Lahaina was the capital of the Kingdom of Hawaii (1820-1845) before Honolulu. The largest banyan tree in the US that was imported from India in 1873 is famous there in front of the Court House.
Back to Homepage, Back to James' Photo, Back to Isaac's Photo