Hiking Mt Washington to Mt Ellinor Traverse (5.9 miles with 4300 ft elev gain), Time spent 0910-1530.
The weekend weather forecast was excellent. I could not resist the beautiful weekend and took off Friday for the hike because it could be the last dayhike to the high country (over 5000 ft elev) for the year and I could not hike either Saturday (family day) or Sunday (kayak paddle with Bob). Paul and I decided to scramble-climb Mt Washington and traverse to Mt Ellinor. Both are located side by side and are the prominent peaks in SE Olympics. He hiked both mountains separately numerous times. I hiked Mt Washington twice (with Paul) and Mt Ellinor a few times. My last hike to Mt Washington in Nov 2011 and Mt Ellinor with the Monday Hikers' in Oct 2012 got me interested in hiking both mountains in a day. I've heard of hikers traversing from Mt Washington to Mt Ellinor, and found lots of info traversing on the East side, but interestingly, I could not find any info about traversing on the West side that Paul and I wanted to do. I had some nice pictures from both sides of the mountains that showed some possible routes, but the pictures are always deceiving. Paul hiked the Mt Washington about 4 weeks ago and scoped out a possible route, but we were not sure of the last ascent (how steep and condition with snow) to Mt Ellinor on the West side. After all, Paul took lead and traversed the exact routes that I was thinking about !
Route description (mileage and elev are using my GPS data. The actual distance would be longer with switchbacks. Elev loss/gain could be little less or more):
a. Trailhead (3100 ft) to Mt Washington summit (6255 ft). 1.7 miles with 3200 ft elev gain. It took us 0910-1030.
Mt Washington trail is not on the custom correct map but it is sort of a way trail that has varieties: steep, lots of tree roots, scree, a few height exposure, route finding, etc. It became one of my favorite dayhikes. Its routes can be confusing at times similar to any other climbers' routes. To get to know the routes, I think it takes about 2-3 trips to the summit. Paul nicely describes the routes in 5 sections. I think it's like: 1 initial steep slope hike to lower meadow, 2 cross a small creek and another steep slope, 3 scree slope to upper meadow, 4 scramble up to the saddle, 5 saddle to the summit.
b. Mt Washington summit to Mt Ellinor summit (5944 ft). 1.5 miles with 1160 ft elev loss and 1000 ft elev gain. It took us 1100-1300.
We traversed on the west side. From Mt Washington summit, came down to a saddle where we started traversing to Mt Ellinor. That's the place where one can see the West side route to Mt Ellinor, except for the last ascent to Mt Ellinor. Downhill was most of loose steep scree fields that need close attention but not serious exposure to height. Need to careful with loose rocks that may roll down and hit the climbers below. We descended to a tarn at xxx elev. Then, hop over and weave through the big boulders getting close to the west chute of the Mt Ellinor. There were some snow on the steep chute on the west side of Mt Ellinor. Paul and I used ice tractions (crampons and microspikes) to ascent but Raul & Brian went up on the side of the chute avoiding the icy snow with boots only. Its loose scree made harder to ascent but was done with boots only. I also went on the loose scree on the last 30-50 ft ascent as I felt that I did not have good tractions on the icy snow with my microspikes. Paul just cruised up to the Mt Ellinor summit about 5 minutes ahead of us.
c. Descending Mt Ellinor summit (5944 ft) to Upper Mt Ellinor Trailhead (3500 ft): 1.6 miles with 2450 elev loss. It's a well maintained trail but quite steep. DO NOT bring friends who may not fit !
d. Upper Ellinor Trailhead to Mt Washington Trailhead: It's on the forest road. 1.1 miles with 400 ft elev loss. It was just a fun walk on a logging road with a happy face who just summited both Mt Washington and Mt Ellinor on a dayhike.
In summary, the traverse from Mt Washington to Mt Ellinor was quite easier than we thought. There was no height exposure other than a steep slope on the west side of Mt Ellinor. If the climber has the skills and the proper climbing gears (crampons and ice axe), it just required good physical condition.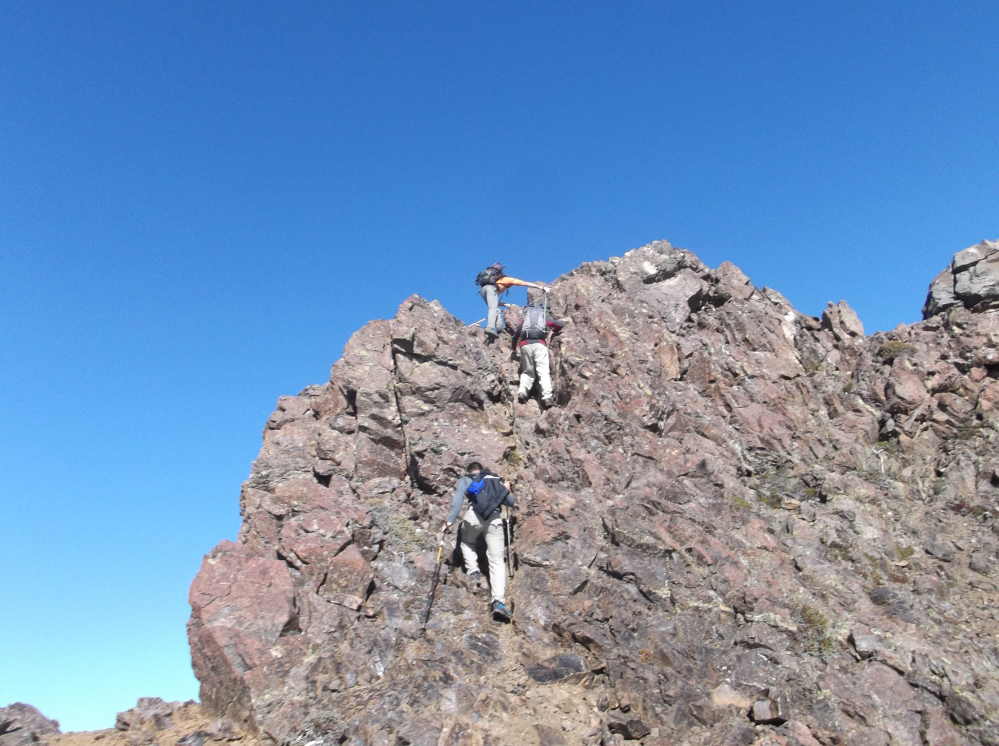 Trailhead direction:
Mt Ellinor trailhead direction:
At the Hoodsport, make left onto SR 119 toward Lake Cushman (staircase). 11 miles to T-Junction. To the left is Staircase. Turn right and drive about 1.5 miles (all dirt road from the T and lots of pot holes), and make left turn. Drive 8 miles pass the Lower trailhead to Mt Ellinor (has a good sign). Continue on for the upper trailhead.
Mt Washington trailhead direction:
At the turn off road (sharp left turn) for the upper trailhead to Mt Ellinor, keep right. Less than 200 yards, the dirt road narrows but lead to a bigger space for car parking on the right. No trailhead marking. No forest pass is required.